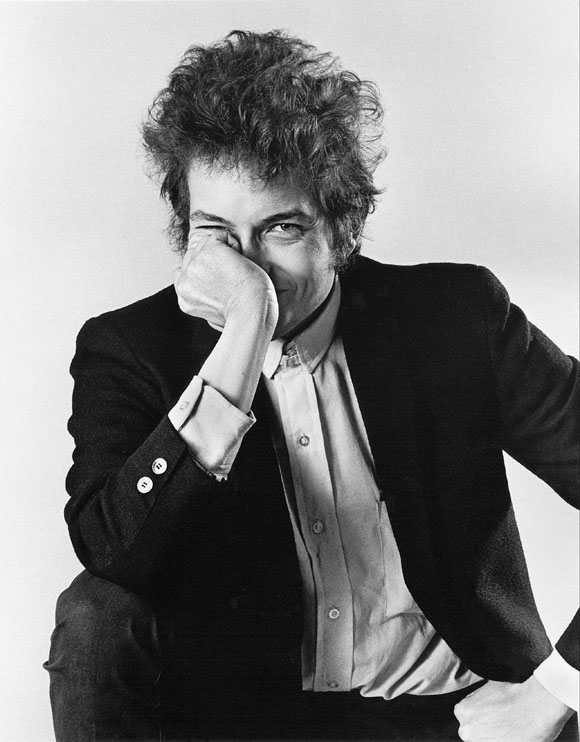 Bob Dylan, 1965. Photograph courtesy and © Daniel Kramer
Happy birthday, Bob Dylan.
Summer, 1988. A skinny redheaded girl is standing in a folding chair in the front row at the Mann Center in Philadelphia, with her arms around two perfect strangers, a blonde and a brunette. We're all dancing to "Maggie's Farm." When Bob delivers the line "She's sixty-eight, but she says she's twenty-four," he looks at us and grins. From the circles of eyeliner, his eyes, an improbable shade of bright blue, laugh - more at us, maybe, than with us.
The first time I heard Bob Dylan live was that night. I'd heard him plenty before then, having grown up with the Folkways Newport Bob thanks to my parents, a mother from an Appalachian family full of fiddle players and a father who knew every old Southern hymn, folk song, blues, and holler - if you can ever properly differentiate among these. Blood On The Tracks was the first Dylan album I came to on my own, and I had never heard anything like it, or felt that way at the end of any other record. These things are still true.
Maybe Dylan and his music mean something to you, too. If so, then I'm singing to the choir. If not, listen. The tunes he writes are so varied, from gentle country two-steps to searing rock'n'roll. The lyrics stroke and sting, quite often in the same verse - or even line: "Won't you descend from the throne, from where you sit? / Let me feel your love one more time before I abandon it." "Smell that sweet magnolia blooming / See the ghosts of slavery ships." "Her profession's her religion / Her sin is her lifelessness." "So now I'm goin' back again/ I got to get to her somehow / All the people we used to know / They're an illusion to me now." "I'll drink my fill and sleep alone / I pay in blood, but not my own." No one uses words the way Dylan does, combining extremes - humor and anger, love and hate, bright and dark, past and present - with lyric grace and perfect rhyme. To call him a poet, which he is, doesn't begin to define Dylan, though, for it leaves out the music he also supplies to his - not just poems, but - songs.
Dylan still performs his music, and the music of others, live and in person most nights of the year. The tour his fans eventually dubbed "The Neverending Tour" rolls on. No one knew, back in that summer of 1988, that Dylan would become over twenty-five years one of the most constant of road performers. He plays big venues and college concert halls, outdoor music festivals and ballparks. Catch him during this summer all across America with, at varying times, Bob Weir, WILCO, My Morning Jacket, Richard Thompson, Beck, and Ryan Bingham.
Before then, plenty of other musicians are celebrating his birthday. On May 24, Dylan will be 72. There are birthday parties for him that night all over the world, from Byron Bay, New South Wales to Cosmic Charlie's in Lexington, Kentucky. Dylan will have parties before May's end in Indianapolis and Knoxville, Salt Lake City, at B.B. King's in New York, and - notably - in Woodstock, New York, where he lived once upon a time.
All these birthday shows feature other musicians covering Dylan songs. Dylan's a hard artist to cover. When you hear those skipping reels of rhyme in your head, you hear them in his voice. A few other singers have nailed individual tracks over the decades - old friends Happy Traum and Levon Helm, George Harrison and Joan Baez, Jerry Garcia and Bob Weir, Patti Smith and Roger McGuinn, Ramblin' Jack Elliott and Johnny Cash, Doc and Merle Watson. Richie Havens's "Just Like a Woman," Jimi Hendrix's "All Along the Watchtower," and The Band's "Blind Willie McTell" stand on the level of Dylan's original recordings to me. More recently, Jim James's soaring "Goin' to Acapulco" and Antony and the Johnsons' "Knocking on Heaven's Door" lit up the soundtrack of Todd Haynes's I'm Not There (2007). Steve Earle, Lucinda Williams, Flogging Molly, and Jackson Browne covered Dylan brilliantly for Chimes of Freedom: The Songs of Bob Dylan Honoring 50 Years of Amnesty International (2012). Traum's "Buckets of Rain," and The Levon Helm Band's glorious "It Takes a Lot to Laugh, It Takes a Train to Cry," fueled both by Helm's immortal voice and the guitar of longtime Dylan sideman (and musician and producer extraordinaire) Larry Campbell, are the recent covers I like most. Everyone has their favorites - but you'd never mistake any of them for Bob.
If you're anywhere near Woodstock, New York, for Memorial Day weekend, though, you really ought to go to the Bearsville Theater on Sunday night. Albert Grossman, Dylan's longtime manager, had the idea for the Theater, and it was under construction at the time of his death. He's buried right where he wanted to be, in an ivied garden behind the Theater and its attendant buildings: the Radio Woodstock WDST headquarters, the Bear Café, and the Little Bear restaurant. The Theater is tiny, its acoustics superb, and it hosts shows by local artists like Steve Earle and Amy Helm, regular visitors like Richard Thompson, Bob Weir, and Jackie Greene, and international travelers - recently, Toots and the Maytals. Bearsville Theater is a popular place for benefit shows, and this year's annual Dylan birthday bash, Soundout, is on behalf of the Woodstock Day School. Happy Traum, who has lived in Woodstock since 1967, is the host of Soundout. Joining him are Larry Campbell, Donald Fagen, Don Byron, Graham Parker, Jim Weider, Amy Helm, Connor Kennedy, Jay Collins, Jerry Marotta, and a wonderful crew of local and visiting performers. The lineup is still forming, and won't be set until the evening of May 26th is over. It's Woodstock, and you really DO never know who'll show up. They'll cover Dylan's songs from the past half century, and they'll perform them with affection and passion and grace.
Celebrate Dylan's birthday by listening to a song or two - or an album or two. Write him a song of your own, as Tim Moore and Syd Barrett have done. Think about American history, classical literature, rhyming couplets, or William Blake's watercolors. Read a story of Edgar Allan Poe's. Go to a Shakespeare play. All these occupy serious space in Dylan's own imagination. But however you choose to celebrate, do celebrate. The occasion deserves commemoration. As for me, I'll raise a glass, sing along, and be glad to live in the same times.
REAL LIFE. REAL NEWS. REAL VOICES.
Help us tell more of the stories that matter from voices that too often remain unheard.