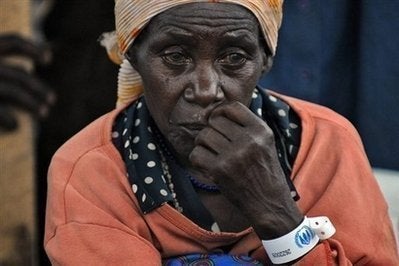 Sixty years ago, the best document ever written came together in Paris under the leadership of Eleanor Roosevelt. It is called the Universal Declaration of Human Rights. That's the good news. The bad news is less than 5% of the world even knows about this document. Worse yet, many governments do not properly adhere to its tenants. This Declaration was written against the horrific backdrop of WWII, when human rights violations reached immense proportion. Although similar levels of human rights violations have remained consistent throughout the world in places like Darfur, Burma, and the Central Congo, the principles discussed in this document still remain ideals, rather than realities.
By the year 2010, 42% of the world will be under the age of 21. As was seen in the recent American election, there is a clamoring for change amongst this demographic. This exists not only for young people at home, but all over the world. When injustice occurs in far corners of the globe, this document empowers the innocent against the oppressor. Just as Dr. Martin Luther King Jr. pointed to the Constitution and the Bill of Rights as an example of justice and equality, so to will this new generation need a rulebook to combat oppression.
Such a rulebook already exists in this Declaration. For 60 years, governments have let this document gather dust in a closet. This anniversary reminds us that this Declaration is living and belongs to every citizen of the world, no matter what nationality, race, gender or creed. It is time to put this Declaration in the hands of the people, for there is an awful lot of suffering in the world.
This document is for, as Bob Dylan wrote, "the countless confused, accused, misused, strung-out ones and worse." If you are in a far-away land being tortured, raped, censored or held captive, this document is the "the chimes of freedom flashing."
This is not just idealism. There are practical things you can do right now to honor Eleanor Roosevelt's greatest achievement, and more importantly, protect the fabric of decency that should exist between governments and their citizens.
Below is a video of artists, activists and children reading the Universal Declaration of Human Rights -- send it to everyone you know. Sign the petition at www.humanrightsactioncenter.org to get this Declaration printed in every passport. Write your representatives and encourage them to take the necessary steps to free Aung San Suu Kyi, the present, living-day symbol of Human Rights and the rightful leader of Burma. Lastly, print a copy of the Declaration of Human Rights and put it in your wallet. Take it from a guy who has met his share of innocent people being abused: you never know when you just might need it.
Calling all HuffPost superfans!
Sign up for membership to become a founding member and help shape HuffPost's next chapter