August 4 marks Helen Thomas' 90th birthday. May she celebrate it in good health and peace, surrounded by her countless loved ones.
She has definitely earned her reputation as a trailblazer and icon in American journalism.
Helen always asked those annoying probing questions at news conferences, during White House briefings, and on trips with presidents.
"Her confrontational statement/question style did not show in her straight down-the-middle reporting when she was with the United Press International (UPI) wire service," wrote her longtime friend Myra McPherson in June.
In a piece entitled "Helen Thomas and the (So-called) Correspondents at the White House" posted on the Neiman Watchdog blog, McPherson -- who had two Jewish husbands -- defended Thomas against charges of anti-Semitism when comments the latter made about Israelis caused her to resign as a columnist for the Hearst News Service following an ugly witch hunt in the media and beyond.
Calling an Arab-American, or an Arab, anti-Semitic is ludicrous, since most Arabs are Semites and Arabic is a Semitic language.
It's ignorance and disinformation rolled into one.
But Helen was sidelined and discredited after a long and illustrious career as dean of White House correspondents for comments she later retraced.
It led the pan-Arab daily Al Hayat to run a cartoon of Thomas leaving with her shadow drawn as Lady Liberty reflected against the White House bidding her farewell.
So it's ironic that the White House Correspondents Association should give her front row seat to Fox News in the Brady Briefing Room, notably since Helen always put pompous media glitterati to shame by showing them they did not do their homework, and, by holding officials' feet to the fire.
As a former junior colleague at UPI, before the agency imploded and went through its many bankruptcies, I had the pleasure and privilege of observing Helen in action up close.
I'd met her through a mutual friend in Washington long before I joined the agency and always admired her spunk. Our age difference didn't matter.
I also covered the White House for various media in the 1970s and 1980s, and learned first-hand from her about accuracy, fairness, balance, and how to wade through the morass of government bluster and bureaucratese.
It's thanks to Helen that women journalists like myself became members of the one-time male bastion known as the National Press Club in the 1970s and could attend key speakers' events in the main ballroom.
For those too young to remember, women were relegated to the balcony overlooking the ballroom, before being fully initiated into the club and being able to have lunch with their peers and VIPs on the main floor.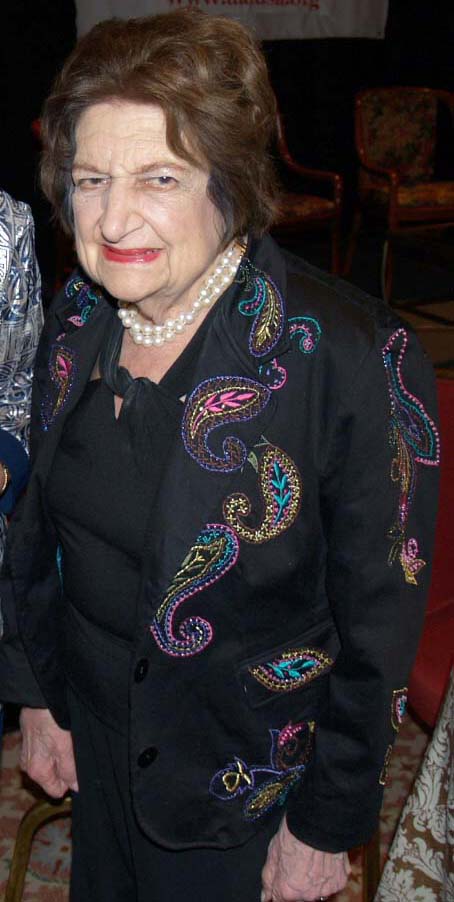 Helen Thomas (Abu-Fadil)
Despite her fame and seniority, Helen was always generous, friendly and willing to help.
She offered me a copy of her 1975 book Dateline: White House , and wrote the kindest words to a colleague on the inside cover page.
It was her typical modesty and unwillingness to suffer fools gladly that endeared her to so many of us who developed an aversion to journalists who thought they were the story, and forgot how to cover it.
Her 2007 book Watchdogs of Democracy?: The Waning Washington Press Corps and How It Has Failed the Public is a testament to that.
So it's only fitting that the Arab American National Museum in Detroit should launch a $10,000 fundraising drive to pay for a statue honoring Helen to be displayed at the facility.
But according to the Detroit Free Press, critics have expressed reservations about the honor and "some Jewish leaders are pushing Wayne State (University) to take Thomas' name off an annual diversity award."
Their own biases speak for themselves.
On this occasion, one can only celebrate a great American journalist.
Thank you, Helen, for being a role model to several generations of journalists and a very happy birthday.