Whenever I tell people about the Labor Department's book project, one of the first questions I usually get is: "Is 'The Grapes of Wrath' on the list?" It is indeed. Recommended to the list by former Labor Secretary Hilda L. Solis and members of the public, this title is among the quintessential books that shaped our collective view of work and workers in America.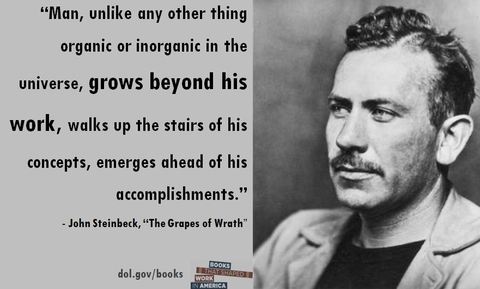 The story of the Joads, a poor family of tenant farmers, is set during the Great Depression. Tough times, including a drought and the forces of industrialization, drive them (and thousands of others like them) from their home in Oklahoma in search of a better life in California. Its portrayal of the plight of the poor is often cited as having had significant impact in shaping aspects of the New Deal and other federal government policies and programs put in place to assist workers. It is a gorgeous story, and captures the heart and soul of American work like no other novel ever has.
"Of Mice and Men," which was suggested for inclusion on the list by Solicitor of Labor M. Patricia Smith, tells the story of two migrant field workers, George Milton and Lennie Small, as they travel together in search of work in California during the Great Depression. Against this backdrop, it describes the close friendship the two men develop in the face of adversity. George serves as protector to Lennie, a man with an intellectual disability and significant size and strength who loves soft things - a desire that repeatedly causes problems and ultimately leads to his tragic demise. Besides showing readers the plight and hardships of seasonal and migrant workers, it also dramatically highlighted the plight and hardships of people/workers with disabilities.
In addition to these two novels, Steinbeck wrote 14 more, as well as six nonfiction books and five collections of short stories. Much of his material focuses on themes of work. Are there other Steinbeck titles that should be included on the U.S. Department of Labor's list of Books that Shaped Work in America? Send us your suggestions.
Carl Fillichio heads the Labor Department's Office of Public Affairs and serves as the chair of the department's centennial. Learn more about the department's 100 years of service by viewing an interactive timeline and watching a special centennial video.