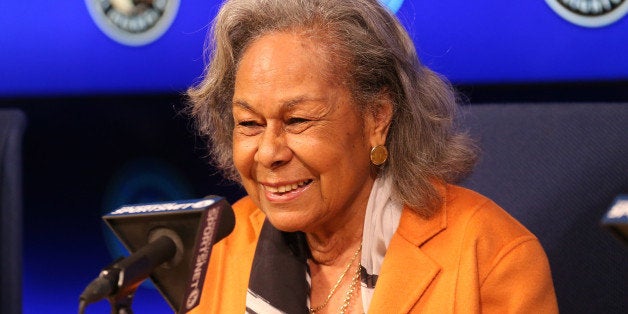 On Friday, the nation celebrated what would have been the 153rd birthday of pioneering Civil Rights advocate and anti-lynching activist Ida B. Wells-Barnett. Sunday, July 19, 2015 marked the 93rd birthday of another significant woman of color. Like Wells-Barnett and far too many other Black female champions of democracy and justice, Rachel Isum Robinson remains in the shadows of history, a living legend, and still active patron of Black education.
Shortly after Jack retired, Rachel earned a Master's of Science in Psychiatric Nursing from New York University in 1957; she enjoyed a fruitful career including a prestigious teaching post in the Nursing Program at Yale University. Even as she pursued her professional calling, she and Jack stayed abreast and concerned over violent resistance to the Civil Rights Movement. The family contributed in both time and finances to that movement. Furthermore, his activism was a reflection of their shared values. They, for example, staged a series of long running jazz concerts, on the home of their lawn in Stamford, Connecticut to raise money for the defense of jailed civil rights activists. While Jack made the headlines, Rachel often bore the brunt of the hidden but nonetheless significant battles such as shepherding the family through the process of facing northern style apartheid as they attempted to purchase a home and then make a life in the suburbs of Connecticut. Even the most famous African American athlete of his day was not immune from housing discrimination. In addition to challenges in her own career, with characteristic dignity and grace she helped their two youngest children through the process.
After Jack passed away in October of 1972, Rachel sought to honor him by tackling another troubling issue, access to higher education for students of color. Rachel and Jack met at UCLA and eventually married in 1946. Financial considerations forced Jack to drop out of the university in his final semester -- one of his lingering regrets. Given her own background and training, Rachel witnessed the additional challenges faced by students of color, including the need for mentoring, a safe space to dialogue, and internship opportunities. So in 1973, she founded the Jackie Robinson Foundation (JRF) that not only continues to award scholarships to high achieving students but also provides other meaningful academic and social programs. The Foundation's support contributes to an almost 100 percent graduation rate of its scholars making it the model from which other scholarship programs could learn.
If, as the Reverend Dr. Martin Luther King once observed, Jackie Robinson was "a freedom rider before the freedom rides," Rachel Robinson was and continues to be a pioneering Black philanthropist promoting Jack's life and values as a means of empowering young people from disadvantaged backgrounds. She still maintains an active role in the administration of the foundation. At 93 years old, she regularly travels into Manhattan where the foundation is located. She meets with students, cultivates donors, and promotes the values of fairness, opportunity and equality. Her work carries forth Jack's legacy as well as her own.
It is especially fitting, given events of the past year that led to a national #BlackLivesMatter Movement, that the birthdays of these two pioneering women, Wells-Barnett and Robinson should be linked for in many ways they complement each other.
Those interested in learning more about Rachel Robinson, the Jackie Robinson Scholarship, and the Jackie Robinson Foundation can simply log on to the Jackie Robinson Foundation website.
Calling all HuffPost superfans!
Sign up for membership to become a founding member and help shape HuffPost's next chapter