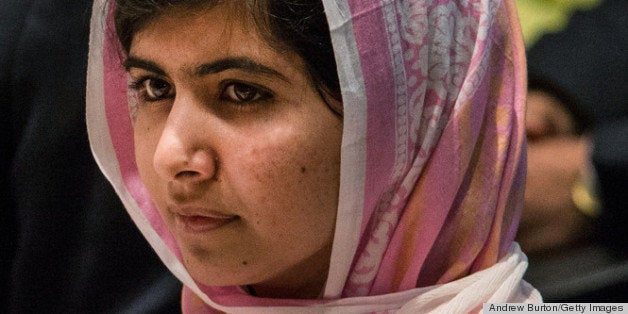 I remember the day I met Malala. She was only 11. She had a sparkle in her eye and a strong sense of self and was always poised, though sometimes playful.
She had come with her father and 26 of her friends from school to Islamabad to attend a summer camp that I had arranged in Pakistan's capital city. The summer camp was a mentorship retreat to help her, and other girls like her who were speaking out against the Taliban's attack on girls' education, raise their voices collectively and stop out violence against girls in their communities.
We spent a week together that summer, thinking about ways to raise awareness about the plight of school girls in her hometown, the Swat Valley, and empower girls from the region to fight for their rights. Malala had many ideas. "I will become a politician so I can create a society where every girl can go to school," she said. Her friends were a lot like her: passionate, brave and resilient. I knew they could shake the Earth together.
Malala was a child who had grown up far too early, and you could see in her knowing expressions that she possessed wisdom beyond her years. Despite her tiny frame, she had presence that was larger than life. She was blogging on BBC Urdu, under the pseudonym Gul Makai, to let the world know that she and her friends were being denied the right to go to school but would not be silenced. Risking her life, she became the subject of a New York Times documentary that told the story of the struggles of school girls in her region. Very few were speaking out. Malala was the loudest voice.
I fell in love with her and her family that summer. Malala was very much her parents' daughter. Her father had an incredible heart, the words of a poet and the courage of a warrior. Her mother was the center of their lives. She gave them the stability, warmth and love that they needed to stay strong and keep going.
When Malala was shot, I had just landed in Egypt for work. She was airlifted to the hospital immediately; her condition was critical. The doctors told us that we needed to pray that she would make it through the next 72 hours. No one knew if she would make it. I prayed for a miracle.
And I witnessed the greatest miracle of my life. Malala not only recovered but suffered no loss of her cognitive abilities; in fact, she emerged even stronger. It's a miracle that gives me hope and allows me to believe that goodness, truth and virtue can triumph.
I saw Malala soon after she awoke. Offers of support for her were pouring in from all over the world. I asked her what she wanted me to say to those who wanted to help her. True to who she is, she said, "Tell them I am OK. Tell them to help other Malalas." At that moment I knew Malala was still the old Malala, only now with the power to inspire and help many more bring change through their own voices.
Based on Malala's desire to help other Malalas, the Malala Fund was born. It is an organization dedicated to Malala's vision of empowering children, especially girls, through education and the belief that they are powerful agents of change. The fund supports grassroots nonprofits and entrepreneurs who are educating girls and changing the outcome of their lives for the better. It also drives storytelling, helping amplify the voices of those like Malala who are fighting for change.
The Malala Fund has made its first grant to help girls in Malala's hometown who were working in homes as domestic labor go to school instead. Malala is Skyping with the girls who are the recipients of the grant, encouraging them to chase their dreams and embrace the strength within them. In the coming months, the Malala Fund will be creating additional opportunities to engage grassroots activists, entrepreneurs and change makers who hold the key to a better future.
Today, on her 16th birthday, Malala spoke at the UN to 400 children from 83 countries; this was her first time speaking on a public platform after her shooting. She spoke not for herself but for those who need a voice. Her words echo across the world, as she is joined in her cry by the thousands of children and adults who stand with her saying, "I am Malala." Today is a moment to focus the world's attention on the 57 million children -- including 32 million girls -- who do not have access to education. Today is a day of action, change and inspiration.
Happy birthday, Malala. Today we celebrate the voices of those who speak up for change. And there is no better way to spend your birthday.
REAL LIFE. REAL NEWS. REAL VOICES.
Help us tell more of the stories that matter from voices that too often remain unheard.