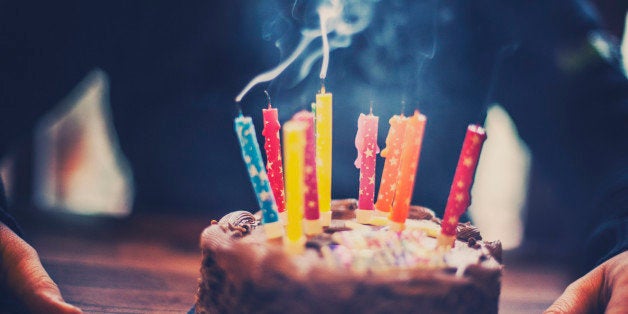 My son yanked at my arm as he does in the early hours of every morning. I slid lazily out of bed, dragged myself to the kitchen to set the coffee maker, and poured Cheerios into his small snack bowl. During our shower, we filled and re-filled the openings of his building blocks with water and poured it out. Another of our morning rituals.
By 9:30 a.m., I was sitting under the dryer with big multi-colored plastic rollers in my hair listening to Bachata while leisurely scrolling through a digital edition of Us Weekly. The next stop was to the florist to buy my annual Christmas poinsettia. And then home to finally catch missed episodes of The Girlfriend's Guide to Divorce.
Evening was reserved for a manicure and spa pedicure at the nail salon -- my treat, thank you very much. And the big finish of the night? Watching my baby put a puzzle together (that he has done at least 50 times) before more filling and re-filling of building blocks at bath time. When all was quiet, I downed a couple of glasses of Moscato and savored a delectable slice of double chocolate mousse cake while watching the 10:00 news. With no more excitement to be had, I put on my pink flannel pajamas and hit the hay. It was 11:15 p.m.
Never could I imagine that the life I am living would be enough. Spending my birthday as I did would have had my 20-something-year-old self laughing hysterically at my pathetic existence. And my 30-something-year-old self would have been ripping her hair out in disbelief that this is what it has all come to. But this is my life right now. And I am good with it.
Certainly there could be more icing on the proverbial cake. I could be crazy in love, or at least deeply in like, with a fantastic man. I could be 10 pounds slimmer. I could have more money than I'd know what to do with. I could have more time to write. I could get far more sleep. I could not be a divorced single mom.
But at 43, with all of its twists and turns, life has been good to me. And, in some ways, even better than I ever thought possible. After nearly two decades, I am finally getting to know and love myself. The desperation and despair of my youth has been replaced with the resilience and discernment that is borne from an evolving woman. Motherhood keeps me anchored. Life continues to unfold for which I am grateful.
My birthday wish is for more treasured times with family and friends, countless memorable moments with my boy, the blessing of continued good health, success, prosperity and, finally, a love that lets me just close my eyes and breathe.
May each and every wish come true.
They say it gets greater later, so at 44, as Katy says, you're gonna hear me roar.
Support HuffPost
A No-B.S. Guide To Life
Related
Popular in the Community