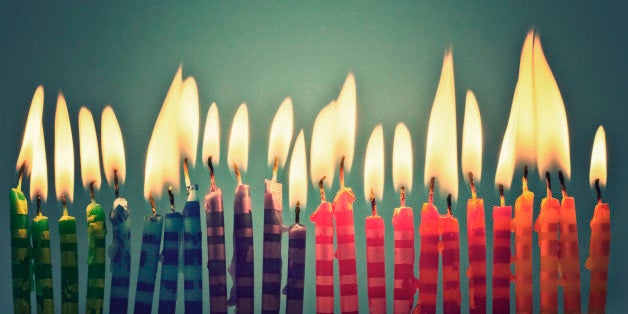 I remember the morning of my high school graduation very clearly. As I put on my white linen dress and matching ballet slippers, my mother tried to explain to me as best as she could that she was having trouble comprehending that it was her daughter's graduation day.
"I feel like it was just my high school graduation," she said as she pushed the hair back behind my right ear. I gave her a funny look, then a smile and a kiss and headed out the door to get to school ahead of the rest of my family for one last rehearsal.
What the hell was she talking about?, I wondered as I drove to school that morning. My 40-something-year-old mother seemed about as far away from a high school graduation as did the man in the moon or really, any other adult that I knew at the time.
Until one day last month, when my 11-year-old son announced that he'd be a teenager in just two years. I sort of had that out of body experience that I imagined my mother had way back when. How could my son soon be a teenager when I still felt a bit like one? He has his Bar Mitzvah date, and it is less than two years away. I remember my Bat Mitzvah pretty well. I stood there in that red corduroy Laura Ashley dress and matching headband as my braces sparkled through my light pink lip gloss thinking that I had become a grown up, or so my religion told me. I was so far from being a grown up back then.
But the thing is that I still don't feel that grown up. I just kind of feel like me -- same as I've always felt, despite the fact that I turned 40 this year. So much has been said (at least in my newsfeed and on my radar) about turning 40. I've heard and read about "The New 40," "What I Know Now at 40 that I Didn't Know at 20," "What I Wish I Had Told My Younger Self," and the list goes on.
I've also learned about "Stars Who Turned 40 this Year." Did you know Amy Adams and Penelope Cruz had the big birthday? And so did Alyson Hannigan. Remember her? "This one time at band camp..." Tiffani Thiessen is my grownup age, though I still imagine her as mean girl Valerie from 90210. Kind of like how Leonardo DiCaprio, the critically-acclaimed grown up actor, will always be the kid from Growing Pains to me. And it's hard for me to believe that Joaquin Phoenix, the younger brother of my adolescent crush, the late River Phoenix, is a grown up 40-year-old too. I wonder if they feel middle-aged?
I don't. Many of my contemporaries don't either. I just returned from a weekend in Miami with my close girlfriends from college in celebration of the big birthdays. The trip felt eerily familiar to our senior year spring break trip to the Bahamas. Sharing a hotel room with my college roommates felt like the most natural thing in the world. We laughed as hard as we always did, keeping each other awake way too late and sleeping in equally as late. We went to the beach, took walks, hung out at the restaurants and the poolside bar. We even took a Barre class together (the 21st century version of step aerobics that we did in college). I couldn't stop giggling watching my friends flinch in pain as we all tried to mimic the extreme squats and repetitions of the teacher who was about as far from 40 as our kids are. We texted and face-timed those kids and husbands back at home reminding me of how we called our parents and boyfriends (collect on the pay phone in the hotel lobby) on that long ago spring break trip.
I was so pleased to discover that we are all basically the same -- in really good ways. Yes, we have more responsibilities these days in the forms of those husbands and kids and careers and other commitments. But at the heart of it, we are those same 20-year-old girls -- the same girls who strolled down Locust Walk in West Philadelphia, sometimes spending too much time at the party and sometimes too much time at the library. The smiles are the same, and so are the values, the ambitions, the dedication to our families and to our friendships, as are our idiosyncrasies that we still love each other for. I think the looks haven't changed that much either. Maybe I'm crazy and our kids and husbands would most likely say otherwise when they look at pictures of us from our school days. I guess we need to give props to our face creams, our hair dye and those Barre classes.
I came home from my girls' trip and looked at pictures of my mother and her "birthday group" on their beach trip for my mother's 50th birthday now nearly 20 years ago. Their smiles and faces also looked the same to me. And now my mother's birthday girls are just about 70. My father and aunts and uncles are over 70. How old do they feel? Middle-aged like I see them, or perhaps college-aged, like I still see myself. I have a hunch that their frames of references are similar to mine. After all, my aunt reports back to me on her afternoon playing cards with "the girls", her group of friends -- all grandmothers and yes, technically senior citizens.
When I see my father dressed in a fleece vest fresh off the golf course from a game with "the boys," he looks so different from the way I remember my grandfather looking in his tweed sports jacket, bowtie and freckled hands. I recall my grandfather's 75th birthday party. I though he was as old as Methuselah. How old did he feel? Methuselah-like? I doubt it.
But my father is that grandfather. He is of the oldest generation in our family and that sometimes makes me sad. My friends and I are not far behind. All those clichés are so true. Time is marching on and slipping away too fast. I'm am too old to ever live out those ridiculous childhood dreams. I'll never play professional tennis, ski in the winter Olympics or appear in the J. Crew catalog. I know -- like I every could when I was younger?!
My kids are way closer to college then I am. Our babysitters are of a completely different generation and so are some of my husband's work colleagues. My dentist is younger than I am, and I am glad he is. I'm having those out of body experiences that my mother had back at my high school graduation and now on a more regular basis. I mean, I hung out with some young adults a couple weeks ago who had never seen an episode of Seinfeld. So I laugh at the absurdity of all of it and for lack of a better description, keep on keeping on feeling lucky that I still can. I think that's how the older generation in my family feels too, and perhaps members of every generation?
As for my college friends, we are already thinking of trip ideas for our 45th birthdays. I try not to get too far ahead, but I hope, G-d willing, we will continue to celebrate together for years to come. And as we take our walks together; whether upright, hunched over or pushing each other in some kind of future age beach wheelchair, I hope we still feel like those 20-year-old college girls on Locust Walk. I kind of think we will.
Popular in the Community