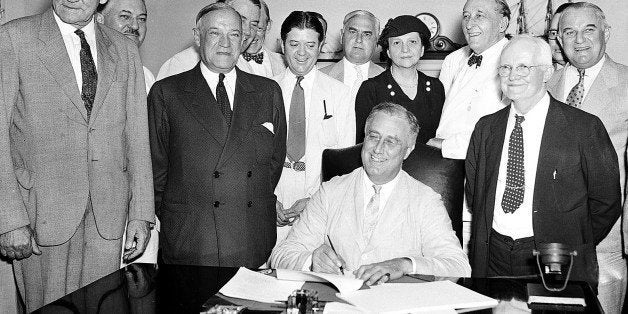 August 14, 2015 marks the 80th anniversary of President Franklin D. Roosevelt's signing of the Social Security Act. This historic step started unemployment insurance (UI). As advocates for economic justice, we should celebrate this event and its enduring legacy while striving to make UI work better for today's workers. Sensible steps at both the state and federal levels can help ensure that UI lasts well into the next century.
While UI has survived its first 80 years, today it is certainly not thriving. In many states, UI programs help only a minority of jobless workers. UI recipiency reached its lowest level in history in 2014, with only 27 of every 100 unemployed workers receiving UI benefits. Many states, especially in the South and Southwest, have recipiency rates below 20 percent and pay low benefits. Eight states now offer fewer than the traditional standard of 26 weeks of benefits.
Any social program is designed to solve a major problem of its time, and UI is no different. The problem that dominated the thinking of 1930s reformers was temporary unemployment faced by industrial workers. Due to political opposition and cost concerns, domestic workers, farmworkers, part-time employees, and seasonal workers were excluded from UI program coverage in its early years.
Although many decades have passed since UI's creation, these early gaps still appear in today's UI programs. In particular, part-time workers remain largely excluded from UI eligibility, with only 10 states treating part-time workers fairly and 41 states placing limitations on their eligibility for UI. Partial-benefit formulas also must be updated to better protect part-time workers. Seasonal workers are excluded from coverage in about 20 states. The self-employed, food demonstrators, newspaper carriers, and others on the margins of formal employment are still largely excluded from UI through a combination of narrow laws and employer resistance.
If UI is to once again thrive as a safety net for hardworking Americans, policymakers need to expand its coverage to more of today's workers. Taking the sensible steps advocated here will ensure that UI retains its relevance to our labor market and economy in the coming decades.
Calling all HuffPost superfans!
Sign up for membership to become a founding member and help shape HuffPost's next chapter