April 7 marks the anniversary of the founding of the World Health Organization (WHO) and the start of its 70th year of operation. It is also designated as World Health Day. This year, the theme of World Health Day is "Depression: Let's Talk"; and this is an incredibly important statement.
Why Depression?
This may come as a surprise, but the WHO has recently reported that of all illnesses, depression is the leading cause of ill health and disability worldwide. That's right. Approximately 300 million people are living with depression and rates have increased significantly in the past 10 years. It is estimated that depression and anxiety result in one trillion dollars of global economic loss yearly. Depression also worsens the impact of other medical illnesses such as diabetes, heart disease and substance abuse and suffering from these illnesses increases risk of depression as well.
Why "Let's Talk"
We need to talk about depression because in spite of how common and impactful it is, there is not nearly enough attention to it or talk about it. The WHO reports that just 3% of government health related spending is dedicated to mental health research and care worldwide (in spite of the fact that evidence shows that every dollar spent on depression and anxiety results in $4 of saving). Further, fewer than 50% of people with depression receive any treatment even in high income countries. Why is this? In many places, there is limited access to good care. There also continues to be tremendous shame around admitting to struggles with depression. And finally, many people simply have not learned enough about depression and mental health in general so they often do not realize that they are depressed or that they need care.
The good news is that events like World Health Day and efforts of groups like mine, JED, are helping to raise awareness and make a difference. Recently, there have been a growing number of individuals and groups speaking out about their struggles with depression. Demi Lovato has lent her voice and efforts to the Be Vocal Speak Up campaign, Harry Potter author JK Rowling has recently spoken up publicly and powerfully about her history of depression, retired football player Michael Irvin has spoken openly about his struggles and encouraged others to reach out for help. And who would have imagined that a Broadway musical, Dear Evan Hansen would become a runaway hit while it is informing and moving audiences?
So we are beginning to find ways to help people make it easier to acknowledge their depression and to learn more about what depression looks like and how it can be treated.
"Let's Talk" Some More
There is another very important way that talking and depression are connected. We find out that people are depressed ultimately by their speaking about it. People need to know how to reach out for help when they are depressed and friends and family members need to know how to support each other when in need (jedfoundation.org/help). We also know that simply talking with friends, family and professionals is part of the way we help people who are depressed. We also know that feeling connected to others in positive ways - through talking and spending time together - lowers the risk of depression and suicide-the most tragic outcome of depression.
So happy birthday WHO and thank you for the great work you have done and continue to do to make the world safer and healthier. And as you have shown us, when it comes to "Depression-Let's Talk"!
Join the conversation using #LetsTalk
If you or someone you know is struggling, please reach out for help: text "HELLO" to 741741 or call 1-800-273-TALK (8255)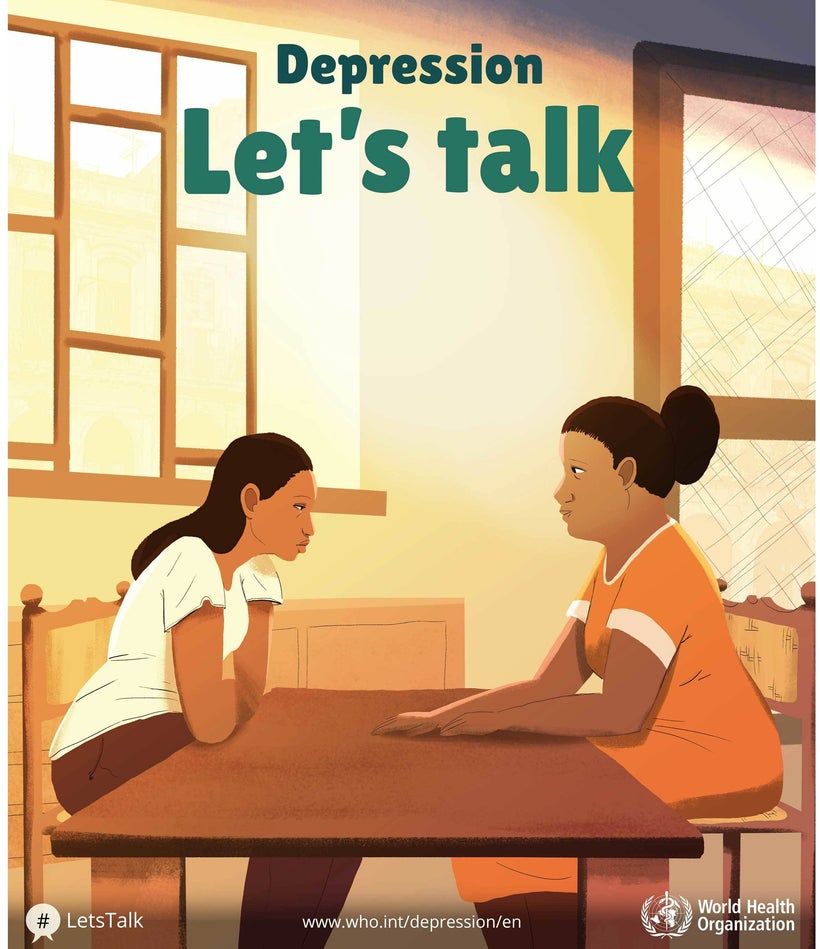 Calling all HuffPost superfans!
Sign up for membership to become a founding member and help shape HuffPost's next chapter
This post was published on the now-closed HuffPost Contributor platform. Contributors control their own work and posted freely to our site. If you need to flag this entry as abusive,
send us an email
.