Zelda Fitzgerald, portrait by Gordon Bryant, 1921, reproduced in Metropolitan Magazine, June 1922 (author's collection)
Zelda Sayre Fitzgerald was born 115 years ago on July 24, 1900, in Montgomery, Alabama. She shares the day, though not the year, with Amelia Earhart and Alexandre Dumas -- Dumas père, that is, author of The Count of Monte Cristo and The Three Musketeers. If you should be so lucky as to be in Montgomery on Friday, drop by the house on Felder Avenue where she once lived with her family. It is now the Fitzgerald Museum, and there will be cake and celebration in the evening.
The youngest of six children, daughter of a celebrated beauty and an Alabama Supreme Court justice, Zelda was an accomplished dancer from girlhood, and won a literary prize her senior year of high school for her short story The Iceberg. She'd have loved seeing it in The New Yorker ninety-five years later, in 2013.
The summer after she graduated from high school, when she was just 18, Zelda met a young army lieutenant at an officers' training camp near Montgomery. Here's how she remembered the moment, in her fictionalized autobiography Save Me The Waltz (1932), through the eyes of a character much like herself, "Alabama Beggs":
A blond lieutenant with one missing insignia mounted the Beggs' steps. He had not bought himself a substitute because he liked imagining the one he had lost in the battle of Alabama to be irreplaceable. There seemed to be some heavenly support beneath his shoulder blades that lifted his feet from the ground in ecstatic suspension, as if he secretly enjoyed the ability to fly but was walking as a compromise to convention. Green gold under the moon, his hair lay in Cellinian frescos and fashionable porticoes over his dented brow. Two hollows over his eyes like the ends of mysterious bolts of fantasy held those expanses of electric blue to the inspiration of his face. The pressure of masculine beauty equilibrated for twenty-two years had made his movements conscious and economized as the steps of a savage transporting a heavy load of rocks on his head.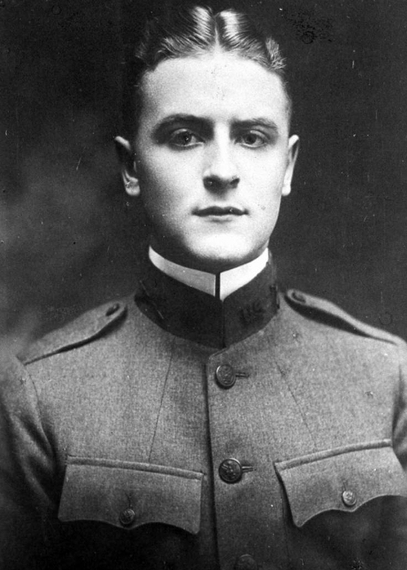 Scott in uniform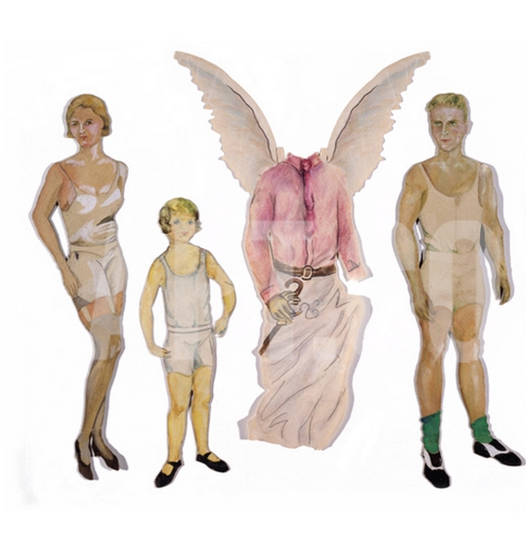 Zelda's paper dolls of her family, featuring an angel-wings outfit for Scott, via Art.com
The blond lieutenant was F. Scott Fitzgerald. They would be married not quite two years later, after a passionate and interrupted courtship -- Zelda broke off their engagement in June of 1919, when Scott, his first novel rejected, was unhappily working for an advertising agency in New York. Scott quit his job, moved home to St. Paul, Minnesota, rewrote his book and entitled it This Side of Paradise, had it accepted by Charles Scribner's Sons, and got the girl. He returned to Manhattan as a triumphant half of a golden couple: Scott and Zelda were married at St. Patrick's Cathedral, in the rectory, with Zelda eschewing white for midnight blue. The Fitzgeralds honeymooned at the grand Biltmore Hotel -- at first, until they were asked to leave.
Despite strife and money troubles, illness and depression and The Great Depression, their honeymoon went on for the next twenty years. If you don't believe that, just read Scott and Zelda's letters to each other. Their letters are far better than any of the many fictional accounts of their relationship that have been published in recent years -- novelists, like biographers, can't stop writing about the Fitzgeralds. Both parents adored their only child, daughter Frances Scott, born in October 1921, and many of the letters deal with their love for, and concerns for, her as well as for each other.
Zelda wrote short stories and critical reviews, sometimes alone and sometimes with her husband. Sometimes their work was published under his name alone -- it made more money that way. She became an increasingly accomplished artist, working in watercolors and oils, pen and pencil and charcoal. And she published her only completed novel, Save Me The Waltz, about a young Southern belle, Alabama, who marries an up-and-coming painter, David Knight. They move to the Riviera, where she becomes an accomplished ballerina. Zelda's passion for two things, the young husband and the dance, shine throughout the book even when life is at its most difficult. Radiant too is her love of flowers, so palpable in her art.
Yellow roses she bought with her money like Empire satin brocade, and white lilacs and pink tulips like moulded confectioner's frosting, and deep-red roses like a Villon poem, black and velvety as an insect wing, cold blue hydrangeas clean as a newly calcimined wall, the crystalline drops of lily of the valley, a bowl of nasturtiums like beaten brass, anemones pieced out of wash material, and malignant parrot tulips scratching the air with their jagged barbs, and the voluptuous scrambled convolutions of Parma violets. She bought lemon-yellow carnations perfumed with the taste of hard candy, and garden roses purple as raspberry puddings, and every kind of white flower the florist knew how to grow. She gave Madame gardenias like white kid gloves and forget-me-nots from the Madeleine stalls, threatening sprays of gladioli, and the soft, even purr of black tulips. She bought flowers like salads and flowers like fruits, jonquils and narcissus, poppies and ragged robins, and flowers with the brilliant carnivorous qualities of Van Gogh. She chose from windows filled with metal balls and cactus gardens of the florists near the rue de la Paix, and from the florists uptown who sold mostly plants and purple iris, and from florists on the Left Bank whose shops were lumbered up with the wire frames of designs, and from outdoor markets where the peasants dyed their roses to a bright apricot, and stuck wires through the heads of the dyed peonies.
When she finished her novel, Zelda was remembering their time on the Mediterranean, but was being treated for schizophrenia in Baltimore, at Johns Hopkins Hospital. First hospitalized in Paris in 1930, Zelda, living in Montgomery with Scott and Scottie in 1931, suffered another breakdown not long after her father's death. The Fitzgeralds lived in Baltimore, with Zelda in and out of the hospital, through the early 1930s. Amidst the chaos, Zelda managed to see her novel published, her play Scandalabra produced, and to have an art exhibition in New York.
The tragic end of Zelda's life is a story well known, from her long and unsuccessful struggle to fully recover, to Scott's early death in 1940, to her own horrible death, in a fire at Highlands Hospital in Asheville, North Carolina, when she was just 47. Today, think of her birthday, and recall her thanks to her husband -- fighting to get work as a screenwriter in Hollywood, fighting to finish his novel, fighting against the heart trouble that would kill him the next year -- for the flowers he sent her on July 24, 1939. Scott knew what she loved; he chose the colors, and the accompanying gift, as only he could.
Dearest D-O,

For my birthday, I love the purple asters and great white immaculate daisies and yellow gladioli that you sent me. Also, I am very happy to get the book on Art....I deeply appreciate your thinking of me so appropriately at a time when I know that you are harassed and pursued by all sorts of troubles....

Maybe next year we will be able to celebrate something 'en famille' again, and maybe next year we will be doing some very happy thing in remembrance of the times that we were born.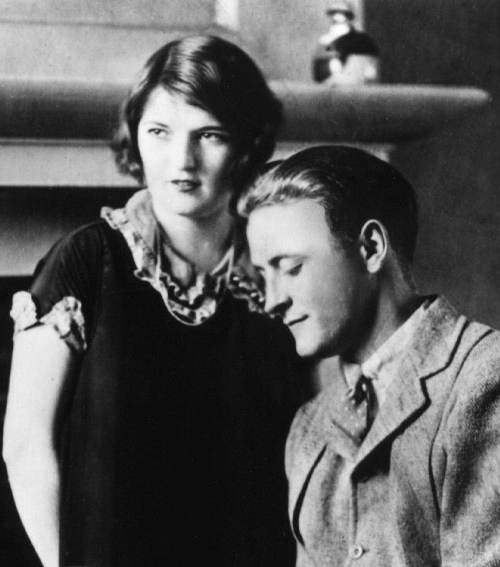 Quotations are from Zelda Fitzgerald, Save Me The Waltz (Scribner's 1932); and from Dear Scott, Dearest Zelda: The Love Letters of F. Scott and Zelda Fitzgerald, ed. Jackson Bryer and Cathy W. Barks (St. Martin's 2002).
All photographs, unless otherwise noted, are courtesy of and © The Zelda Fitzgerald Papers and the F. Scott Fitzgerald Papers, Manuscripts Division, Department of Rare Books and Special Collections, Princeton University Library.
Calling all HuffPost superfans!
Sign up for membership to become a founding member and help shape HuffPost's next chapter