When stuck for inspiration, songwriters often start to draw up lists. A list can be devoted to any topic that will generate rhymes. If, for instance, the character you're writing for is the Lord High Executioner of Titipu, you can describe a whole bunch of people to the audience whose presence (should it ever become necessary) would definitely not be missed.
Sometimes a simple device like a calendar can provide inspiration for a musical number. "The Lusty Month of May" (from Lerner & Loewe's 1960 musical, Camelot) may not be the greatest song ever written for a Broadway musical, but it serves its purpose in moving the show's plot forward. With an expansive musical arrangement and Sierra Boggess as Guinevere, it can easily delight a BBC Proms audience.
Oscar Hammerstein II used the months of the year for the lead-in to one of the biggest production numbers in 1945's Carousel. His lyric reads as follows:
"March went out like a lion
A'whippin' up the water in the bay.
Then April cried and stepped aside,
And along come pretty little May!
May was full of promises
But she didn't keep 'em quick enough for some
And a crowd of doubtin' Thomases
Was predictin' that the summer'd never come.
But it's comin' by gum,
You can feel it come,
You can feel it in your heart
You can see it in the ground
You can see it in the trees
You can smell it in the breeze
Look around! Look around! Look around!"
June may have been bustin' out all over, but August of 2014 was a real bitch. From volcanic eruptions to videotaped beheadings, from the heavily militarized police force in Ferguson, Missouri to the social media's collective angst over the fact that President Obama wore a tan suit to a press conference, August of 2014 was a month that put shark week to shame.
And yet hope springs eternal. Like Tom Wingfield (the male protagonist created by Tennessee Williams for The Glass Menagerie who often went to the movies to escape the suffocating cruelties of his family's hopeless existence), I always look to the movies and live theatre to renew my sense of optimism. And what better place to start than with Jerome Kern and Buddy DeSylva's "Look For The Silver Lining" (sung here by Alexander Gray and Marilyn Miller in 1929's film adaptation of Sally).
For people like Serial Mom's Beverly Sutphin, Labor Day may mean that white shoes are no longer in season. But for me, it's the start of the theatre season and a brand new supply of hope. Bottom line? Nothing ventured, nothing gained!
The first two experiences of my 2014-215 season completely charmed and disarmed me, bringing a smile to my face and hope to my heart. First up at bat was a two-hour animated feature by Hiroyuki Okiura with an absolutely delightful musical score by Mina Kubota.
With all the unnecessary brutality in today's world, A Letter To Momo provides a breath of fresh air by introducing audiences to three yokai (mischievous goblins) who have been sent down to earth on a very specific mission. They may be the silliest creatures to arrive on screen since Wipoc (Jim Carrey) and Zeebo (Daman Wayans) landed in the San Fernando Valley in 1988's Earth Girls Are Easy.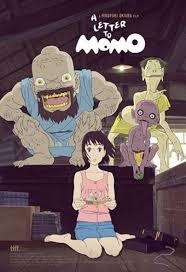 Poster art for A Letter To Momo
Okiura's three yokai had been locked in a book of drawings stashed away in an attic until Momo Miyaura (an 11-year-old girl who traveled with her recently widowed mother from Tokyo to the remote island of Shio) temporarily freed them. Only Momo can see the impish spirit creatures who waste no time stealing fruit and vegetables from local fields and creating chaos wherever they go.
Iwa, the purported leader of the pack, may look like a fearsome ogre, but he's harmless, clumsy, and quite adorable.
Kawa is a greenish creature with a frog-like face who is vain, lazy, hates eating fish (because they have so many scales) and is more than a little bit ridiculous.
Mame is the smallest of the three, with a long tongue that could make Jim Carrey's Wipoc jealous, a childlike sense of wonder, and a very weak memory.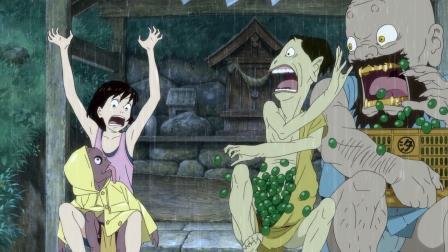 A scene from A Letter To Momo
While the three spirit creatures are trying to help Momo's deceased father pass over to the other side, in their clumsiness they have allowed the young girl to take possession of their travel passport to "the above." Depressed at having to leave her comfortable life in Tokyo, Momo is also wrestling with the guilt from having had an argument with her father (over tickets to a performance by the Vienna Boys' Choir) on the day before he died. Even as her mother, Ikuko, tries to encourage Momo to make friends with Yota and Umi, Momo can't begin to tell her new acquaintances what she keeps seeing when no one else is looking.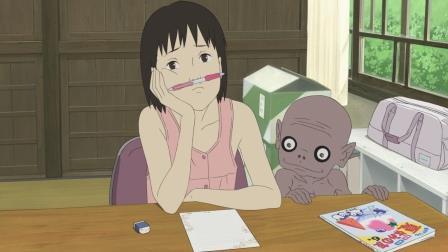 Momo and Mame are at a loss for words in A Letter To Momo.
The film's ravishing handmade animation is breathtaking from start to finish, with just the right amount of silliness to make A Letter To Momo appealing to children of all ages. Here's the trailer:
As I headed out to Walnut Creek to attend the opening night of Center Rep's 2014-2015 season, the last thing I expected was to fall in love with a new jukebox musical. But, in the spirit of giving credit where credit is due, let's just say that I came, I saw, and I was conquered (near Concord!).
Jukebox musicals are a peculiar genre that test one's loyalty to certain singers, songwriters, and singer/songwriters from the past. With shows like Beatlemania or Motown: The Musical, the evening turns into a spectacle buoyed by the music (although the urgency with which the show is paced often involves getting as many familiar numbers onstage as possible).
Jukebox musicals like Jersey Boys and Beautiful: The Carole King Musical are dedicated to particular talents and songs of their time. What keeps these shows afloat is not just the lucrative pull of nostalgia (and their solid production values), but the fact that their books are strong enough to make the audience care about the characters onstage. Despite its shrewd use of ABBA's impressive catalog of hit songs, Mamma Mia! can be a pretty vapid bore.
Lest anyone forget, the term "jukebox musical" also refers to music which gained its popularity from being played on jukeboxes in diners and coffee shops around America. While I might like to think of shows like 1968's George M!, 1972's Oh, Coward! and 1976's Side By Side By Sondheim as "pre-jukebox" musicals, the truth is that the songs featured in those shows never gained popularity by people tossing quarters into jukeboxes.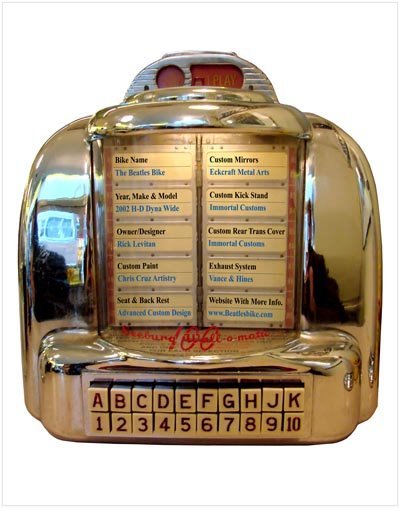 A popular table top jukebox
Written and directed by Roger Bean (who created The Marvelous Wonderettes and Winter Wonderettes), Life Could Be A Dream is a loving half-tribute, half-spoof that takes the best of both approaches and adds a curious twist. Not only does the show include 23 hits from the doo-wop era (ranging from "Sh-Boom," "Get A Job," and "Fools Fall In Love" to "Duke of Earl," "Lonely Teardrops," and "Rama Lama Ding Dong"), many have received glorious new musical arrangements by Roger Bean, Jon Newton, and Steve Parsons that can make audiences listen to these old standards from a decidedly fresh perspective.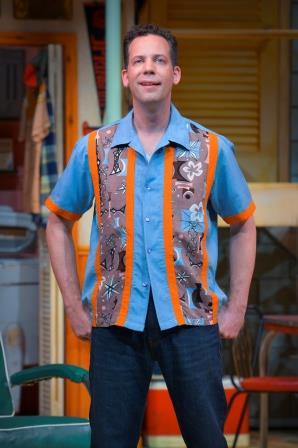 Ryan Drummond as Denny Varney
in Life Could Be A Dream
(Photo by: Kevin Berne)
The plot is simple enough. Denny Varney (Ryan Drummond) is an aspiring musician who is still living in his mother's basement five years after graduating from Springfield High School. Together with his close but extremely nerdy friend, Eugene Johnson (Tim Homsley), he hopes to enter the "Dream of a Lifetime" talent search being promoted by radio station WOPR ("The Big Whopper").
While Denny and Eugene are completely lacking in social skills and the kind of personal connections which might help them go places, their friend Wally Patton (Jerry Lee) most definitely is not. A checker at Piggly Wiggly whose father is a local preacher, Wally is an active force in the local church who knows everyone in town (including the contest's producer),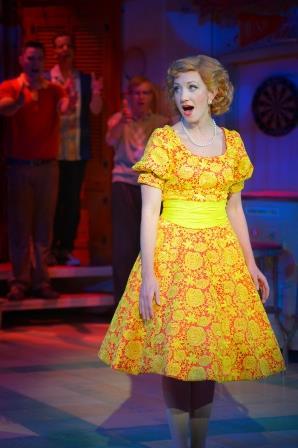 Sharon Rietkerk as Lois Franklin in Life Could Be A Dream
(Photo by: Kevin Berne)
After being allowed to join Denny's group (instantly expanding it from a duo to a trio), Wally sets up an audition for "Big Earl" Franklin, the owner of Big Stuff Auto who is looking for a new musical group that can promote his business. Instead of "Big Earl," the boys meet Skip Henderson (Derek Keeling), the shop's head mechanic who is a slightly pudgy Elvis look-alike. Tension quickly starts to mount.
Not only does Skip have eyes for the boss's daughter, Lois (Sharon Rietkerk), he's well aware that one wrong move could cause him to lose his job (which he desperately needs).
Although it's obvious that adding Skip to Denny and the Dreamers would bring in "Big Earl's" sponsorship, Denny wants to be the lead singer and has no desire to cede the spotlight to Skip.
Meanwhile, Eugene has never gotten over the fact that Lois broke his heart when they were in third grade.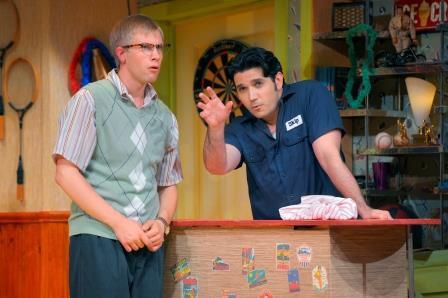 Eugene Johnson (Tim Homsley) and Skip Henderson
(Derek Keeling)in a scene from Life Could Be A Dream
(Photo by: Kevin Berne)
With choreography by Lee Martino and music direction by Brandon Adams, Life Could Be A Dream turned out to be a joyous evening in the theatre that benefitted from Michael Carnahan's unit set and Bobby Pearce's costume designs. Ryan Drummond continues to entertain Bay area audiences as the high-spirited Denny Varney while Tim Homsley added to a growing track record of impressing audiences with his strong vocals and obvious skill for physical comedy.
Jerry Lee made a notable contribution to the group as Wally (with a hysterically funny silent moment of unexpected gay awareness) as did Derek Keeling, who crooned and ground his hips nicely as Skip. One of the show's most sparkling assets was Sharon Rietkerk's classically trained voice, which added a new dimension to many old standards while strengthening Lois's character.
Life Could Be A Dream premiered in Hollywood in 2009, where it enjoyed a 12-month run and received the Los Angeles Drama Critics Circle Award and LA Weekly Theatre Award, as well as the Back Stage Garland Award for Outstanding Musical. Current plans are focused on a national tour prior to an off-Broadway run. At every performance, audiences will have the opportunity to fret over:
Whether Denny and Eugene can go from singing with the Crooning Crabcakes of Springfield High to a genuine career in show business.
Whether Eugene can leave behind a steady job in his father's sweet shop.
Whether Lois can overcome her parents' objection to having their daughter be seen socializing with a grease monkey from the wrong side of town.
Rest assured there is a happy ending and the audience goes home with goofy smiles of satisfaction plastered all over their faces.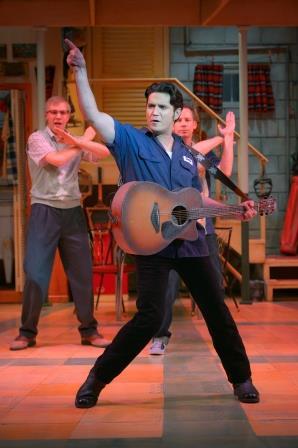 Skip (Derek Keeling) tries out for Denny and the Dreamers
in Life Could Be A Dream ((Photo by: Kevin Berne)
Popular in the Community