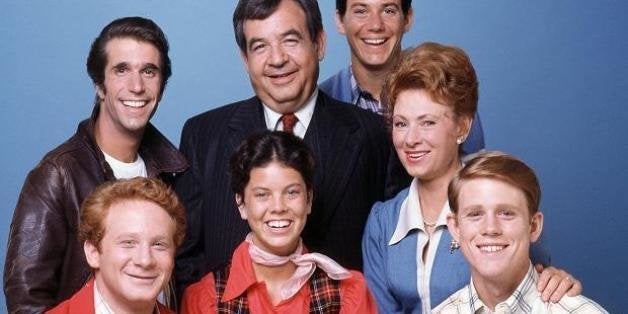 Whether it was Sunday, Monday, or another day of the week, "Happy Days" had fans falling in love with a middle class American family living in the 1950s. From comebacks to catchphrases and catchy opening jingles, the show had everything, which is why -- three decades after the final episode aired -- we're still talking about it.
A lot can happen in 30 years, and since the anniversary of the series' finale is coming up soon, we thought we'd find out what really happened to some of our favorite characters from the show. Take a look at what the cast of "Happy Days" is up to now.
Henry Winkler / Arthur Fonzarelli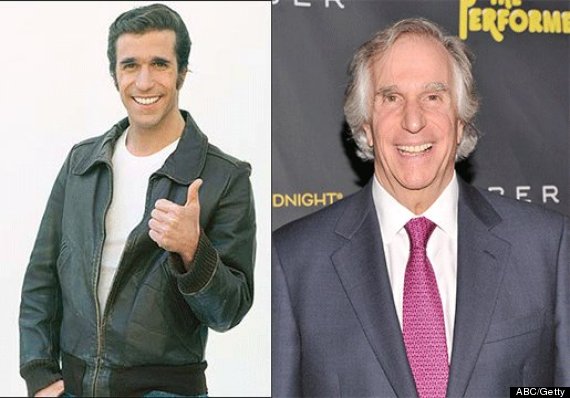 Then:
Known to fans as simply "The Fonz," Henry Winkler was the James Dean of "Happy Days." The greaser, who worked at the auto shop, rode a motorcycle, sported that now-famous leather jacket and made "eyyy" the coolest catchphrase ever, was definitely the most beloved by fans.
Now:
Winkler went on to establish his own production company, Fair Dinkum Productions, that spawned shows like "MacGyver" and "Hollywood Squares." He came back to the acting world, starring in a few Adam Sandler movies and made guest appearances on "Arrested Development" and "Parks and Recreation" before nabbing his current role on USA's "Royal Pains." Winkler is also the author of a series of children's books that center on a boy with dyslexia, a learning disability the actor suffered with for years before finally being diagnosed later in life. He still stays in touch with his former co-stars and is even the god-father of Ron Howard's daughter, actress Bryce Dallas Howard. Oh, and if you aren't following him on Twitter, you're missing out!
Ron Howard / Richie Cunningham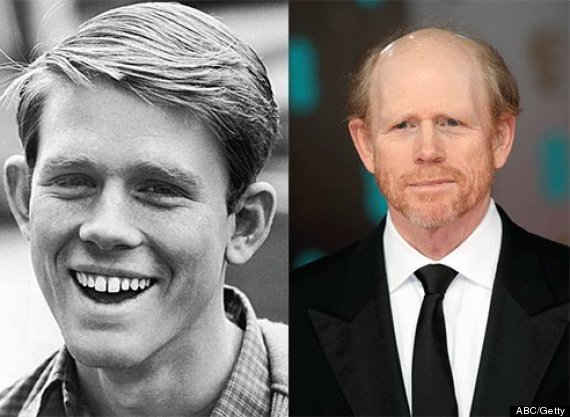 Then:
Richie was the All-American boy on the show. With his ginger locks, freckled mug and "aww shucks" demeanor, the letterman jacket-wearing high schooler quickly found a place in fans' hearts. While Richie did get into some trouble -– especially when it came to the ladies -– he was the moral center of the sitcom and it wasn't until he left, first to join the Army and then become a big-time writer in Hollywood, that we realized how much we missed the clean-cut teen.
Now:
Howard got his start as a child star -- he first-played Andy Griffith's son on "The Andy Griffith Show" -- but during "Happy Days," the redhead was bitten by the directing bug and left to follow other Hollywood pursuits. He's helmed plenty of award-winning films since then –- he was behind the camera for movies like "Splash," "Apollo 13," "How The Grinch Stole Christmas" and "The Da Vinci Code" –- and he even won the Academy Award for Best Director for his work on "A Beautiful Mind" starring Russell Crowe. Currently, Howard's busy filming a new movie with Chris Hemsworth and it was just announced that he will be directing a Beatles biopic, which aims to follow the band's early years.
Tom Bosley / Howard Cunningham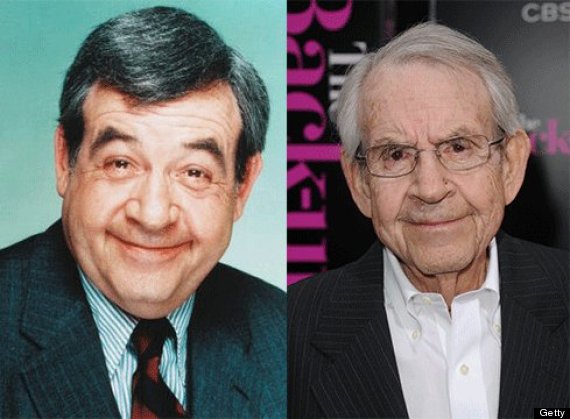 Then:
Mr. C was your typical, middle-class working dad with hobbies that included sitting in his comfy recliner, attending meetings at the Leopard Club and staying faithful to his Republican views. While he was a bit rough around the edges and could often be found lecturing Richie and his pals whenever one of their harebrained ideas backfired. Howard Cunningham was secretly a big softie who cared for everyone on the show and believed in family above all.
Now:
Though Tom Bosley is best-known for his time on "Happy Days," he was already an accomplished stage actor before landing his famous TV gig. Bosley won a Tony for his performance in the critically-acclaimed Broadway musical "Fiorello!" and appeared in films and on stage years before he took on the role of Mr. Cunningham. After the show ended, Bosley went on to guest star in everything from "Rugrats" and "Walker, Texas Ranger" to "ER," "One Tree Hill" and "That '70s Show." In 2010, Bosely starred in the Jennifer Lopez film "The Back-up Plan." Sadly, that same year, Bosley died after fighting a long battle with lung cancer. TV Guide named his character as one of the 50 Greatest TV Dads of All Time.
Erin Moran/Joanie Cunningham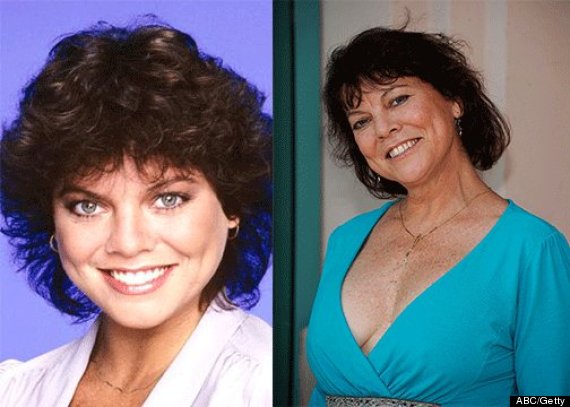 Then:
Fonzie's "Shortcake" and Richie's spunky sister, Joanie was the youngest member of the Cunningham crew and the teen had a penchant for falling in love quickly. Her romance with Fonzie's cousin Chachi in later seasons made for some great musical (and comedic) moments on the show and the two starred in their own spin-off before returning to get married during the final season of "Happy Days."
Now:
Erin Moran hasn't been having many happy days recently. The actress, who had a few small roles on shows like "Murder She Wrote" and "The Love Boat," appeared in VH1's "Celebrity Fit Club" in 2008 before finding herself homeless and in trouble with the law a few years later. The last we heard of the star, she was broke, had been kicked out of her trailer, was living as a recluse in an Indiana hotel room and having marital troubles with her husband of 20 years. There was talk of Moran joining her co-star Henry Winkler on the series "Arrested Development" but the actress never made an appearance on the show.
Marion Ross/Marion Cunningham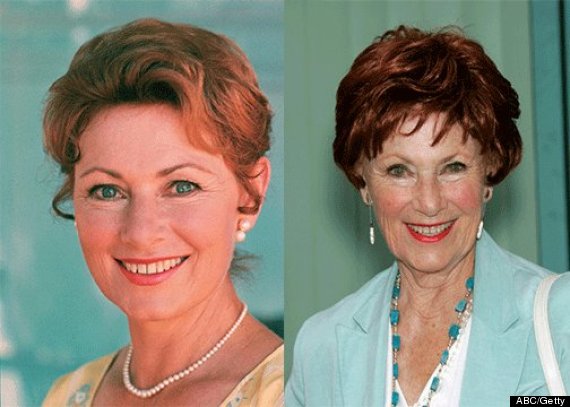 Then:
The matriarch of the Cunningham clan, Marion Cunningham, or Mrs. C, was the mother we all wanted. Sweet-tempered, good-natured, loving and smart, she ran the family while letting husband Howard think he was the man in charge. Mrs. C often worried about her family and usually tried to meddle in places she shouldn't, but hey, that's what moms do! And that's why fans of the show loved her.
Now:
After leaving Mrs. C behind, Ross went on to do other TV projects. She starred in the short-lived "Brooklyn Bridge," which won a Golden Globe Award and was also nominated for an Emmy. She's also guest-starred on shows like "The Gilmore Girls," "Touched By An Angel" and "Two and A Half Men."
Scott Baio/Chachi Arcola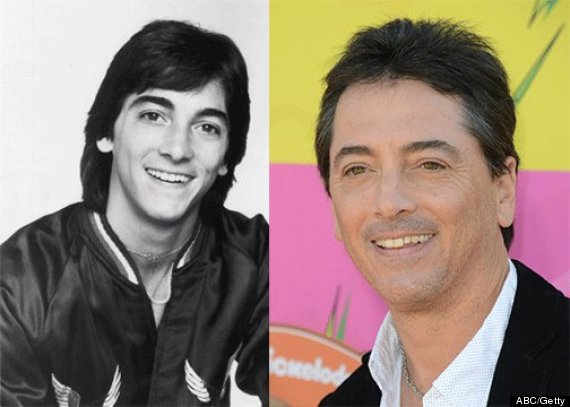 Then:
Wa, wa, wa, who didn't love Chachi? The young heartthrob of the show and Joanie Cunningham's love interest was first introduced as Fonzie's younger cousin in 1977. He became a fan-favorite, especially among female viewers and Baio was reported to receive over 5,000 fan-letters per day while filming the show. Eventually, Chachi and Joanie got their own spinoff where the two made a living singing in a family-owned restaurant but the couple returned to "Happy Days" for its final season and were married before the series ended.
Now:
After his turn on "Happy Days," Baio went on to star in the TV sitcom "Charles in Charge" about a college student working as a live-in nanny. The show lasted five seasons and afterwards, Baio made a couple of TV movies before taking a guest starring stint on "Arrested Development." Baio also starred on a couple of VH1 reality series including "Scott Baio Is 45 … and Single" and "Confessions of a Teen Idol," which followed the actor and another child star as they tried to find their way back into the limelight.
CORRECTION: A previous version of this story stated that it has been two decades since the finale aired. It has been three decades.
Calling all HuffPost superfans!
Sign up for membership to become a founding member and help shape HuffPost's next chapter
BEFORE YOU GO
PHOTO GALLERY
TV Reunions We Want To See