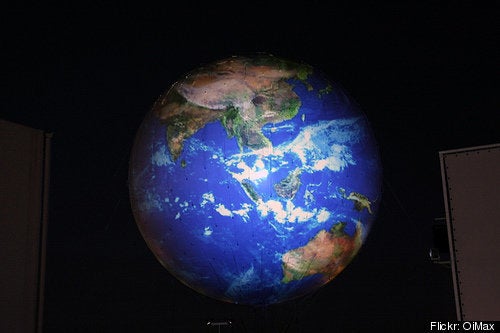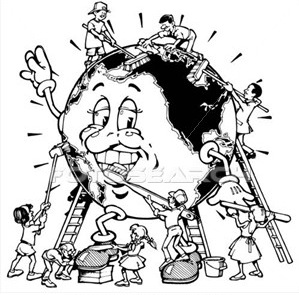 It's been forty years since the first Earth Day and in the last 10 years, the green movement has skyrocketed to great heights. While the world is on it's biggest green kick ever, it seems that our earth is still in great peril. Climate change is one of the greatest challenges of our time however, it has presented us with the opportunity to build a healthier, more prosperous, clean energy economy now and as well as for our future. Being green has all caused us all to look at the bigger picture but also how to clean up our own act as well. I truly believe that if we start from the inside out, the world will benefit.
Earth Day offers us the chance to advance climate policy, energy efficiency, renewable energy and green jobs in addition to learning about sustainable living in our own home and communities. This 40th anniversary Earth Day weekend is a pivotal opportunity for individuals, corporations and governments to join together and create a global green economy.
I've complied some things you can start with this Earth Day Weekend, from events to shopping, that will not only be fun as well as rewarding, but can also be done any time of the year to celebrate Earth Day all year long!
Shopping
You can find eco versions of pretty much everything you use in your every day life, and even "splurgy" luxury items! Here are a few sites to check out:
* www.theecoluxelife.com - If you need it, they can green it!
* www.uncommongoods.com - Find anything but ordinary
* www.elsewares.com - They shop the hard way, so you don't have to ; )
* www.annatarian.com -Eco couture and jewelry
* www.cardboarddesign.com - From furniture to toys, you'll find a ton of great uses for cardboard
* www.modernecohomes.com - The hub of eco-friendly goods for you and your home
* www.thegreenboardgame.com - The most fun way to learn how to be green!
* www.activeion.com - The safest and greenest way to keep your space clean - just add water!
* www.terrapass.com - Buy credits to balance your carbon footprint when traveling.
* www.verterra.com - Dinnerware made of nothing but fallen leaves and water. Super eco-chic!
* www.to-goware.com - Fabulous utensils & containers to take with you anywhere you go!
* www.vivaterra.com - Eco living with style
* www.thegreenloop.com - Sustainable style
Activities
Here are just a few fun, green things you can do with friends or family:
* Sign up for YourDailyTread's Go Green Bootcamp! 20 days of daily tips to go from Eco Zero to Eco Hero!
* Join a beach or park cleanup with groups like the Surfrider Foundation
* Plant a tree - visit the Arbor Day site for more info
* Check out a Green Drinks event in your area
* If you have kids, Print out our calendar and draw a green star for each day that you do an activity that helps the earth!
* Get your green thumb dirty and start a garden
* Turn trash into treasure! Refurbish an old sofa, chair or even a garment. Get crafty and creative and you just might produce a work of art ; )
Tips
My top 10 tips to help you go green!
* Go Veg! Check out last year's Earth Day post on how going veg can be the greenest thing you can do ; )
* Ride your bike whenever you can. If you just need some bread, bike to the store instead of drive, save $, gas and get some exercise in too!
* Swap out as many bulbs as possible with energy efficient CFL's (compact fluorescent light bulbs)
* Don't run the water while you are brushing your teeth. That could be a good minute or so of wasted H2O.
* Get a few reusable grocery bags. They have gotten really stylish now so there is no excuse to be piling up the paper and plastic bags ; )
* Get a great glass water bottle (bpa free or aluminum is fine too, but I prefer glass). Do away with buying 1 use, plastic water bottles. I've got some great companies listed on my Healthy Voyager Approved Directory so get one today!
* Shop locally and seasonally. Buying seasonal and local products not only helps support the community but also decreases the need for long distance shipping and costs as well as being healthier for you ; )
* Disconnect electronic items when not in use. I know that might sound like a pai, especially if you've got your office or entertainment system rigged up just so. But there are great power strips, like DSI Green Power Strip, that have 1 main source so all you have to do is flip 1 switch and the job has been done for you!
* Wash clothes in cold water whenever possible. As much as 85 percent of the energy used to machine-wash clothes goes to heating the water. Also use a drying rack or clothesline to save the energy otherwise used during machine drying.
* Ramp up your recycling! Be more cognizant of what you are throwing in the trash, make sorting bins if you don't already have them. Take batteries, electronics and other "not-really-disposable" items to the proper disposal facilities.
Links & Resources
Some great sites and info on how to be green from personal style to worldwide green news
* www.huffingtonpost.com - Their green section is aces for the hottest eco news!
* www.ecostiletto.com - Daily eco-friendly fashion, beauty, lifestyle and celebrity advice
* www.ecofabulous.com - Sustainable style tips for you and your home
* www.treehugger.com - Eco videos, radio, blogs, news and more
* www.epa.gov - United States Environmental Protection Agency
* www.sierraclub.org- Explore, enjoy and protect the planet
* www.green.tv - All green videos
* www.playgreen.org - A green living wiki
* www.change.org -A social network for activism, including environmental activism
* www.nature.org - Protecting nature, preserving life
Join the more than one billion people in 190 countries that are taking action for Earth Day and have a very happy Earth Weekend (or better yet, Earth Life!!)
For more information, visit www.healthyvoyager.com
Related
Popular in the Community