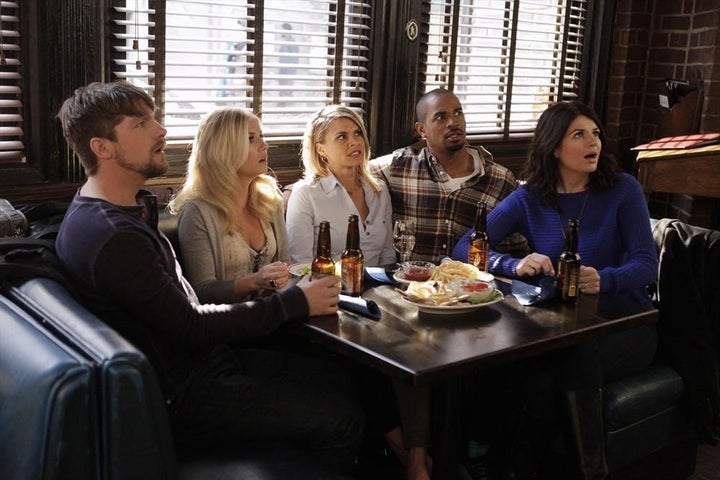 "Happy Endings" is more than just a funny, flailing show on ABC. Its wobbly situation provides an object lesson in what ails broadcast network comedies more generally.
The show is adored by its fans, saddled with a checkered ratings history that earned it an iffy Friday night slot and it may be on its way to a new cable home, and thus it's something of a poster child for the state of half-hour comedies on the Big Four networks. As television transitions to whatever's next with all the grace of the show's resident klutz, Penny (Casey Wilson), it's worth looking at what the ABC program may tell us about where the half-hour show is going -- and whether, as happened with one-hour dramas over the last decade, comedy's center of gravity is shifting to cable.
I recently spoke to the "Happy Endings" team and to other writer/producers about the state of not only this show but of comedies on the broadcast networks more generally. Many hour-long dramas on network TV are clearly struggling, but the state of half-hours is no less troubling.
As Liz Meriwether, creator of "New Girl," told me, "Network [comedy] has to find a reason for being. What does it bring to the table that people won't get from watching a funny cat video or a racy cable comedy?"
If it had debuted a few years ago, "Happy Endings" may well have evolved into a breakout hit or at least a steady performer, given some time, patience and consistent scheduling. Even a year or so ago, an upward trajectory didn't seem unrealistic. "Happy Endings," which also stars Eliza Coupe, Elisha Cuthbert, Adam Pally, Zachary Knighton and Damon Wayans Jr., was gaining traction in the media and was doing reasonably well in the ratings. From a creative, commercial and social media perspective, it had done everything right.
How quickly things change: A month ago, ABC unveiled a "save this show" campaign -- for its own program.
"I think our first reaction was ... ABC is asking people to do the thing that it can do, which is to save the show," executive producer Jonathan Groff said in an interview. But he and executive producer/creator David Caspe weren't necessarily sorry the #SaveHappyEndings push came from the same network that held the show's fate in its hands.
"It's kind of genius, in that I've never seen that much press generated from a promo before," Caspe noted.
Will "Happy Endings" make the leap to the USA Network, as recent news reports have suggested? Caspe and Groff didn't talk about specific outlets for a potential fourth season, and it's worth remembering that the show hasn't been canceled. But both said in several different interviews over the past few weeks that they've been happy with ABC as a creative partner. As Groff noted, "They could have canceled us two months ago and they didn't."
Having said that, both said they want the show to continue and they'd stick with it, even if it ends up airing somewhere else next fall. "Jonathan and I, our only goal is just to keep making the show," Caspe said. "Even if we don't live on on ABC, I think we'll live somewhere -- I hope."
What's odd about "Happy Endings'" current situation is that it's never been a cult-ish, niche object of adoration. It's a bright, cheery show aimed squarely at the mainstream, and at first glance, it would seem to fit ABC's brand, which is all about inclusive, upbeat worlds and the middle-class people who inhabit them. Sure, "Happy Endings" can be a dense, pop-culture-heavy experience, but that's the speed at which many people live their social media-saturated lives these days.
Had it debuted only a few years ago, and had it enjoyed consistent network support over time, perhaps it could have blossomed into the next "How I Met Your Mother," which has grown into a steady success for CBS. But is that kind of trajectory even possible any more? "HIMYM" debuted in 2005, well before online viewing and time-shifting became so prevalent.
But the deck may now be stacked against shows that cater to the very audiences that consume television in alternative ways. Also disturbing: The people most likely to give interesting comedies a chance appear to be the viewers who are least likely to be counted. If that's the case, what hope is there for smart, non-family-oriented half-hour comedies on the broadcast networks?
Does the future lie in cable, where expectations (and budgets) are lower? If those under 35 are watching TV online or via DVR binges, should broadcast networks aim at the older end of the 18-to-49 spectrum? Will next fall's crop of comedies feature even more monkeys?
Those are a few of the questions that emerged from my discussions with Caspe, Groff and other comedy insiders. Here are the seven big unsettled issues:
1. Is it time for the broadcast networks to retire, or at least rethink, the "Friends" model?
"Seinfeld" and "Friends" were two of the biggest hits of all time, so it's unsurprising that the television industry has put a lot of effort into replicating the massive success of those shows. Every year, networks assemble groups of sharp comedy writers and have them think up stories about packs of urban friends who spend their copious amounts of free time together. But as younger viewers flee live viewing in favor of other delivery methods, comedies that cater to that age range are struggling.
As Caspe noted, "It's tricky to come up with a younger-skewing show that is about the lower half of the 18-to-49 demo and have them show up on the night they're supposed to watch your show."
Groff still thinks young/urban/hangout comedies can work on ABC, NBC, CBS and Fox; but for that to happen, a network has to have patience. "It's going to be hard for a show like that to take off, and it's not going to happen right away, and it's sometimes hard for networks to balance all of that and wait for that audience to show up, or account for those who aren't watching it Tuesday at 8 p.m., or whatever," Groff said.
But the broadcast networks may doom themselves to irrelevance if they don't at least try to appeal to the next generation of viewers.
"That audience is desperate to have shows that they feel are authentic, and they're particularly aware of what's written from a perspective that really is like theirs," Meriwether said.
2. Shouldn't broadcast networks at least try to be consistent in when they schedule their shows?
"Happy Endings" did well when it aired after "Modern Family" last season, but once it was shipped off to Tuesdays last fall, it began to struggle. It also started its third season late -- it didn't arrive until October -- and soon the show ran into a host of election- and disaster-related preemptions. Then it took an abrupt two-month break, and returned on Fridays. That kind of inconsistency ends up training viewers to wait for new episodes to turn up on their DVRs or online, given that it's hard to predict when the show is even on.
"The case we've been making to [ABC is that] ... we haven't had any real consistency, and when we get some consistency, we tend to grow," Groff said.
Groff worked on "HIMYM" in its early seasons, and recalls the long, slow slog to sure-thing renewals. "It took a while, and CBS was committed to protecting that show," Groff said. Eventually, "you could feel the tide turn a bit, but that took until the end of the third season," after the show had aired five dozen episodes on Mondays (where "Big Bang Theory" spent several years growing into a big hit).
3. For a show to succeed on a broadcast network right now, does it have to appeal to a wider range of people?
The characters on "Modern Family" -- one of the few solid comedy hits in recent years -- represent many age ranges and ethnicities, and the comedy appeals to a similarly wide range of viewers. Groff says that the history of "Happy Endings" has served as something of a "reality check" for him -- and perhaps for networks buying younger-skewing shows.
"I do go, 'We did a pretty good version [of a show about people under 30]: a funny, appealing, accessible show with a great cast, and it's struggling,'" Groff said. The answer might be to make sure that future shows "definitely appeal to enough" 35- to 49-year-old viewers, and find ways to "monetize or count in the ratings the ones who watch other ways," he said.
4. Given how many viewers are turning away from appointment viewing, when will networks and advertisers begin to count alternative modes of viewing in ways that make sense?
Imagine if The New York Times' weekly list of bestselling books didn't count ebooks -- we'd laugh at that list, because it would be hopelessly wrong. Yet Nielsen still isn't counting online views in the ratings it provides to networks (it will begin to do so in the fall by adding 160 households to its 23,000-home sample). "Currently a 'television set' is the flat-screen kind, but in the future a tablet computer like an iPad could also be considered a TV set," a Nielsen executive said when the changes were announced. In the future?
The future arrived some time ago for huge numbers of television viewers, some of whom consider themselves fans of well-regarded broadcast network comedies like "New Girl," "Parks and Recreation" and "Go On" but could not tell you when or where they air.
The Nielsen system "always was kind of nuts, but it was less nuts 20 years ago," said Michael A. Ross, who's written for "Andy Richter Controls the Universe," "Rules of Engagement" and "Better Off Ted." "Now it doesn't make a lot of sense, given people's viewing habits." Especially since the number of homes with no television at all has gone from 2 million to 5 million in the last six years, according to Nielsen's own numbers.
But those overnight numbers -- which for "New Girl" are down compared to the show's first season, despite increasing buzz for the show -- are still widely reported, despite the fact that they're incomplete because DVR data isn't included.
"That's the perception of the show -- 'This show dropped,' 'That show falls' -- in the stories that are around the next day," said Meriwether. "Then, when you get the [Nielsen data tracking DVR use over seven days], the show is exactly where it was before."
Of course, TV networks can track legal online views, as well as Amazon and iTunes numbers; and when it comes to DVR use, advertisers will generally pay for viewership within three days of an initial broadcast. But what about binge viewing? What about catching up with your favorite show five days later? Some advertising is pegged to specific events -- sales and movie openings, for example -- but there have got to be better ways to monetize online views, later catch-ups and other kinds of engagement. (As it stands now, Meriwether said, Hulu and other online views don't come up in conversations with Fox executives.)
"It'll help shows like ours when networks and advertisers can come to some kind of understanding" on alternative viewing, Groff said. The Nielsen moves are "a step in the right direction ... but I don't know how [helpful] it's going to be in the short-term, for us or for anybody."
5. Are broadcast networks' ongoing problems skewing their comedy development in potentially problematic ways?
Ross says that "disposable hook" is a phrase he's heard in recent years among those who write and develop comedies. A studio or agent may encourage writers to come up with a loud, colorful premise that they can minimize once a network has picked up a show. But when pitching to the broadcast networks, writers are encouraged to start out with, as he puts it, "a hooky premise."
"Cougar Town" had a disposable hook -- and its co-creators couldn't wait to scrap its "older woman dating younger guys" scenario early in the show's first season. (That show, by the way, may have cleared the way for "Happy Endings" by migrating from ABC to cable.) Among other big, loud concepts the broadcast networks have commissioned in recent years: The first family's wacky hijinks! The insanity of men raising children! Hijinks at an animal hospital with a scene-stealing monkey! Aliens invade suburbia! And then there are the 43 iterations of "Up All Night" that NBC tried or contemplated.
Just as violence, blood and all kinds of conflict have invaded one-hour dramas, as the networks endeavor to get and keep viewers' attention, cartoonish premises have invaded network comedies. Of course, blood-soaked dramas can be worthy fare, just as shows that start out with silly core concepts can evolve into enjoyable programs. Perhaps the turn toward the broad isn't such a surprise, given the flop-sweat television networks feel as the competition for eyeballs just keeps on coming -- not just from other networks, games and movies, but from Netflix, Amazon, Hulu and the like. "Go big or go home" seems to be the networks' somewhat understandable, fear-driven response to the threats that surround them.
But it's worth noting how much more desperate the Big Four networks have become, and it's certainly worth thinking about how that desperation affects what ends up on our screens.
6. Is TV comedy's center of gravity shifting to cable?
HBO and Showtime have nurtured a string of successful half-hour shows for more than a decade, but the last five or six years have seen everyone from FX to TBS to TV Land aggressively ramp up their half-hour slates. On Tuesday, IFC announced it's developing a whopping 11 new comedies.
It's history repeating itself: A decade or so ago, basic cable networks began churning out the kind of hour-long shows the networks had more or less given up on or had stopped doing well. Now basic cable networks are moving into the comedy turf the networks have owned for decades. (As I noted recently, "Duck Dynasty," one of the current monster hits, is essentially a family comedy set on the bayou.)
Recently, Ross and Victor Fresco (the creator of "Better Off Ted") pitched USA Network a half-hour comedy about four twenty-somethings whose unpromising career prospects force them to move back home. USA bought the pitch, but that's far from the only comedy the network is developing. It began working on a comedy slate a couple of years ago, in part to have something to air alongside repeats of "Modern Family" when they arrive on the network in the fall. And Ross reports that executives there didn't waver from USA's "characters welcome" motto.
"They really do welcome characters, and they want the show to revolve around that, whereas [network executives] want the big, bold idea," Ross said.
"Networks tend to have brands" and it's more important than ever to be mindful of that, according to Ken Levine, a writer/director who has written for "M*A*S*H," "Cheers," "Frasier" and many other shows. But the big networks still also have very large media footprints. "I still think you have a better shot at attracting a large audience on a major broadcast network, but that could change any week," Levine added.
Groff says brand identity may have been an issue for his show. "It's different than [ABC's] other shows, which are more family-oriented," he said. "This is a group friends in their 20s, and that just hasn't really been what they do. I think they felt, 'Where do we put it, exactly?'"
But for comedy to survive, big hooks and strict brand cohesion aren't necessarily going to save the day. There has to be room for the audience to bond with a show's characters or concept, especially since most comedies are not heavily serialized or plotted for suspense.
"It's hard to make the case, 'Tune in tonight!'" Meriwether said. "I think there are amazing, inventive [comedies] that are specifically geared toward younger people, and there's no way for them to compete with 'You need to watch it right now!' stuff and reality shows. But that doesn't mean the comedies aren't being watched."
Cable -- where ratings expectations are lower -- already has the flexibility to nurture a wider variety of half-hour shows. "Louie" and "Hot in Cleveland" could not be more different, but in the cable realm, a half-hour show that changes its format almost every week and a throwback comedy about women of a certain age are successful enough to be well-established franchises for their respective networks.
7. Given all the change and chaos at the broadcast networks, maybe the thing to do is just make a show that's fun to make?
"Happy Endings" is an energetic, rapid-fire show. As cast member Zachary Knighton said in an interview, "We're trying to pack as much as we can into 22 minutes."
Perhaps it's all just too much for ABC's audience. Then again, the show's most vociferous fans probably wouldn't love it so much if it weren't a layer cake of dirty humor, cultural references and sarcastic banter topped by the sweet, sweet frosting of real friendship. That's the show that this cast and these writers found themselves good at making, and tinkering with that DNA is probably not a great idea (as a case in point, watch the new version of "Community," which seems off in many ways that matter).
"Our show is dense, and that could be hurting us," Groff said. "But we don't know how to make it any other way."
"You have to make the show you think is good and funny, and either people will show up or they won't show up," Caspe said. "If you chase what you think will be a hit, it will never work. Even if you don't make it ratings-wise, you have to at least be proud of what you made."

Related
Before You Go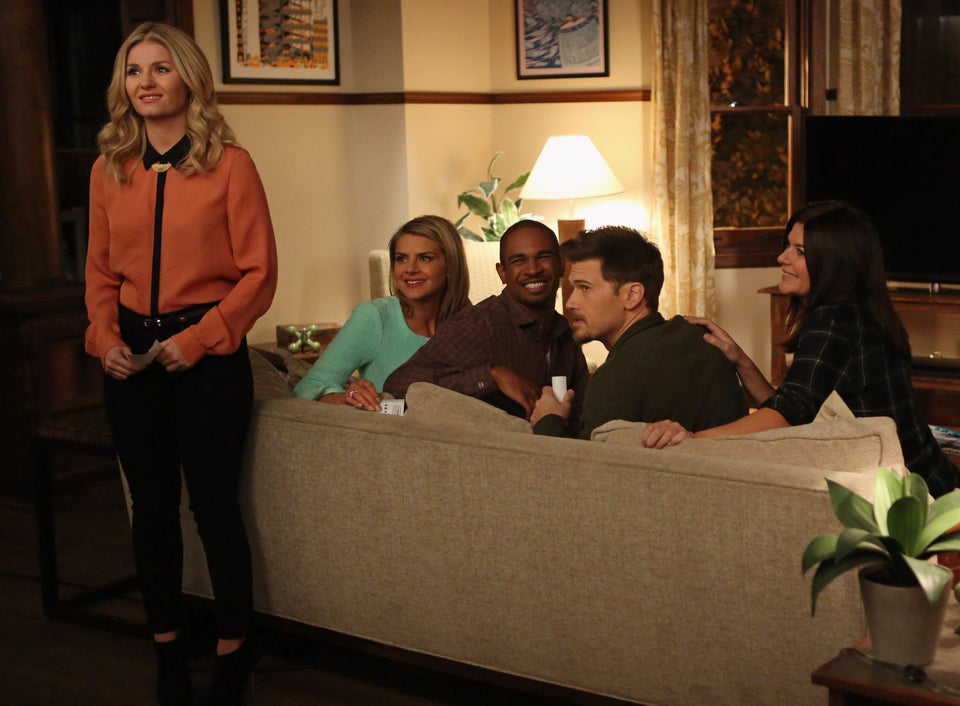 'Happy Endings' Season 3
Popular in the Community