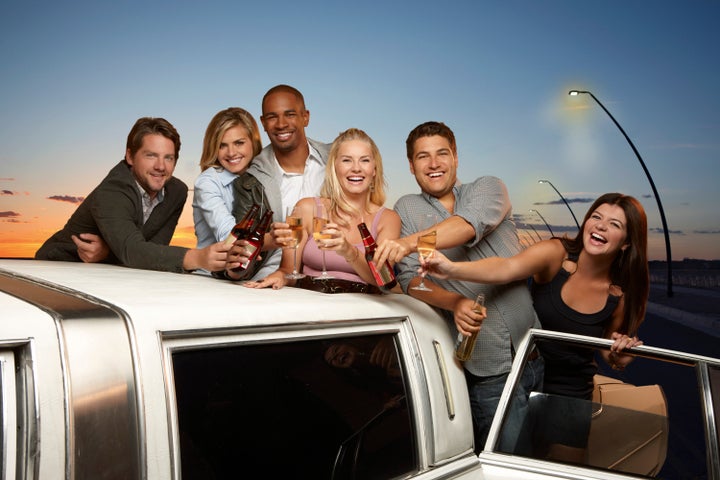 Read on for tidbits from Casey Wilson (Penny), Zachary Knighton (Dave), Elisha Cuthbert (Alex) and Eliza Coupe (Jane).
Love Is In The Air
Not only does Penny get some Brian Austin Green action in the season premiere, she also has a longer-term boyfriend after that: "Nick Zano plays Penny's boyfriend Pete, he's like the most gorgeous guy in person I've ever laid my eyes on," Wilson teased. "No offense to anyone else in our cast, but it's the truth. He's a real catch for Penny so she's holding on very tightly. Too tight, actually. But it's going well -– first she thinks she's a relationship guru, because she thinks she's been with someone for 10 days. [Laughs.] He's a really nice guy and kind of puts up with Penny, so he's good for her."
Her newfound emotional stability won't go down well with BFF Max (Adam Pally), though. "Max has a problem that Penny has a serious boyfriend now -- that's hard for him," Wilson said. "He's very jealous. He comes up with a friend whose name is Nicole, but he pronounces it nickel, because he wants her to be five times Penny. So he's getting very crazy."
As fans may recall, Penny was also harboring a little bit of a crush on Dave at the end of last season, which seemed to get derailed when Dave and Alex reunited ...
"I think we're going to reveal how Penny's had feelings for Dave for some time and deal with that a little," Wilson previewed. "But I think ultimately she's happy for her friend so it's sort of tabled. But she does still like Dave a little ..."
As for Dave and Alex, for now, it seems like the couple is full steam ahead: "We're still together. It's been a lot fun because we haven't really gotten to crack this nut with the show," Knighton said. "We've always been in so much contention that it's nice to be in a relationship and you get to see these two crazy oddballs together."
Cuthbert agreed, "It's nice that the audience watching Season 3 will get to see us as a couple and understand why it is that they were together in the first place. We've seen each other uncomfortable and apart, we've seen each other as friends, and now to see each other as a romantic couple is a new take and interesting. We're really having fun with it. We're realizing more that Dave is just as goofy as Alex and that this works for a reason."
Jane's Got A Job
Elsewhere, Jane is heading into the workforce while Brad (Damon Wayans Jr.) makes mischief at home -- "He and Max are becoming buddies -- lot of trouble there," Coupe teased. Rob Corddry is guest-starring as Jane's boss at the car dealership, and Coupe couldn't be happier with the arrangement: "Jane working at the car dealership is amazing, and Rob Corddry is amazing. I love working with him. He's unbelievable. I was so excited to be working with him and I had to contain myself until after we'd shot and I was like, 'You don't understand how excited I am.' We became a good little pairing, Jane and the car czar."
Parental Control
Alex and Jane's parents (Christopher McDonald and Julie Hagerty) are also heading to the show, which should give us some insight into how the Kerkovich children became so ... unique. "I only had scenes with [Christopher McDonald], 'cause Jane and her dad are buddies, and it was so fun," Coupe teased. "He was so funny. He's brilliant, and Damon and I, I don't think I've laughed that hard in a long time. She's got to impress her dad, and we know that Daddy Issues manifest themselves in many ways, and apparently obsessive-compulsive, controlling disorder is a real one."
"They have phenomenal parents," Cuthbert added. "It's so funny -- you can see the similarities between their mom and Alex and Jane and their father. It's a lot of fun."
Switching Things Up
With an ensemble cast, not every cast member gets to work with every other actor equally, but when we spoke to the cast, they were in the midst of filming an episode that directly addresses those imbalances.
"I'm getting a lot of stuff with Jane right now, which is awesome. We're shooting an episode this week where it's a Jane and Dave storyline," Knighton previewed. "We were talking about that at the beginning of the year, that we haven't done anything together yet, so we're hoping to keep that going. It's great working with all these guys and it's like a lottery every week."
"The first episode, me and [Zach] didn't have one scene together. We uttered no words to each other," Coupe admitted. "This one [we're filming] is all us. Of course, it involves a competition, because what is Jane without a competition?"
The Jane/Dave storyline naturally leaves room for Alex/Max and Brad/Penny, who also haven't shared many scenes together. "This week is the first episode that Brad and Penny have filmed together, and it involves a death, and a cover-up, and we're doing it together," Wilson said. "It's so much fun working with Damon. We were literally today like, 'We're doing clown work, just full-tilt clowns.' I said it's gonna break the television, it's so broad."
Cuthbert: "There's gonna be lots of rib eating and my racist parrot Tyler is back. There's a lot of dress-up, a lot of singing and dancing. There's a lot of crazy stuff [for Alex]."
Knighton: "[For the Thanksgiving episode] Dave is 1/16th Navajo, so he actually relives the entire plight of the Native American in one 22-minute episode of television."
"Happy Endings" airs Tuesdays at 9 p.m. ET on ABC.