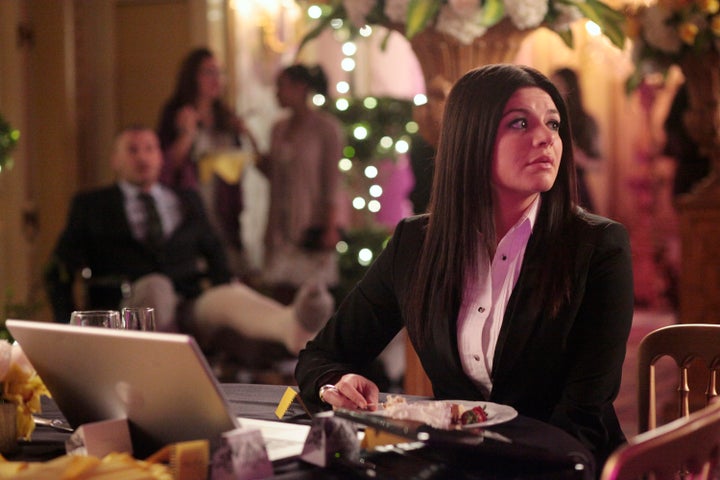 It looks like The Year of Penny is over. "Happy Endings" Season 3 will kick off with plucky Penny (Casey Wilson) in not so great spirits, according to executive producer Jonathan Groff.
"We're starting Penny off in a rough spot this season -- the Year of Penny was not exactly that fantastic ... Brian Austin Green gave us a little bit of hope for her and we'll lean into that in the beginning, but it's still gonna be a rough start for Penny -- in a way that will only make us love her more, I think," Groff told The Huffington Post.
However, Penny will be dating. Groff said the lucky man hasn't been cast, but he won't be taming Penny Hartz's heart.
"We want him to be a nice guy that she meets in a typically awkward Penny way, she's always gonna be flirting with screwing it up -- that's all we've thought of so far, we haven't figured out how to blow it up, which we'll probably want to do at some point, because it can't quite be time for Penny to settle down yet."
Season 2 ended with Alex (Elisha Cuthbert) and Dave (Zachary Knighton) rekindling their romance. Season 3 will see the two continuing down that road.
"We are going to see Dave and Alex dating," Groff said. "We think we need to do that because they never really had the break-up/make-up thing that I think the show needs. It just feels like we ran away from it a little bit in the first couple of seasons, sort of explored Alex at the end of the first season thinking she made a mistake, then second season tentatively moving them towards each other a little bit. It feels real, we always try to make a decision based on what feels like might really happen, even though the show's kind of outlandish at times. We try to go, 'In these relationships, what would actually happen?' So we're going to explore that at the beginning -- I'm not saying it's going to be smooth, but we're going to explore that."
And what about the rest of the gang? Season 2 ended with Brad (Damon Wayans Jr.) losing his job and Season 3 picks up with Jane (Eliza Coupe) in a work setting, which Groff said "will be kind of cool." Plus, look for Brad to live life the Max way since he's unemployed. "It's gonna be a challenge for him not to work, but he's gonna try to explore that," Groff said. "So that'll give us some good Brad and Max stories."
Executive producer David Caspe said there are plans for Max (Adam Pally) to get in another relationship. "[W]e'll hopefully get him in a relationship again because we thought that was really great, him and James Wolk," he said. "And hopefully we'll have Derrick (Stephen Guarino) back."
No guest stars have currently been tapped because writing is ongoing, but Caspe does have some plans for a visit from the Jane and Alex's parents.
"We'll meet the Kerkovich parents, so hopefully we'll get some funny people," he said.

"Happy Endings" returns for Season 3, Tuesdays, 9 p.m. ET on ABC in the fall. Get your DVRs ready.

Calling all HuffPost superfans!
Sign up for membership to become a founding member and help shape HuffPost's next chapter
BEFORE YOU GO