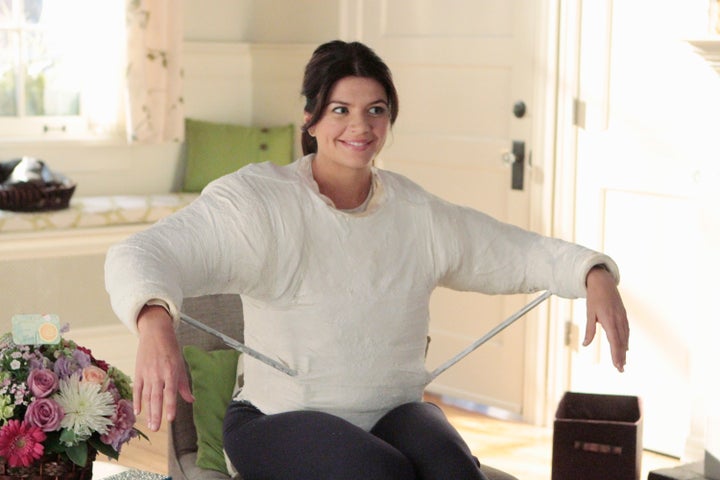 "Happy Endings" is back (Season 3 premieres Tues., Oct. 23, 9 p.m. ET on ABC), and you can rest easy knowing that things with the gang are just as twisted on the show's new night.
"Happy Endings" star Casey Wilson, who plays eternally down on her luck Penny, gave HuffPost TV the scoop on Season 3, including Penny's rough start this post-Year of Penny year, her love interests and a flashback episode that she calls "the finest day of my life" because it involved wearing a "Friends"-era Rachel wig. She also talked about "Happy Endings'" new night, potential crossovers and dream guest stars. Tina Fey, are you a fan?
The photos of you with The Rachel. We were dying! Tell me everything.
I mean ... basically we are doing a flashback episode that explores how we all met. It was 10 years ago so the writers presented me with a Juicy Couture jumpsuit and The Rachel to wear. It was the finest day of my life. It truly was a magical day. I mean, no one can do Jen [Aniston], but I tried. And the jumpsuit ... I mean, the bottom of it was all tucked in loosely to Uggs, you know, like you don't give a f*** ... it moved something very deep inside of me. I hadn't lived it myself -- no judgment for those that did, but those things are tight and I honestly don't know that I can pull it off. But you know the look. I'm also wearing one of those gold letter necklaces like Carrie from "Sex and the City." It's truly a special look.
It's such an iconic hairdo. Did you wear the wig off set at all, just for reactions?
I think it was best left all on the floor. I put it all out there and then took off the wig and jumpsuit.
The Year of Penny is over. How's she coping?
I'll tell you, she's not doing great. She's really not in a good place. The Year of Penny is over and replacing it is a full body cast. [Laughs.] It's not that tragic because we're still a comedy, but she's had an accident in which she's broken almost every bone in her body, so she's in a cast with her arms straight out in front of her and she can't do anything for herself. It's truly pathetic. A new low. But she does get a boyfriend eventually!
Yes! You talked a lot about wanting to see Penny in a longer-term relationship, and now Nick Zano is on for at least six episodes. What can you tell us about his character, Pete?
Penny, immediately upon getting a boyfriend, turns into this sage love guru. She knows everything now and she's annoying the hell out of everyone. Pete is so hot though. Could Penny really get him? I'm not sure ... Maybe he's with her for her sparkling personality. But she and Pete have a good relationship, at least for a while. I think he might stay even longer than six episodes. I hope. He's so cute.
But does that mean we won't get more of the Notorious B.A.G.? I'd love to see Brian Austin Green return ...
B.A.G. is gonna be in the premiere ... and I think he might be back again as well. We've got all the twists and turns of "Dallas" or "Real Housewives of New York." [Laughs.]
There's been all this talk about a crossover with "Don't Trust the B----," and I'm so curious: What do you think Penny would do if she met the Beek?
Penny would go crazy. I feel like that would be the pinnacle of Penny's existence. I would be scared for her to meet him. I don't know if she could hold her own in terms of Chloe, Krysten Ritter's character ... I think Chloe could just destroy her. But Penny would live to meet the Beek. I love the writing on that show.
I think it's a good match for Tuesday nights. And yes, I know there's a lot going on on Tuesday night TV now, but people can watch "Mindy" and "New Girl" and "Happy" and "Apt. 23"!
We're going to make Tuesday happen -- there's a lot happening! My dad is a firm believer ... he's like, "I'm gonna DVR it all!" [Laughs.]
We know we're meeting Alex and Jane's parents, the Kerkoviches, this season, but I'm hoping Megan Mullally will be back to play your mom again.
I think Megan will definitely be back, and I think Michael McKean is coming back as Dave's dad. I literally wondered this morning, Are they still dating? [Laughs.] Like they're real people. What's going on with their relationship? I haven't heard too much ... have they hit any rough spots? I'm going to get to the bottom of that, for real.
The guest stars are always pretty epic. Do you have any dream guest stars for the vision board going forward?
I want to get Catherine O'Hara, and if we're dreaming big of course I want Tina Fey. These things will never happen, I'm sure, but one can dream. We'd love to have Jason Sudeikis on the show ... we've gotten such great people. Everyone in the comedy community kind of finds their way to us -- if they like the show, they'll say they're a fan and then we get them on there.
"Happy Endings" Season 3 premieres Tues., Oct. 23, 9 p.m. ET on ABC.
Tell us: Are you excited for more "Happy Endings"?
PHOTO GALLERY
Where We Left Off And What's Ahead For Your Favorite Shows
Calling all HuffPost superfans!
Sign up for membership to become a founding member and help shape HuffPost's next chapter
BEFORE YOU GO