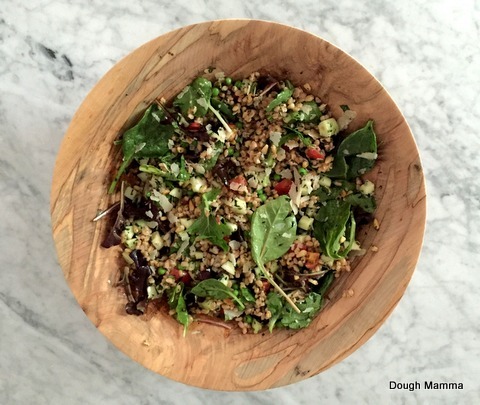 Happy Fourth of July! If you are looking for a one-stop dish to bring to your summer gatherings, look no further. This delicious farro salad is one well-rounded meal with fresh summer veggies, fruit, greens, dairy and protein. It's refreshing, satisfying and you won't feel bloated post consumption, so go ahead and make a splash with that sexy swimsuit.
Enjoy!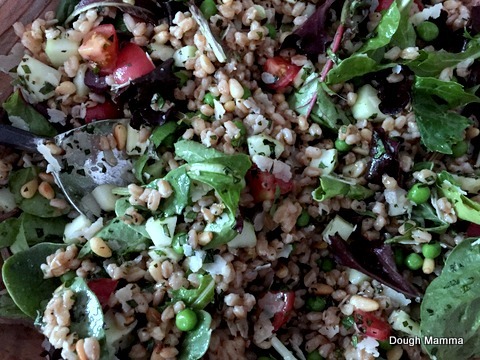 Title: Happy Farro July!
Author: Doughmamma
Prep time: 30 mins
Cook time: 30 mins
Total time: 1 hour
Serves: 4
Notes: If you don't have Bragg's Vinaigrette, you can substitute an Italian dressing or another lightly flavored dressing, just start with a small amount, mix, taste and alter as needed. This serves four as a main meal and 8 as a side dish. This dish is easy to make but has many components. It's best to have "mise en place" (the French cooking term, meaning everything in its place), so use small bowls to hold your ingredients, clean-up will be easier and you won't forget an ingredient. High Altitude add another cup of water or broth to the farro when cooking. You may need to add time to cooking. Drain excess if needed and spread out gently on a cookie sheet to dry, fluff with a fork.
Ingredients
1 cup of pearled farro
2 cups of low-sodium vegetable broth
½ cup of crumbled feta cheese
½ cup of roasted pine nuts
1½ cups of cherry tomatoes, small dice
1½ cups of cucumber seeded, small dice
1 cup of fresh peas, cooked and cooled
½ cup basil, finely chopped
¼-1/2 cup of mint, finely chopped
3oz of mixed greens (Arugula, mache, spinach)
¼ cup-1/2 cup of Bragg's Vinaigrette dressing
Salt and Pepper to taste
Instructions
Rinse farro in a fine mesh strainer. In a medium saucepan bring broth and farro to a roaring boil. Reduce to a simmer, cover and cook until liquid evaporates, about 30 minutes. Let dry and cool.
In a large bowl mix farro, feta, pine nuts, tomatoes, cucumbers, peas, basil, mint, greens and dressing. Mix and toss gently. Add salt and pepper to taste.