Mother's Day has been an official, nationally recognized day for 101 years. Father's Day became a national holiday 58 years later, in 1972. And Grandparent's Day, which comes on the first Sunday after Labor Day, became a national holiday in 1978, just six years later. Some joke that every day is Children's Day.
For a nation that claims it values families, it fails miserably to put its money where its mouth is. There are no national mandates or programs for paid family leave, universal child care, job flexibility or the many other policies that help families succeed.
But one national program that truly values families is Social Security.
Social Security protects all generations. It is the nation's largest and, despite its modest benefits, most generous children's program. If a worker dies or becomes disabled, his or her children receive benefits until age 18, and the care giving parent receives benefits until the child reaches age 16. (Children of deceased or disabled workers used to receive Social Security benefits until age 22 if they were in college, university, or vocational school, but the Social Security student benefit was repealed in 1981.)
Virtually all grandparents, aged 62 or older and retired, receive Social Security benefits. Two-thirds of Social Security beneficiaries aged 65 or older get half or more of their income from Social Security. One third rely on Social Security for virtually all of their income.
These grandparents often provide the essential backstop for working families. Grandparents routinely step in to help their adult children, overburdened by family-unfriendly work Grandparents provide care to their young grandchildren, pick them up from school, and care for them after school. Grandparents care for their grandchildren when they are sick. With parents working increasingly long hours to make ends meet in a difficult economy, the role of grandparents is perhaps even more important than ever.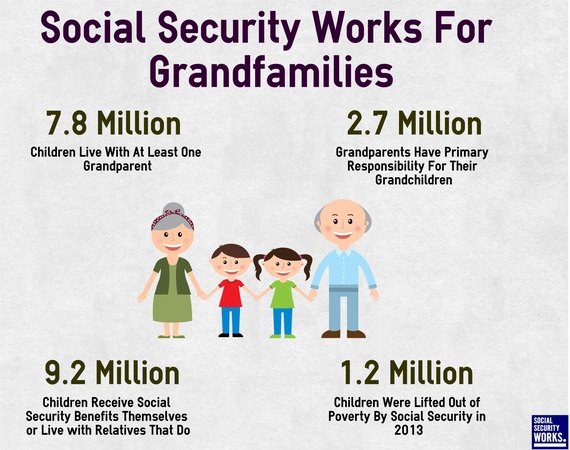 Not surprisingly, Social Security is the most important source of income for families where grandparents are rearing their grandchildren. Without Social Security, 59 percent of grandparent-headed families would live in poverty. Even with Social Security, twenty-one percent of these families have incomes below the poverty line.
It is time to increase Social Security's modest benefits and add benefits to help America's working families.
The Social Security Works All Generations Plan does just that. It increases benefits across the board and ensures that those benefits won't erode over time. The plan also provides a minimum benefit of 125 percent of poverty, so that seniors who have worked hard their whole lives do not spend their golden years in poverty. It restores the student benefit, so that children whose working parent has died or become disabled can obtain higher education while incurring just a bit less debt. And it provides care giving credit toward retirement for family members who take time out from the workforce to provide essential care.
The All Generations Plan brings our nation into the 21st century by adding family benefits other industrialized countries offer. It provides up to 12 weeks of paid family leave at the birth or adoption of a child, as well as paid sick leave. It provides a $1,000 payment at the birth or adoption of a child.
All of these additional benefits fit perfectly within the overall framework of Social Security. After all, Social Security is insurance against the loss of wages. In addition to death, disability, and old age, wages are lost, and often additional expenses are incurred, when workers become sick or when their families need them, whether as the result of illness or the birth or adoption of children.
Consistent with Social Security's history of self-financing without borrowing, the plan pays for all of these improvements and restores Social Security to long-range actuarial balance, while spreading the costs fairly, recognizing that it is time for the wealthiest among us to pay their fair share.
After 80 years, Social Security has stood the test of time. It is incredibly efficient, spending less than a penny of every dollar on administration; the remaining 99 cents is paid in benefits. The question isn't can we afford to expand Social Security. As the wealthiest nation in the world, at the wealthiest moment in our history, there is no question that we can afford to expand Social Security. The real question is how can we afford not to do so.
When President Franklin Roosevelt signed Social Security into law, he described it as "a cornerstone in a structure which is being built but is by no means completed." True to this vision, past generations have built additions onto this sturdy structure. Now it is our turn.
The movement to expand Social Security is growing. Poll after poll shows the American people overwhelmingly favor expanding Social Security. Every Democratic Senator but two and the vast majority of Democratic members of the House of Representatives support expansion. Nearly a dozen Social Security expansion bills have been introduced in this session of Congress alone. Two presidential candidates - Senator Bernie Sanders and Governor Martin O'Malley - have detailed proposals to expand Social Security. Secretary Hillary Rodham Clinton has spoken generally of her support for enhancing Social Security.
Grandparents Day is a time to honor grandparents, and especially those who are going above and beyond by taking on the responsibility of rearing their grandchildren. It's also a time to fight for them. Expanding Social Security would truly honor today's grandparents and tomorrow's. It would also improve the lives of mothers, fathers, children, and, indeed, all of us, both individually and collectively. Now is the time to lift up every generation, every family, and every individual by expanding Social Security. That would truly result in a very happy Grandparent's Day for all of us.
Nancy Altman is co-author, with Eric Kingson, of Social Security Works! Why Social Security Isn't Gong Broke and How Expanding It Will Help Us All (The New Press, 2015), which provides a detailed description of the Social Security Works All Generations Plan.
REAL LIFE. REAL NEWS. REAL VOICES.
Help us tell more of the stories that matter from voices that too often remain unheard.