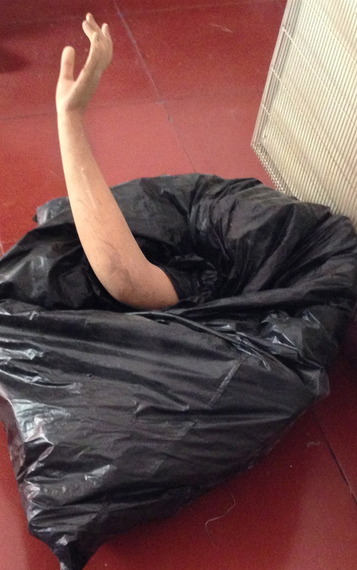 Halloween, and all things creepily Gothic, have never sat well with me. Gargoyles, Hieronymus Bosch, witches, vampires and Edgar Allen Poe, even the Adams Family, Alice in Wonderland, the Grinch and Charlie and the Chocolate Factory, are not simply reminders of humanity's dark side but evocations of alienation. It is a world with a tangible absence of safety where parents are missing or cruel, and in which the familiar threatens to dissolve into a Bulgakov-like nightmare of mental and visual juxtapositions, with blood.
On the other hand, Halloween as a way of conditioning ourselves to cope with the viscerally frightening, maybe. Fear can be irrational, like the non-existent creepy crawlies under our childhood beds that no amount of parental rationale stopped us from dreading. In the recesses of our imaginative minds lurked the same recess under our mattresses, inexplicable yet as real as a night terror, and so we jumped onto our themed duvets in our efforts to escape from potential leg-grabbing, until one day we stopped.
The natural world, generally acknowledged to be a miraculous complexity of life, also presents us with scenarios that play with our minds and give rise to arbitrary anxieties. Beneath the waves of an unimaginably deep and dark ocean lie creatures of prehistoric dimensions; even within the denseness of vegetation lurks mass killing by way of disembowelling, paralysis, sucking and sashimi-style devouring, 24/7. To watch a common house spider under the microscopic filming of a nature programme is to never set foot into a garden again, let alone a bath containing one.
But the world does magnified and visible horror too, whether it be human-inflicted or nature-derived, from child soldiers, to ISIL, plane crashes, and earthquakes to tsunamis, with consequences that we know are real and which become, in the drip-like effect of exposure through news coverage, an undercurrent of anxiety that can play with our adult imaginations. Though statistically we read that the likelihood of such harrowing things happening to us, or worse still to our loved ones, is low, it is, nevertheless, difficult to separate out the undercurrent that emanates from such scenarios, or even the empathy and heart-break felt for those who have suffered the consequences of such atrocities and disasters.
So maybe those of us averse to Halloween should learn to embrace it as a part of our survival mechanism; that through fun and celebration we find one of humanity's most powerful antidotes to fear itself, laughter, as we shriek with giggles at big furry spiders, at ghoulish figures looming out of the darkness, and at our deepest fears that lurk with every bend and dip of our trajectory.
Back in 2003, Halloween US-style soon transformed our leafy neighbourhood into a Michael Jackson "Thriller" video, complete with a lurking zombie under a clump of hay that chased us down the street with a howling chain saw. Not sure that peeing in my pants was due to funniness, though spotting a pumpkin on a neighbour's doorstep carved with the word "CHENEY" made me genuinely laugh in the face of such sinister undertones, when the exasperated neighbour with an October 31st deadline, ordered her husband to carve the scariest thing he could think of.
So as much as Halloween reminds me of the thoroughly grim moments of being lost, bewildered and a wooden orphan in Pinocchio, it just might be a welcome celebration to further strengthen our resolve to live through alarming times, real or imagined, while we learn from young to hone our coping skills by standing up to those elements that cower us with fear. And for those who find it difficult to swat away the horrors of a Halloween hell, there is always the "There -but -for- the- Grace- of -God-go-I" -moment: Thanksgiving.