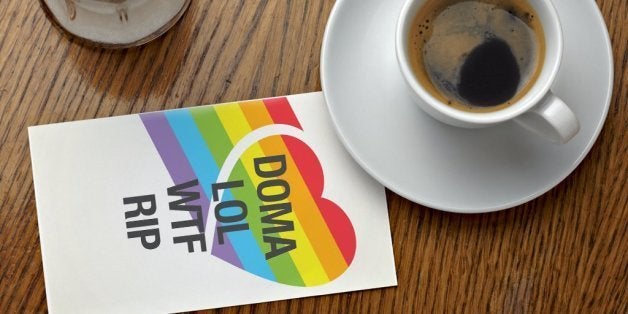 There's a good chance your social calendar has been filling up with same-sex weddings now that DOMA has been overturned. That probably means you're on a never-ending search for the perfect gift -- and don't even mention trying to hunt down a lesbian, gay, bisexual or transgender-themed card to say congratulations.
But we have good news for you: A new line of greeting cards by Emily Belden entitled Happy Happy Gay Gay is here!
By visiting Belden's site, you can buy an e-card, print it and give it to the brides and grooms in your life. What's more, part of the proceeds from the cards will go to The Trevor Project to help combat LGBT youth suicide.
In an email interview with The Huffington Post Belden reveals what inspired the new line and more:
The Huffington Post: How did the line start?
Emily Belden: One of my gay friends got married in July on live television in city hall the day DOMA was shot down. I thought that deserved a helluva "congratulations" card, but couldn't find one for a gay couple. So I decided to make one. And one turned into 10. And 10 turned into Happy Happy Gay Gay.
What makes it different from other lines of same-sex greeting cards?
There's virtually no overhead for me to create the cards; I write and design them myself. So I decided to give a cut of the profits to a great LGBT organization. Most greeting cards don't come with a social good like that and I'm proud to do it.
Why did you pick The Trevor Project?
I have a lot of friends that could have been a Trevor. I sometimes forget that hope and strength doesn't come easy to everybody, so I wanted to select an organization that makes that its mission.
What kind of reaction have you received?
In a word: "Fabulous." I am so touched by the outpouring of support. My first sale was from a gay man in Mexico within minutes of going live. I wrote him personally to thank him for making history with me. He was like, "No, thank YOU, I have been waiting a long time for this." Then he invited me to his timeshare in South America. So, there you go.
Cute cards that contribute to a good cause? Click here to get your own for the happy couple in your life!
REAL LIFE. REAL NEWS. REAL VOICES.
Help us tell more of the stories that matter from voices that too often remain unheard.
BEFORE YOU GO
PHOTO GALLERY
Happy Happy Gay Gay Wedding Cards