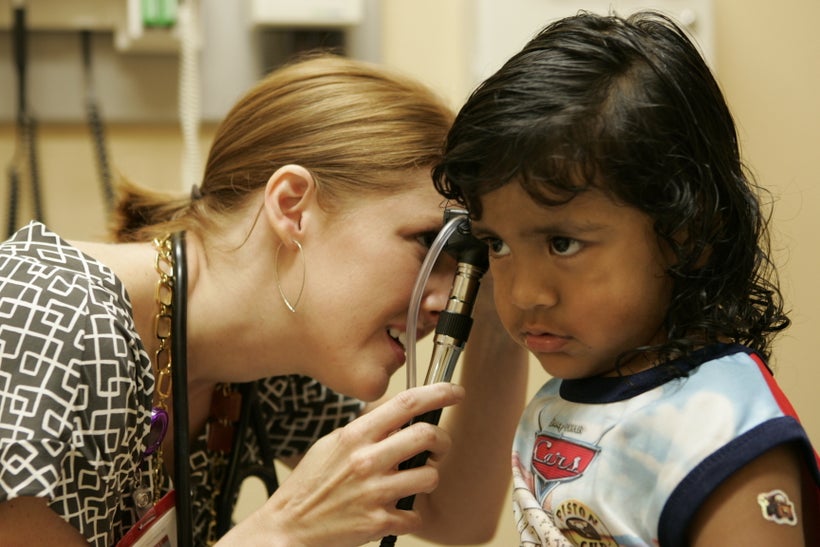 If we want to help our students succeed in school, we must first focus on their health.
Health affects every aspect of a child's life, including the ability to grow, learn, play, and succeed. Access to affordable health coverage can save lives; children with health coverage are more likely to get preventive care that helps them avoid hospitalizations and prevent more serious illness. But how well students perform in school is also associated to their health. Children who cannot focus due to a toothache, lack glasses to see the chalk board, or need hearing aids to be able to hear their teachers are less likely to succeed in the classroom. Health-related issues such as chronic illness, tooth decay, and mental health challenges can lead to school absences and poor academic performance. Children with health insurance do better in school on average and have higher educational attainment and earnings in adulthood than uninsured children.
Given how crucial health coverage is for children to thrive physically, mentally, and academically, the Children's Defense Fund (CDF) is pleased to announce the launch of Happy, Healthy and Ready to Learn: Insure All Children, a toolkit for school-based child health outreach and enrollment.
Since 2011, Children's Defense Fund, in collaboration with The School Superintendents Association (AASA), has implemented child health insurance initiatives with 15 school districts in several states. The Children's Defense Fund-California (CDF-CA) has partnered with four in Los Angeles County: Compton Unified, El Rancho Unified, Lynwood Unified, and the Mountain View School District. These initiatives stem from a shared belief that healthy students are better able to succeed in the classroom, and that schools have an important role to play with community partners to connect uninsured students to health coverage. The CDF/AASA model was highlighted in this year's "Healthy Students, Promising Futures," report from the U.S. Department of Education as a high impact opportunity that schools can take to improve student health. Today, U.S. Secretary of Education John King and U.S. Secretary of Health and Human Services Sylvia Burwell joined with CDF President Marian Wright Edelman and AASA Executive Director Dan Domenech to announce the launch of the toolkit at a roundtable discussion highlighting best practices for getting more students enrolled in health care.
With this new toolkit, helping children and their families get connected with health insurance can become routine policy and procedure for schools. It is specifically tailored for school districts and features case studies, customizable templates, an assessment tool and other approaches and best practices that will help schools get started or boost their existing health outreach and enrollment efforts. Because of the critical role schools have in all communities, administrators and school officials can reach children and families where they are. Although city and state programs and resources are available, parents are often unaware of their existence or cannot access them, leaving them feeling hopeless particularly when their children are in need of health services.  The toolkit will be particularly useful in California school districts with large numbers of undocumented students. All low-income undocumented children in California are newly eligible for Medi-Cal, but remain more likely to be uninsured than their peers.
These student health initiative are already making a difference. For example, the mother of a 12-year-old student in the Mountain View School District was distraught after her son fell on the playground during recess and broke his left thumb. She could not take him to see a specialist because he was uninsured. School officials were able to get her the information she needed to get coverage for son. In another case, 9-year-old Cesar and his sister, 6-year-old Amy, needed mental health services but their family lacked health insurance. They were referred to El Rancho Unified School District's enrollment partner agency, St. Francis Medical Center, where they signed up for health insurance. Now, Cesar is receiving ongoing treatment for his anxiety and a rare scalp condition, and Amy is getting help with her speech disorder. These cases are not uncommon. Indeed, absent the school districts' intervention these children could have gone without treatment, and given the critical nexus between health and education might have been placed one step closer to the cradle to prison pipeline. 
Under a 2014 state law (AB 2706), all public schools in California are required to provide families with information on health coverage options through the school year 2017-18. But schools can and should go further to ensure that families get assistance with applying for health coverage. This toolkit provides a template that will help them do it using lessons learned and strategies to overcome challenges. 
CDF-CA hopes that school districts across the state and beyond utilize this toolkit to connect all uninsured students to health coverage. One of the core components of our organizational mission is to ensure that every child has a healthy start in life. We educate about the needs of children and encourage preventive investments, such as health coverage. We must do what we can to make sure all children have access to affordable, comprehensive, quality health care. It is not only an investment in their future, it is an investment in ours.
REAL LIFE. REAL NEWS. REAL VOICES.
Help us tell more of the stories that matter from voices that too often remain unheard.
This post was published on the now-closed HuffPost Contributor platform. Contributors control their own work and posted freely to our site. If you need to flag this entry as abusive,
send us an email
.