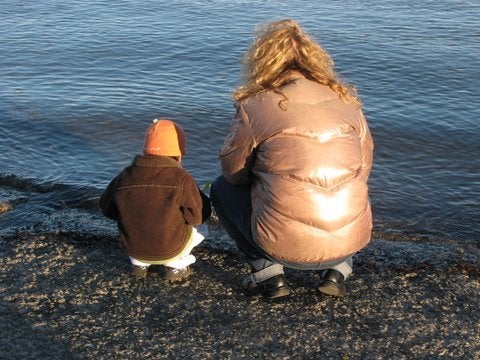 I love the holiday season.
The colorful twinkly lights and multitude of Santa Clauses. Christmas trees. Chanukah candles. Gift-giving. Smiles and rosy faces abound.
The holiday season is magical. It turns eggnog, which is disgusting, into a delicious drink to sip by the fire or, um ... the radiator. It makes everything cute. When else would you dive into a bowl of chocolate treats called "Reindeer Droppings"?
Even New Yorkers get downright cuddly. "Happy Holidays!" is the greeting of choice, and the thing is, we really want total strangers to have a happy holiday. We even smile at traffic cops.
But two days after New Year's, when the snow turns to brown, black and yellow, when traffic is at a standstill, work has piled up and New Yorkers have each gained 3 pounds from too much pie, "Happy Holidays!" is usurped by "F Off!"
We don't give a rat's ass if that stranger had a happy holiday; they're in our way.
That warm fuzzy feeling watching "It's a Wonderful Life" is replaced with the three A's: angst, aggression and aggravation. And, of course, rat's ass-ism. (I'm pretty sure I invented that expression.)
But what if we could simply decide to keep the holiday spirit going into a happy holi-year?
Why does Santa Claus only come out once a year? Why not every Monday?
As you drag your feet to work, totally bummed out that the weekend is over, why not have St. Nick waiting for you at the office door with a sugar cookie and a cup of hot chocolate?
"Ho, Ho, Ho! Happy Monday!"
"Oy vey and away! It's Monday!"
We race to get our shopping done in time for gift giving in December, then don't seem to give a hoot about giving anybody anything the rest of the year, unless it's a birthday or we're campaigning.
How about gift-swapping in March, which I think of as Hump Month. March is the Wednesday of the year, as far as I'm concerned.
Charities and volunteering get a giant spike in December, then go down the tubes in January, but people need our help all year long.
What about designating a month like May as May I Help You Month or July as Just Ask Me Month?
We could have a month set aside for helping people in need, giving to the arts, saving the environment, saving the elephants, helping gay and trans teens in peril, women's rights and feeding the elderly. Name anything the White House doesn't care about these days.
During May I Help You or Just Ask Me months, we could get double our tax write offs for charitable donations so the government could give us a little gift too. Maybe not this government, but you know, future ones that actually care about us and tax-deductions for things besides private jets.
We could have sappy holi-year movies, too.
Tom Cruise could star in "It's a Wonderful Wife" about an army colonel who comes to terms with being a woman when an angel played by John Travolta in drag allows him to see what would happen to the soldiers on the base without her. All the soldiers whose lives she has saved rally around her. "Trans rights are human rights!" they shout. Not a dry eye in the house.
Cher could make her 54th comeback in "Miracle on 42nd street" about an over-the-hill prostitute in 1970s New York who walks her corner while singing power ballads and is ultimately discovered by a john who makes her a Broadway star.
There are endless ways we could stretch the holiday spirit.
We could elevate Dreidel spinning to an Olympic sport, sing carols for every holiday. A good friend of mine named Gus used to sing carols for Groundhog Day. The man was ahead of his time.
Instead of chopping down trees, we could plant them.
I would skip year-round mistletoe, though. That is one loaded plant. A better option would be to respect women, whether they're your secretary, boss, running for office, waiting on your table, or watering your plants, whether they're 14 or 44.
So make your own keep-the-holiday-flowing list.
Being at least a little bit nicer should start that list: Stop stealing your neighbor's paper, and pick up after your damn dog.
Until then, "F Off!" and may a thousand reindeer droppings anoint your doorway.
Happy holi-year, everyone.
REAL LIFE. REAL NEWS. REAL VOICES.
Help us tell more of the stories that matter from voices that too often remain unheard.
This post was published on the now-closed HuffPost Contributor platform. Contributors control their own work and posted freely to our site. If you need to flag this entry as abusive,
send us an email
.