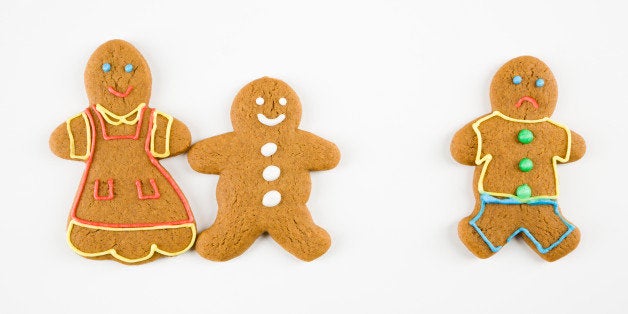 I'm signing my divorce papers during the holidays. Merry Singlemas to me! During the hap-happiest season of all, I'm miserable. My mistletoe fell, my tree is crooked and I burnt the snowman cookies. I try to online shop, as I can't even imagine fighting the lines at the mall, but I look around and then exit without anything in my virtual cart. Divorce is hard anytime of the year, but I was scared of being on my own for three years and now the pressure is on to finalize it right at Hanukkah.
We separated and then I got sick so we put off our discussions of legalizing our futures apart until I healed. Then I found every other excuse not to sign the papers. I wrote a book, I took our daughter on trips, I stayed busy so I wouldn't have to think about my life without a husband. Someone who makes sure you are fed, clothed, have a roof over your head and loves you while you raise your kids together. My parents passed away, I have no family nearby, and I was scared of losing him as my best friend and I would be completely alone.
He is a great provider. He is a wonderful father. We just didn't work. I try to pinpoint when it turned from a husband and wife relationship to a best friend's relationship but I can't figure it out. I wish for my daughter's sake that I would've tried harder to see where I went wrong and figure out how to be a better wife. So much time has gone by that he has moved on and I don't blame him. I want him to be happy as he deserves to be with someone who makes him feel great about himself. I didn't know how to be a wife that stays no matter what. My parents divorced when I was seven so my role model was my single mom.
Vows in a marriage are quickly forgotten and we struggle to figure out who we are, what we want out of life, and how our partner figures into that equation. We start to want different things because as humans we are changing and adapting to the world around us. We think that there has to be more to life than the daily struggles of being around the same person, doing the same thing everyday. You don't realize that no matter who you are with, there are struggles. They may look different at first, but underneath they are all the same. Marriage is hard. Period.
I am divorcing my best friend and father of my daughter. My first divorce went a lot smoother as we didn't have children and we just signed the papers and said goodbye. This divorce is the hardest thing I've ever done. I know I'll have to stand by as my daughter is introduced to my ex's new love. Half of her life is spent with her dad, which means, I miss her half of my life. We will still have Christmas morning together as a family, but I have a feeling that this will be the last year of pretending for one day a year, that we are a unit of one instead of two.
My friends have all tried to help by telling me that getting it out of the way, before the New Year, is best for everyone. We will all start the year off by letting go of the past and starting a new life as single parents. I have been dragging my feet longer than any other man would've put up with, so it's the least I can do for my ex. I just have to let him go. Yes, Christmas morning will be a little awkward after just seeing him at the divorce attorney's office the week before, but I have to sign on the line that releases him with love. Isn't that what the holidays are about anyways? Being thankful for the people who surround you with love, and in return, giving them love right back. This isn't a Happy Holidivorce for me but an ending with love.
Related