Pebbles's 5th birthday has just come and gone and I'm pretty sure we rocked it (if I do say so myself). Twirly party dresses were worn, vast quantities of refined sugars were ingested and gift bags stuffed with tissue paper and presents were torn asunder. By the time Pebbles stumbled into bed that night she was, without question, a happy little girl. This is easy, of course, because Pebbles defaults to happiness all the time (except when there's something to get out of throwing a little drama -- then she throws with the best of 'em). Seeing your child in an ecstatic glow is as good as it gets for a parent. Neck deep in the relentless ordeal of child-rearing, it's easy to assuage our personal insecurities by thinking, "Well, they're happy; I can't be doing it entirely wrong."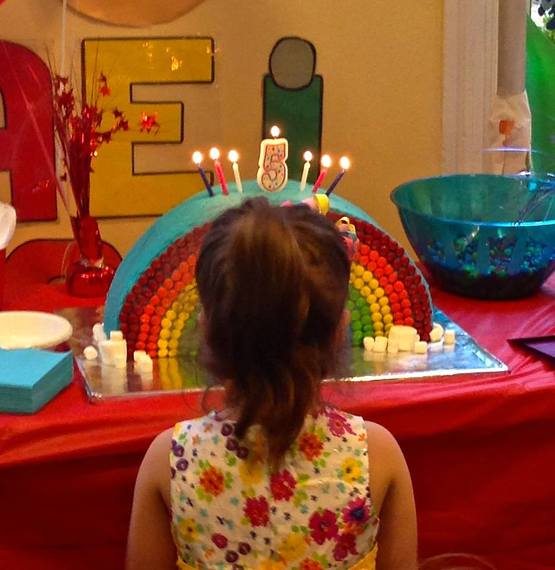 I've told myself for years that happy kids should be a priority, but these days I am seriously starting to doubt that I'm pursing the right kind of happiness for my kids. I'm beginning to think that happy kids are, in general, entirely overrated.
Don't get me wrong: Like everyone, I want my children to be positive souls who bound out of bed in the morning ready to carpe the diem. But positivity is a way of seeing the world, not a wave of feeling that can be generated by a My Little Pony marathon. Happiness is a different thing entirely and much trickier.
First, you've got to accept that there are two distinct kinds of happiness and they're often incompatible. There's "happiness now," the kind you can buy with a bowl of ice cream or a new toy. And there's happiness as a long-term proposition, the happiness that comes of self-discipline, accomplishment, self-confidence and a litany of other critical but boring life skills that are distinctly unsexy and frequently unpleasant to master right here and now.
In fact, long-term happiness isn't really an emotion by itself. Lasting happiness is the product of another far more important feeling: gratitude. People who are grateful and are possessed of a true appreciation for the blessings in their lives are, almost without exception, fundamentally happy people. Think about it. You can't count your blessings and whine at the same time.
But teaching gratitude is a complicated, slow and repetitive process that often involves not giving your kids what they want and sometimes involves allowing them to be unhappy (ironic, right?). My generation of parents isn't known for tolerating anything slow, complicated and repetitive. We are people for whom a redesigned Facebook feed is fodder for days of aggrieved hand-wringing. Life happens on demand, everything streams, everyone texts back instantly. And so, as parents, we default to chasing that instant smile or laugh. We negotiate and compromise, all the while convincing ourselves that if our little ones are happy today, we must be on the right track.
This instant happiness, happiness in the absence of genuine gratitude, is a kind of emotional sugar rush -- a quick, intensely fun hit followed by a letdown that can be tempered only by more instant gratification. Going for ice cream on Tuesday doesn't mean your kid will bask in the glow of your generosity for the remainder of the week. More often, it means you'll have to explain why you're not going for ice cream again on Thursday. The truly frightening consequence of all the bribery and indulgence is that we're teaching our kids that happiness is something external. The next toy, the next bounce house, the next computer game -- that way lies bliss. We've all met the adult version of this child, the person for whom contentment is always just around the corner with that new job, nicer home, slimmer pair of jeans or extra money.
By showering our kids with lavish birthday parties and Christmas mornings, we are teaching them that the joyful occasions in one's life are intimately tied to getting more stuff. We don't need the stuff. We don't even want the stuff (let's be honest: we all love a parent who includes a gift receipt). But we're so desperate to make our kids happy and so unsure of how to do it that we bury them in the kind of excess that extinguishes gratitude before it can even take root.
Which brings me back to my own 5-year-old's birthday bash. The best part of the party wasn't the gifts or her party dress or even the awesome rainbow M&M cake that my wife, Karen, painstakingly created from scratch. The highlight was an impromptu conga line that left Pebbles and her girlfriends in a heap on the floor hysterically laughing. A year from now, the gifts she received -- all thoughtful and appreciated -- will be forgotten or outgrown. But that memory, that unplanned moment of pure joy, will be with her forever. In that moment she was truly happy -- the right kind of happy for the right reasons. And it was absolutely free.
Like Us On Facebook |

Follow Us On Twitter |

Contact HuffPost Parents
Related