This April, HuffPost launches #TalkToMe, a major new video series to inspire meaningful conversations between parents and children. As a mother of three children myself, and a Huffington Post contributor, I was interested in exploring this fascinating idea of a conversational video series with my children. Huffington Post and Facebook are partnered in this eventful concept by utilizing Facebook Live. If you've ever wondered (or worried) about what kind of questions your child might ask you on a live Facebook video, you'll soon find out.
Honesty is a requirement. Silliness, a bonus.
Once I figured out how to activate the Facebook live feature, we were on our way to sharing our deep, wise and silly thoughts during a heart-to-heart conversation, while all of my Facebook friends and family tuned in.
My youngest daughter was eager to share her goofy side, hamming it up for the iPhone camera. We were given some suggested questions to ask by Huffington Post, and followed along the format in sequence during a few practice videos (which I posted to my YouTube channel). Once we got our rhythm down for a good mother/daughter question and answer session, we went live on Facebook.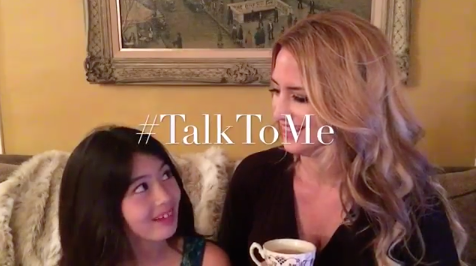 Here's our Q & A session in summary:
Q. What do you wish you knew when you were my age?
A. I read a lot of books that were advanced for my age. I wanted to grow up quickly. I wish I knew that the older I became, the faster time went by. I would want to know that being young was a magical time. Time goes by so quickly, and we really only have now.
Q. Tell me something that you've never told me.
A. Not all tea has caffeine. I never told you that before.
Q. What is the happiest moment that you've ever had?
A. My happiest moment was when I gave birth to you. It was an immense feeling of joy.
Q. What is the hardest challenge that you've faced in your life?
A. The hardest time was when I was very alone. (It wasn't when I've avoided going on roller coasters; it wasn't when I had to go on the log ride; it wasn't trying to make YouTube videos; it wasn't when I had my 14th birthday and no one showed up. It was after that lonely 14th birthday, when, after my parents divorced, my grandparents divorced, and my mom was in the hospital, nearly dying from post-operative hemorrhage after a hysterectomy procedure. We had moved twice-- from Los Angeles to a small town in Arkansas to Memphis and back to Los Angeles-- within the span of two years. My whole family, as I knew it during my once-happy childhood, fell completely apart. As a reaction to the disintegration of my dysfunctional family, I ran away from home, got lost on drugs and alcohol, dropped out of high school, and ended up on the streets of Venice beach, only to survive that and emerge stronger. Even after years of that particular difficult time, I had more challenges as a single working mom dealing with complicated life situations. I wasn't sure how to share all of that with my daughter on live camera, of course).
Q. What have you never told me?
A. I never told you that I go into the freezer and eat all of the chocolate. I keep a stash of frozen chocolate and I hide it away from you.
Perhaps I didn't share everything in each answer, but I do know that having candid conversations with my daughter gave me the kind of inspiration I needed to be a better mother, as listening to her laughter gave me the happy answers in return that have no words.