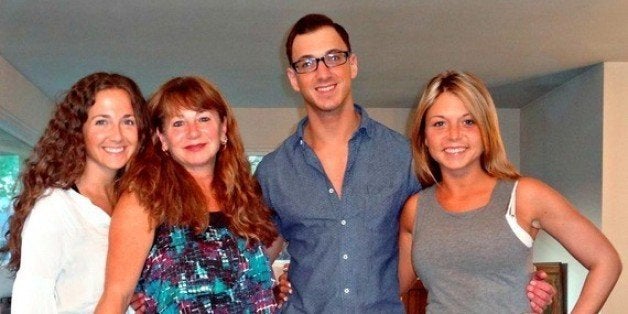 Mother's Day 2014. From Left to Right: Alicia Cook, Gail Cook, Thomas Cook, and Kellie Cook.
The definition of "Superhero" is as follows: a fictional character who has amazing powers (such as the ability to fly) OR a very heroic person. So, when I think of a superhero, my mind does not automatically go to fictional men in tight spandex.
When I think "superhero," I think of Gail Cook, mother of three, and someone I have the privilege to call "Mom."
My mother is not a fictional character; she is supremely real. The most honest, caring, humble person I know. She has dedicated her life to others. Long before she was "Super Mom," she was a 28-year-old young woman taking care of her dying mother. Making sure her nails were painted and that she was bathed. Spending endless hours at her hospital bedside. Her own mother would keep thanking her, only for my mother to say, "Mom, you took care of me my whole life, now it's my turn to take care of you." During that time, my mom sacrificed many of the "normal" things women her age were out doing to take care of her mother with no remorse, and I know she would do it all over again without batting an eye.
Her own mother passed before my mother was married and had me, her firstborn, and then my sister and brother. People these days sometimes scoff at the "stay-at-home mom" thinking it's a breeze. Trust me, knowing my siblings and I, it wasn't. While my father worked long hours in the Newark Fire Department, my mother had her hands full with no one to really assist her. She had three kids in four years. None of us went to daycare or preschool.
My mother taught us all how to count, say the alphabet, color in the lines, spell our names, everything young children going into kindergarten need to know how to do. Her kryptonite though, if you will, was the fact my left-handed mother had three right-handed children, so learning to use scissors was tough!
I experienced kidney failure when I was just 2 yearsold. I don't have my own memories of this, but according to everyone around me, my mother was a force to be reckoned with. At the Children's hospital, there can't be overnight guests. At least that was the policy until Gail Cook's kid got sick. She spent any night in the hospital that she could that month I was there, simultaneously driving hospital security nuts.
From early on all the way through high school, my mother was on the PTA, field trip chaperone, baker at the bake sales, library volunteer, book sale cashier, you name it, for us. She dropped us off at school and picked us up. She brought us to our after-school activities and sat in the car and read until they were over. And even better, we wanted her there. I didn't like being apart from my mother, I am 29 years old and I still don't like being away from her for too long. I believe this is a true sentiment of all she ever wanted to accomplish as a mother. Her kids love her unconditionally and wholeheartedly.
Throughout my childhood, my mother was constantly taking care of others. Her grandmother was a constant fixture in our house. My mother took her everywhere with us: to the movies, shopping, out to dinner. Not because it was another set of hands to help her out. Quite the contrary; my great-grandmother needed just as much care and assistance as my siblings and I did. My mother would take her everywhere with us because she wanted to. She knew it made my great-grandmother's day, so my mother made it her duty to have her be a major part of our childhood until the day she passed away.
My mother placing others before herself was something I noticed from a very young age. She never asked for anything in return, ever. Not on Mother's Day, not even on her own birthday. She never went shopping for herself. Even when she received gift cards, we had to fight with her to not spend it on us or the house. As I got older and began giving her gifts like that, I would write in the card, "Do not spend this on food for the house or for us. Buy something for yourself!"
When her father, and later her brother, got sick, she dedicated herself to them 100% (I would honestly say 200% if it existed.) Hours spent in cramped hospital rooms in an uncomfortable chair all because they asked for her to be there. From morning until the hospital staff would kick her out at night, she was there. I would call her to check in on her, and I would ask, "but aren't you bored? It's been 8 hours." And she would say in the most sincere voice, "I am good. I have my book I am reading. There's no place else I'd rather be right now."
My mother, to this day, has dinner ready on the table every night at 6:30 p.m.. If she knows my brother, who sticks to a strict diet, is going to be her dinner guest, she will make him something entirely different without one exasperating sigh. She allows us to take our bad-day-frustrations out on her, even when we shouldn't. She is the only reason our house is a home, and if anything ever happened to her, I would be completely devastated and inconsolable.
I know I will never be as unselfish and giving a person as my mother. No way. She has set the bar so high, without even wanting to "set a bar" to begin with. She lives her life as she does, not for the accolades, but because to her, there is no other way to live. When someone she loves is in need of something, it is not even a question of if she will help them. She will, in any way that she can.
Like Clark Kent, hiding behind his glasses and tie, my mother hid her superpowers behind the term "mother." Every remarkable thing she did for us she simply said with a shrug, "well, I'm your mom." As I got older and got to know other people's mothers, I realized the word "mother" does not a "mom" make. Anyone can be a mother, but it takes a really special person to be a "MOM."
In an ego-centric world where most don't sacrifice, she has forfeited everything for her family. Gail Cook may not have the ability to leap tall buildings in a single bound, but she's definitely a superhero and her superpower is her selflessness.