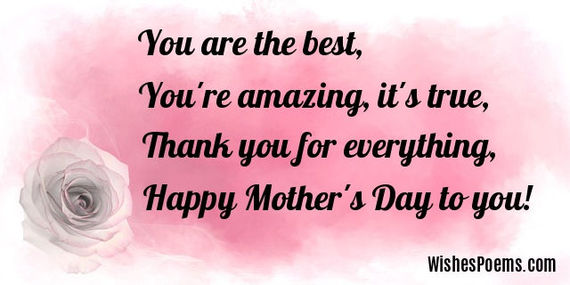 Wish her a happy Mother's Day with any of these happy Mothers Day poems! Find the perfect one in this huge collection of poems for Mothers Day and touch her heart and warm her soul. Here you will find: short Mothers Day poems, funny Mothers Day poems, Mothers Day poems from daughters and Mothers Day poems from sons. Happy Mother's Day to all the mothers out there!
Short Mothers Day Poems
Mom, I can barely find the words to say,
What I want to express to you on Mother's Day.
But all I can do is tell you I appreciate you so,
And as far as motherhood goes, you are a pro!


Mom you're so awesome,
You're the best mother there ever was,
And I'm the best child ever made!


Though I'm far away,
Know that my heart is with you,
Thank you for everything,
Happy Mother's Day!


Roses are red, violets are blue,
There's no mother in the world as great as you!


Mom, you are amazing, there is no doubt,
And sometimes I forget and whine and pout,
Please forgive the mistakes I often do,
And know that, Mom, I really love you!


Congratulations, you won the prize,
For being the Mom of the year.
You're by far the best around,
So I'm sending you this Mother's Day cheer!
Funny Mothers Day Poems
Roses are red, violets are blue,
Sorry you didn't give birth to a poet who could rhyme!


My dear mother, I hunted and searched all around,
For Mother's Day Poems, and this is the best that I found.
Anyways, Happy Mother's Day, my wonderful mom!


Because it's Mother's Day I am going to write a poem for you,
And I will do my best to try to make it rhyme.
Shoot, I think I already screwed it up,
And now I'm not really sure where to go from here.
Well, it doesn't matter, anyways, because I know this is true,
My mom loves me regardless, so happy Mother's Day to you!
Mothers Day Poems from Daughter
And always you were there,
You were there for the ups,
And you stayed for the downs,
And chased away my frowns.
Happy Mother's Day, mom!


Sometimes you're silly and sometimes you're weird,
Occasionally I feel embarrassed and want you disappeared.
Sometimes you annoy me and I yell and shout,
And every now and then you make me pout.
Often I say things to you which I don't mean,
And I might even act like a crazy drama queen.
But no matter what happens or how I may act,
My love and appreciation for you is an eternal fact!


For a special mom on this special day,
Your daughter has some words that she wants to say.
Please know that I appreciate all the things that you do,
I love you so much, mom, happy Mother's Day to you!
Mothers Day Poems from Son
This is a message straight from your son,
As far as mothers go, you're number one.
You gave up so much to raise me so well,
You picked me up whenever I fell.
You loved me no matter the mistakes that I made,
And the lessons you taught me will never fade.
I could never repay you for the gifts you gave me,
And I know you've done more than I could even see.
So, thanks for all the times you came to the rescue,
You're awesome, Mom, happy Mother's Day to you!


Mom,
I want you to know that I appreciate you,
And that I am aware of all that you do.
And though I may not tell you this every day,
I would be remiss if I didn't take the time to say,
I love you and am grateful for all that you've done,
Wishing you Happy Mother's Day, with love from your son.


For a special mom on this special day,
Your son has some words that he'd like to say.
I just want to tell you thank you a lot,
For all that you've given and all that you've taught.
You're one heck of a Mom, that is so true,
So I just want to say happy Mother's Day to you!