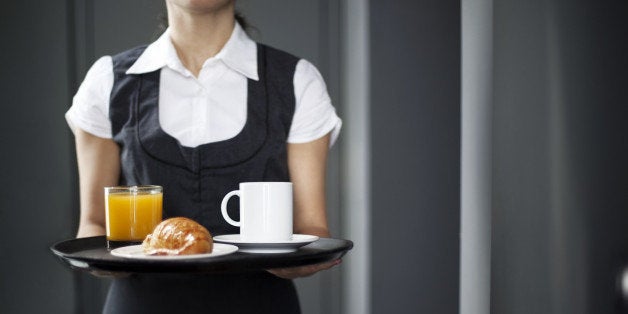 This Sunday, as we offer praise and gratitude to our mothers, I want to suggest that we acknowledge the millions of mothers earning minimum wage who struggle every day just to provide basic necessities for their families. For these mothers, I would bet that brunch and flowers are low on the list of priorities this Sunday.
The statistics on working mothers are staggering. Nearly one in five working mothers with young children have low-wage jobs; that's 58 percent of female-headed households. What's more, over half of working mothers earning minimum wage are raising their children alone while still working full time. The salary of a low-wage working mother puts her $4,000 below the federal poverty line.
For a mother who earns $2.13 per hour (a wage that has been frozen since 1991) and depends on tips to make up the rest, the "American Dream" is woefully out of reach. Many of these women lack sufficient education to get a higher-paying job, and at $4,000 below the poverty line there is no "extra" for even a community college course. And as every mother knows, whether she works outside of the home or not, childcare duties are all-consuming and leave little time or energy for other pursuits.
For a supposed "democracy," the stagnant, artificially-low minimum wage in our country is nothing short of embarrassing. Minimum wage workers (a majority of whom are women and people of color) have limited, if any, representation in Congress. In a society dominated by wealthy, white males, where are the voices that advocate for our most vulnerable? A real democracy should reflect the entire spectrum of the population. In a real democracy, wages would be fair -- the federal minimum wage would not put low-wage mothers at $4,000 below the poverty line.
On this Mother's Day, as we give thanks for the women who have raised us to be strong, independent and caring, we stand behind the women who barely make ends meet each month. Raising the federal minimum wage is not only a women's issue, but a mother's issue. Surely we owe all mothers at least that much.
Calling all HuffPost superfans!
Sign up for membership to become a founding member and help shape HuffPost's next chapter