I remember standing on the porch in the rain on one of my first Mother's Days and sobbing because no one did anything special for me. The house was a mess, the girls were bickering inside about a toy, dinner was the same old thing and it was a grey, cold day. I took in deep breaths of lilacs and let that be my Mother's Day gift while I cried. I was surprised by how much it mattered to me and how hurt I felt.
I shared my feelings with other moms and found that many of them had similar experiences of wishing for some special acknowledgement. Yes, we all knew that Mother's Day is a made-up Hallmark holiday, and so we were a little embarrassed about our disappointment. But it was true. So I decided to do something about it -- I started a mothers' organization.
Twenty years later in MotherWoman groups across the nation, we say that Mother's Day can turn into "Mother's Resentment Day" unless we understand and honor our desire and need to be acknowledged. It is not only OK, but important to be recognized for all the work we do and love we give. Many of us silently wait for someone else in the family to do something special for us, and then feel disappointed by what was, or was not, planned.
So, we encourage moms to think in advance about what would make them feel celebrated, and then to ask for it! This is your day, so what do you want? Breakfast in bed, brunch, church, a walk, picnic, dinner, flowers, time with family, time with other moms, precious time alone, pampering, or maybe activism? Take the day by the reins and ensure that it is special for you!
If you are a new mom and this is your first Mother's Day, this is especially significant. It may not be on your radar at all for all kinds of reasons, not the least of which is sleep deprivation (What day is this anyway?) but it is your day now, and being acknowledged feels good. If your family has a tradition of celebrating your mother, grandmother, or others, then talk about how to share this day now that you are a mother too.
If you are struggling with postpartum emotional complications like depression, or any other kinds of challenges, then it is important to ask your support system to celebrate you in some way. You deserve to feel special on Mother's Day for all that you have gone through. Ask for what you need and allow others to support you. Maybe your gift to yourself is reaching out for more support or professional help so that motherhood does not feel so hard.
If you're a single mom, Mother's Day may feel no different from any other day. If you want to feel celebrated, you may have to orchestrate your own day. It's worth it. Make Mother's Day special for you no matter what. Make cards or pancakes together with your kids, go on a hike or picnic with other moms, or get a sitter and do something for just you. Write a card for yourself that says "YOU DID IT! AWESOME JOB!"
Whatever you choose is fine. It is not about spending money or going to a fancy brunch. The point is to feel love and appreciation, whether from your kids and family or from yourself. You deserve it. You are doing the hardest and most important job there is every day. Take this one day to yell from the mountaintops, "I AM A MOTHER AND I AM AMAZING!"
Happy Mother's Day from everyone here at MotherWoman!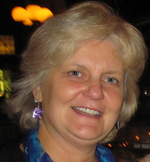 Annette Cycon is the founder of MotherWoman, a non-profit dedicated to supporting and empowering mothers to create personal and social change. She develops and offers professional trainings on perinatal emotional complications to build community-based perinatal safety nets for moms and families. She has been leading mothers' support groups for over 20 years, and believes that speaking the truth about motherhood is revolutionary! She is the mother of two daughters, ages 23 and 21.