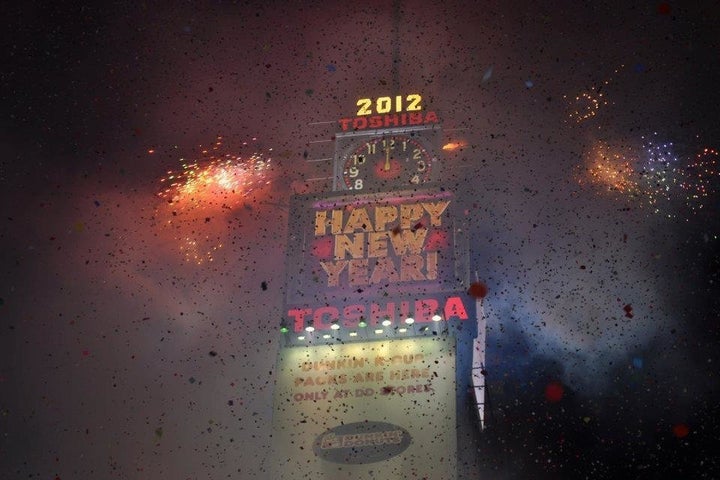 To quote Oscar Wilde, "Good resolutions are simply checks that men draw on a bank where they have no account." Thanks, Uncle Oscar, for the excellent literary excuse to resolve pretty much nothing. So rather than offer any grand resolutions that won't clear or share my ignorant perspective on life on the Fiscal Cliff, here's an eclectic playlist for this New Year's Eve. I've included some suggestions from the good people --http://www.twitter.com/Wildaboutmusic and the occasional hot spambot -- who follow me on Twitter at. So happy New Year to Kim, Kanye and all the other men and women in the extended dysfunctiona family of man.
"Happy New Year" - Kid Rock
"One Day More" - Cast of "Les Miserables"
"Time Is Tight" - Booker T. & The MG's
"Time Waits For No One" - The Rolling Stones
"A Matter Of Time" - Foo Fighters
"This Will Be Our Year" - The Zombies
"New Year's Ever" - Tom Waits
"All Things New Again" - The Wallflowers @crobbins956
"Wake Up" - Arcade Fire
"Anticipatin'" - The Explorers Club
"Midnight Man" - The James Gang
"Midnight Blue" - Lou Gramm
"Stop Cryin' About The Rain" - Graham Parker & The Rumour
"Stir It Up" -- Bob Marley
"Wake The World" - The Beach Boys
"It's Time" - Imagine Dragons
"Hey Ladies" - Beastie Boys
"What Time Is It?" - The Jive Five
"Draw A Crowd" - Ben Folds Five
"Time Will Crawl" - David Bowie
"All Kinds Of Time" - Fountains of Wayne
"Rewind" - Diane Birch
"Let's Go Out Tonight" - Curtis Stigers
"Soon After Midnight" - Bob Dylan
"Auld Lang Syne" - Jimi Hendrix @youkantdothat
"In The Midnight Hour" - Wilson Pickett
"Funny How Time Slips Away" - Al Green with Lyle Lovett
"All Things Must Pass" - George Harrison
"Drunk Again" - Reel Big Fish @wehrwein82
"New Year's Day" - U2 @ChaimSBI
"Waitin' On A Sunny Day" - Bruce Springsteen
"Celtic New Year" - Van Morrison
"How Far We've Come" - Dawes @63games
"Ding Dong Ding Dong" - George Harrison @jena_fuller
"Don't Fall Apart On Me Tonight" - Bob Dylan
"New Years Day" - Charlie Robinson @FNC_Ladies_Rule
"(Just Like) Starting Over" -- John Lennon @miller_kenn
"Kiss Me I'm Sh**faced by Dropkick Murphys @wehrwein82
"A Long December" - Counting Crows @teedoffrich
"Better Things" by the Kinks @LeeHarvey13
"At Midnight" - Rufus
"One More Night" - Maroon 5
"Some Nights" - fun.
"This Year" - The Mountain Goats @kwdarby
"Beautiful Ones" - Suede @LOQUILLOPANAMA
"1999" - Prince @BlaineLeeds
"Midnight Confessions" - The Grass Roots
"Dancing To The Party Next Door" - Neil Diamond @gwendolbowling
"Kickin' In" - Adam Lambert/Pharrel @lissaluvsmusic
"What Are You Doing New Year's Eve" by Harry Connick Jr @2lazylabs
"Nash Bridges" - GraceTheFall @LizzJustLizz
"Cuckoo" - Adam Lambert @TALCvids
"This is How We Do It" -- Montel Jordan @mpfister77
"Good Riddance (Time Of Your Life) - Green Day @Jnomiddlethomas
REAL LIFE. REAL NEWS. REAL VOICES.
Help us tell more of the stories that matter from voices that too often remain unheard.