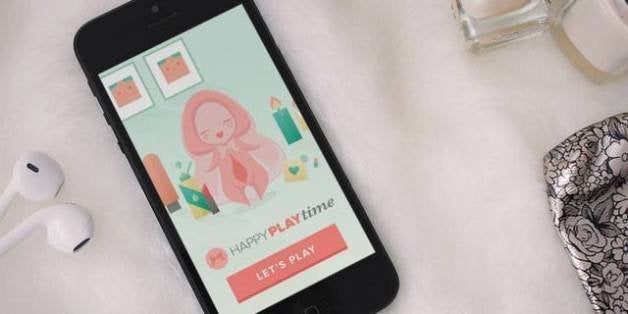 Meet Happy, your friendly neighborhood vulva. She's here to teach you how to be happier -- with your orgasms.
Sadly, Apple doesn't seem too interested: The app was rejected from the Apple iTunes store on May 13.
Created by designer Tina Gong, HappyPlayTime is a sex-ed app currently in development that teaches women how to masturbate. The app uses fun, light-hearted games to teach users about the female anatomy and provides lessons on different masturbation techniques.
"At the heart of our mission is the desire to see more women be vocal about their sexuality — in particular, about masturbation," Gong wrote on the HappyPlayTime blog. "We're often told that this subject is a touchy one, and from experience, we know that sometimes speaking out loud about it can certainly raise some eyebrows."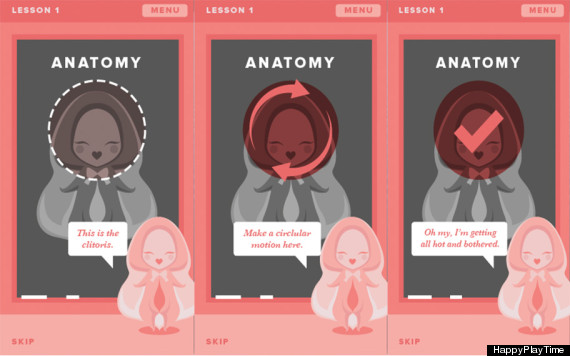 When Gong initially submitted the app for review, she suggested it was appropriate for users 12 and older. In an email to HuffPost, Gong said the app was considered "too graphic" for this audience, so she changed the rating to 17+. After she sent it for review again, she received a call from Apple who told her they were "not interested in the concept," Gong said. Following the phone call, she received this email listing the reasons the app was rejected: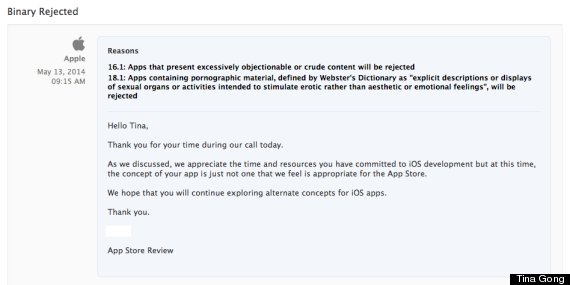 "Honestly I get it, it's something that's controversial, but out of all people I thought [Apple] would sympathize, their slogan for years has been 'think different' and I've admired that mentality so much!" Gong told HuffPost. By talking openly about masturbation, the crowd-funded app hoped to remove the stigma and shame that many times surrounds self-stimulation. (Apple did not return our request for comment.)
The mission, the design, the concept of the HPT was also created with the idea of thinking differently -- thinking differently about our bodies, thinking differently about sexuality and the culture that we live in, and thinking differently about the way we use electronic interfaces.
The app -- which has gathered a lot of support over the past year -- will live on despite Apple's rejection, as Gong and her team are turning it into a web-based game. In the meantime, Gong told HuffPost she's sent an appeal to Apple.
"Thinking differently means breaking some boundaries, and occasionally getting people's panties in a bunch," Gong told HuffPost.
Calling all HuffPost superfans!
Sign up for membership to become a founding member and help shape HuffPost's next chapter
BEFORE YOU GO
PHOTO GALLERY
7 Steps To Mind-Blowing Sex