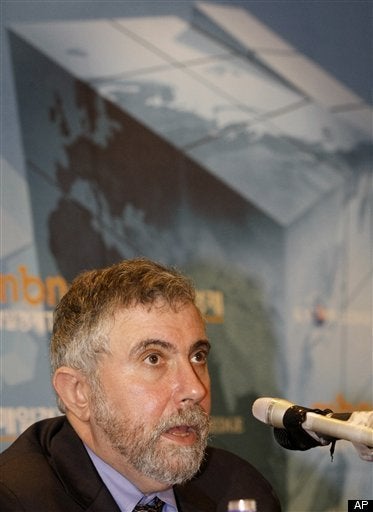 The New York Times website is carrying a headline today touting what would appear to be great economic news: "U.S. Economy Grew at Fastest Pace in 6 Years Last Quarter." Hoo, boy! Everyone get your "the stimulus package has new wind in its sails narratives together!" Reporter Catherine Rampell goes on to explain:
The United States economy grew at its fastest pace in over six years at the end of 2009, but a sluggish job market is still souring economists on the sustainability of the recovery.

Gross domestic product expanded at an annual rate of 5.7 percent in the fourth quarter, after growing at an annualized rate of 2.2 percent in the previous quarter. Analysts had forecast annualized growth of 4.8 percent in the fourth quarter, and the better-than-expected result sent stocks higher.
Only later comes a devilish detail:
The biggest lift to economic activity came because businesses ran down their stockrooms at a much slower rate than they had earlier in the year. The change in inventories added 3.39 percentage points to the fourth-quarter change.

Slower inventory liquidation is not the most promising way to guarantee growth going forward, but economists are hoping that once companies become more confident about the recovery, they may ramp up production to refill stockroom shelves.
[T]he economists at Goldman Sachs are now predicting 5.8 percent growth in the fourth quarter. But they also say that the headline number will be highly misleading: two-thirds of the growth will be an inventory bounce, with final demand growing only 2 percent. In short, it will be a blip.
At the time, Krugman cautioned "curb your enthusiasm." I guess nobody told whoever provided the headline to today's news!
REAL LIFE. REAL NEWS. REAL VOICES.
Help us tell more of the stories that matter from voices that too often remain unheard.