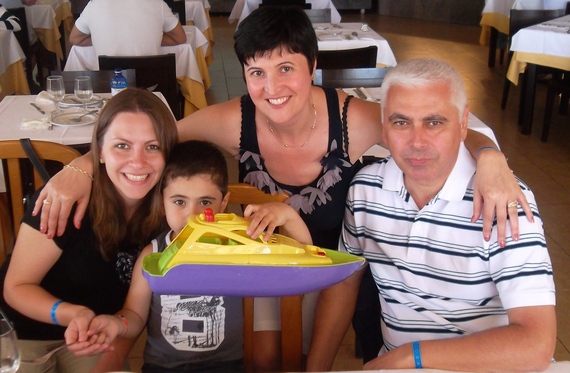 On Mother's Day, we remember and celebrate motherhood, and there are plenty of things that come to mind when thinking of what being a mother means. However, a related, but much harder to concept to think of is that of stepmotherhood.
The scarcity of images that come to mind in relation to the stepmother role (with the exception perhaps of outdated stereotypes portrayed by Cinderella and Snow White's evil step-moms) is quite at odds with the fact that stepmothers in the western world are no longer an exception to the family model. In fact, 40 percent of married couples with children in the U.S. are stepcouples, and 12 percent of U.S. adult women in the U.S. are stepmothers -- about 14 million total. So, who are these women? What does it mean to be a stepmother? And by whom (and when) should stepmoms be celebrated? These are the questions I find myself thinking about on mother's day this year.
In terms of who these women are, I should first say that I am one of them. I am the stepmother of two wonderful teenage boys and I also have a stepmother myself. So that is two of us, two faces that I personally can easily put to this somewhat elusive notion. But beyond the numbers mentioned above, there are many faces and many stories. In fact, we stepmothers are a very diverse bunch.
I remember the days when I was voraciously reading blogs of stepmothers on the internet preparing to meet my future stepchildren. Some of those stories I recognized myself and my own emotional propensities in, others were very foreign to me and my own emotional sensibilities.
So what makes us one group? What is this stepmother role about?
I wanted to remain somewhat objective writing this post, not making it about my own idiosyncratic experience, so in answering that question I first tried to evoke the prevalent cultural stereotype related to step-motherhood and described it. But I failed, realizing to my surprise that culture and society offered little help with understanding stepmotherhood. To check whether it was simply my own memory or imagination that was lacking, I tried the same for motherhood and it was so easy -- the person who gave you life, unconditional love etc. All these images came to mind easily and rang so true, but when it came to stepmothers, the only two pop culture images that I could easily think of were Cinderella and Snow White's evil stepmoms -- and the image of an overwhelmed Julia Roberts who was struggling desperately to gain the acceptance of her step-children. But none of those images felt particularly representative of my knowledge of flesh-and-blood stepmothers. For example, my own stepmother (in the picture above) is a wonderfully kind and very well put together person.

Prevalent pop-culture images had so little to offer, so I still had no answer to this question. I therefore went back to personal introspection. What did I have to say about my own role as a stepmother?
The first thing that came to mind was the memory of a hot summer evening in NYC (around the time when my relationship with my now husband had started to become more serious), walking and talking with my sister and formulating this question: what positive thing would I be able to bring into the lives of these two kids (my now stepkids)? Having been a stepchild myself, this was a very important question for me to answer, and I felt strongly that my relationship and my future depended on the answer.
Since then, I've tried to build my role as a stepmother out of answers to that question, seeking ways of being positively present in my stepchildren's lives. That has at times made me the adult that was willing to watch Spongebob for hours, the person who makes new clothes magically appear in my stepkids' closets, the one who picks them up from school with a paper-bag with one chocolate-covered marshmallow and a small stash of of Magic cards, etc.
This simple question has given me great opportunities over the years to be there for my step-children in a multitude of ways in which I felt they needed me or were able to enjoy my company or help, and in a sense I feel I've built my own role from scratch that way. But I've often felt that this fluid role was also very fragile and precarious and many times I'd feel an uncomfortable emotional sting caused by it's fuzziness. There have been many times when I've been afflicted with questions such as: Do my stepchildren really need me? Am I really making a difference for the better? Am I adding anything of value to their lives? Am I everything a stepmother should be?
I am also a psychologist in training, and I know how important roles are for one's identity formation, so in trying to analyze my own roles, I wondered what psychology has to say about stepmotherhood? One thing that I've discovered is that research has confirmed my own observations and feelings, and ambiguity seems to be a common attribute related to stepmotherhood.
While mothers are aided by biology (think of all the hormones that help them bond with their children and forge that relationship) and also by culture (motherhood is elaborately defined and celebrated in all cultures), stepmothers have almost nothing to guide them in adopting this essential role. Moreover, their role and its nature hinges on a whole range of factors that they have very little control over. For example, Weaver and Coleman identified six factors that substantially determine the nature of the stepmothers role, factors that are often beyond the control of the stepmother herself: biological mothers, spouses, stepchildren, their own biological children, extended kin and experiences external to the family. In sum, ambiguity, lack of guidance (and role models) and lack of control seem to be the big challenges that stepmothers face.
I do believe, however, that these challenges are not insurmountable. I'm very much an optimist and feel that perhaps in all these challenges lie great opportunities:
1. Ambiguity gives us the opportunity to create complex, multi-faceted and original roles for ourselves that are not restricted to outdated stereotypes.
2. The lack of guidance means that our fairytale is still unwritten and that we have the opportunity to write it ourselves.
3. The lack of control is simply the illusion given by the richness of our lives - in fact we have the opportunity of exerting more control over how and who we are in relation to our step-children precisely because our options are more diverse.
To me these opportunities are worth celebrating. I feel that the celebration of stepmotherhood in our cultures should start with us the stepmoms. We are the ones who should celebrate our own roles and our own identities.
I also think that it is great to celebrate on Mother's Day -- not because we are trying to steal the day away from the biological mothers, but because of the connection we have to those that share their children with us. The children that make it possible for us to experience and further define stepmotherhood.