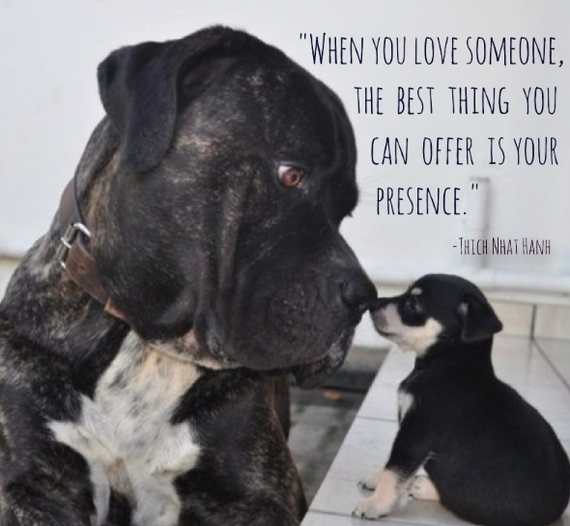 On Thanksgiving, "mindful" can prevent "meltdown." Here are a few reframes to help you enjoy the holiday in a new way:
1. "When you love someone, the best thing you can offer is your presence. How can you love if you are not there?" -- Thich Nhat Hanh. Amidst the logistics and pressures of gathering everyone together, remember why you are there in the first place. Take a moment to reflect on the people present. Too often we take this for granted.

2. "A happy life is just a string of happy moments. But most people don't allow the happy moment, because they're so busy trying to get a happy life." Remember that happiness is a way of travel, not a destination. Appreciate (or at least bring your sense of humor to) the preparations, airport pickups, last minute grocery runs, and the other inevitable surprises that are all part of the Thanksgiving celebration.

3. Everyday you have a choice: Practice peace or practice stress. A beautiful day begins with a beautiful mindset. Upon waking, before your mind jumps to it's to-do list for preparing your Thanksgiving feast, prepare your mind for the best the day has to offer and look for the good.
4. Remember to Breathe: When things get intense, and if nerves start to fray, take a few moments to come back to yourself. Simple strategies help: walk outside, take a few deep breaths, make some time for laughter, and refresh yourself from the inside. Everyone will be happier, especially you.
5. Count Your Blessings: While Thanksgiving reminds us to be grateful for all the blessings already in our lives, it's much more than a dinner. What if you felt grateful for life itself, and for the in-your-face miracle of waking up another day? Shift your perspective -- your gratitude will grow.
6. Write a Gratitude Letter: Invite everyone in your group to write a letter of gratitude to a special individual who has inspired their life. If possible, deliver it in person, and read it together. Or send your letter by mail -- it will be cherished. The mere act of writing a gratitude letter makes everyone feel connected.
7. Pay Thankfulness Forward: What if you took a few moments to inspire someone else's thankfulness, with one small act that brightened their day? There are so many options: be there for a friend, volunteer in a soup kitchen, leave an extra tip at a restaurant... The good feeling you will receive will last way longer than any thrill you may get from shopping till you drop on Black Friday. Paying it forward is a rewarding gift that you really give to yourself.