This week marks the two year anniversary that we launched HuffPost Arts and I couldn't be more proud and amazed.
The real journey had began two and a half years ago when Arianna asked me, a painter, to launch it. I had been a regular contributor since HuffPost's inception -- sharing my work and writing about other artists -- but it was clear that Arts was like a missing tooth in the smile of what Huffington Post had been offering up until then.
The act of being an artist requires spending days and months in a solitary headspace where it's easy to think of all Media as a giant "Other" -- a fortress on a hill that notices or judges us if we're lucky. At the same time, this is the same Other that, like Virginia Woolf's 'angel in the house,' we have to kill or ignore in order to create. The thought of taming it or having a hand in creating one seemed thrilling and forbidden. I started reaching out to all my artist friends, all the artists and writers who whose work I knew and admired, to ask them to participate. By June 2010 we had built an army of thinkers and creators from every discipline. We smeared black paint on our faces and stormed the fortress. I cried tears of happiness the day we launched and watched it come to life.
Here we are, two years later, after the merger with AOL, our expansion into Europe, Canada and Latin America -- the art, writings and comments you see here now constitute the most widely read arts blog in the world. We are a living salon filled with Artists, Performers, Architects, Filmmakers, Designers, Curators and Critics alike engaged in an ongoing conversation. We embrace every intersection across media, casting a wide net from opera, dance, film, dance, visual, performing, and even scientific disciplines. We embrace the idea that everyone is an artist, whether showing in a gallery in Chelsea or stream on Instagram.
I love this quote by David Hockney: "What an artist is trying to do is for people to bring them closer to something, because of course art is about sharing: you wouldn't be an artist if you didn't want to share an experience, a thought." As always if you have something amazing to share, send it to arts@huffingtonpost.com.
Thank you to all of you contribute, who appreciate it, who have made us your homepage (It's easy! Bookmark it now: www.huffingtonpost.com/arts). A special thanks to Arianna who gave us the opportunity. None of this could happen without the incredible arts team: Arts Editor Kathleen Massara, who brilliantly edits the page, and to Priscilla Frank and Katie Brooks who help make it come to life everyday. I'm so grateful to have been a part of it from the very beginning and watching it grow. Look forward to some big surprises in the year ahead.
So happy two-year anniversary, HuffPost Arts!
See a slideshow of the some of the highlights from the past two years below: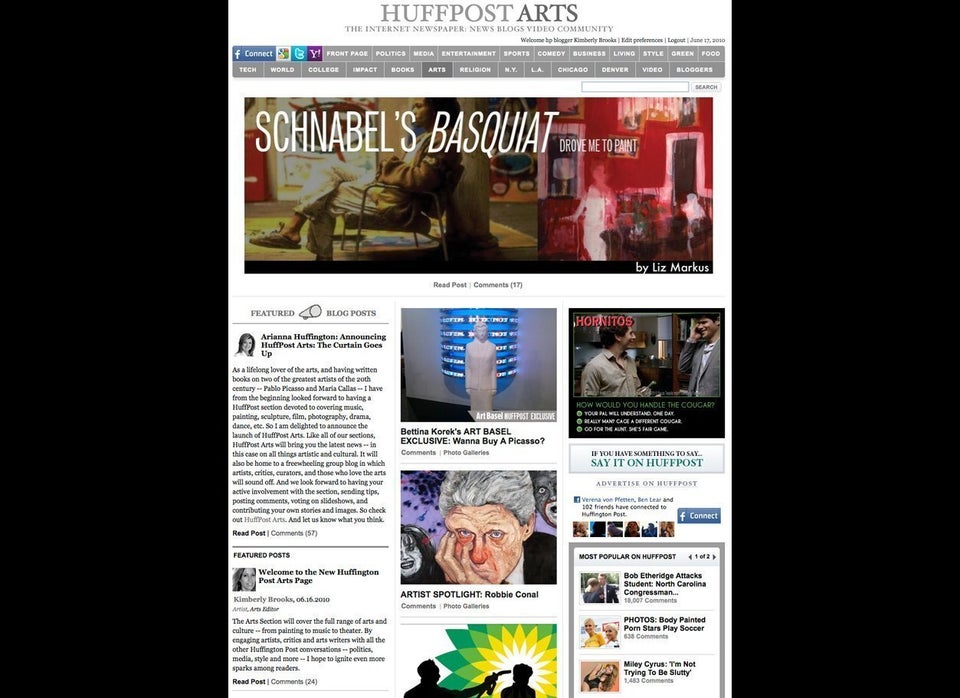 Huffington Post Arts Features & Highlights 2010
Related
Popular in the Community