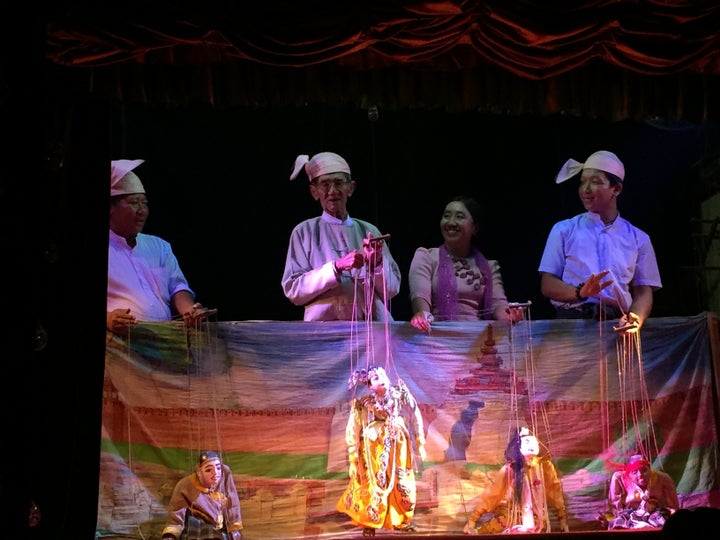 My front row seat at the charming Mandalay Marionettes Theater offered me well more than an hour of puppet-inspired entertainment; it changed my entire Myanmar experience, connecting me not only with a brilliant array of stringed characters but also new life-long friends, and a hell of a lot of good food!
A quick bike ride (or short taxi ride) away from most parts of town, the Mandalay Marionettes Theater is a must-do while visiting Myanmar. While the puppets themselves are intricate works of handcrafted wooden art, evoking beautiful emotion and movement, they joyfully share the stage with their intergenerational cast of string-pulling puppeteers, made visible by intermittent raises of the curtain (long enough to showcase their talent, brief enough to let the puppets shine).
With evident pride and passion, the puppeteers laugh and sway while carrying the wooden characters through elaborate fight scenes, nuanced dances, and an array of emotion-rich positions. The live orchestra clanks away, offering the audience a somewhat cacophonous introduction to traditional Burmese music. The percussionist's hands seem to fly, as if they too are puppets, while he impeccably carries the melody on more than twenty tone drums.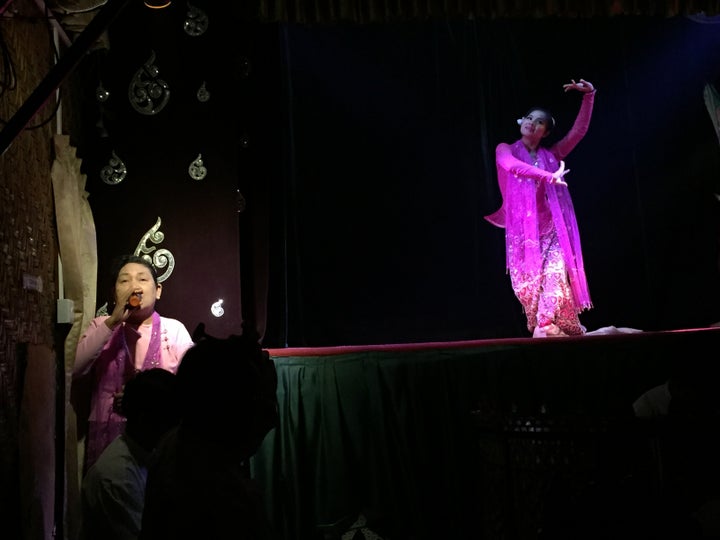 Though quite loud and intensely hot inside the small theater, it overflows with fun, positive, culturally proud energy. The show opens with a young woman playing the Saung, traditional Burmese harp. Shaped like a boat, the sixteen-stringed instrument is made from padauk (pterocarpus) wood, acia catechu wood, and deerskin. Perhaps one of my favorite scenes was the dance off between a woman and a marionette, each one's expressions and graceful movements more exquisite than the other, insinuating the powerful cyclical connections between nature, our humanness and art.
Enthralled by the comical skits, serious stories and immense talent, the show truly came alive for me when the passion-filled community of Mandalay Marionette Theater joined the audience in dialogue. Meeting U Pan Aye, who at 85 is the oldest living Master Puppeteer of Burma (he learned as a young teen) had me beaming. I dreamed of somehow connecting him with one of my favorite New York puppeteers, Bernice Silver, age 103.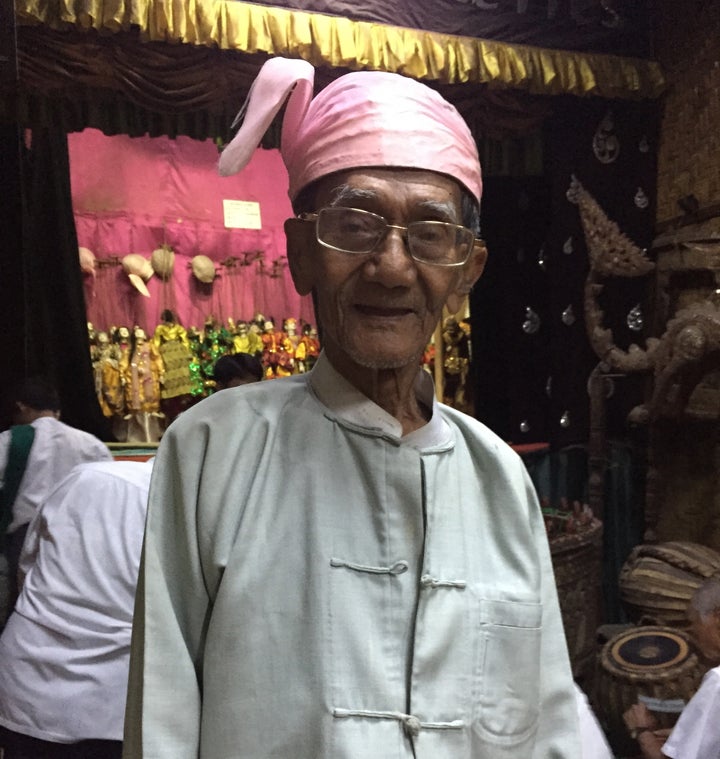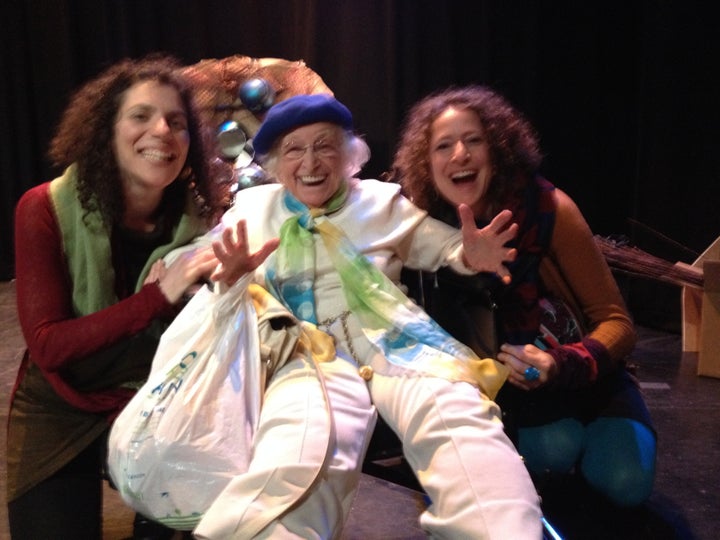 In the Past, Myanmar Puppetry was not only for entertainment, but also a high art held in much esteem by all classes. Marionettes were a means of making people aware of current events, a medium for educating the people in literature, history and religion, display of lifestyles and customs. At the same time, they functioned as mouthpieces for the people in the days of royalty, tiny hands in state and social affairs.
Today, as more modern entertainments are readily available, traditional marionette performances are sadly becoming a dying art. Similarly, the same holds true for the artists. Huge kudos to the two women, Mrs. Ma Ma Naing and Dr. Tin Maung Kyi, who have committed themselves to restoring this beautiful, purposeful folk art. Not only does it showcase ancient Myanmar and Myanmar culture, perhaps unexpectedly, it connects foreign audiences with a window into modern Myanmar life too. The power of puppets to entertain, educate and activate is boundless, especially with strings pulled by a community of people who clearly love what they are doing,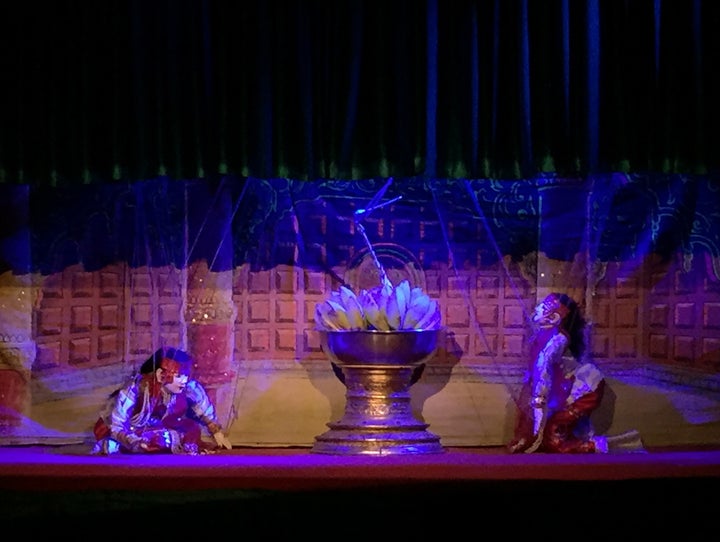 Following the hour-long show (a well-spent $7), our energized conversations and story-sharing continued, the master puppeteer engaging individually with each of us, and a zealous group of five young adults joining in the chatter, eager to meet foreigners so they can practice English. Well, that was the least I could do while being a guest in this beautiful country, filled with individuals among the warmest and most hospitable I've encountered in all my world travels. And so, with puppets as the vehicle, some amazing friendships took root that night.
How could I possibly turn down an opportunity to go out for drinks and snacks after the show? We had a fabulous night, chatting in English, sharing stories, making jokes and I advanced my Myanmar language skills too. I always love a good win-win situation, so when Ye Yint offered to meet up the following evening, I was thrilled by the opportunity to help him with his English and to get my foot in the local scene. It's not easy finding the best local foodie spots! A friend I made at the impressive Dreamland Guesthouse joined me on the back of Ye Yint's motor bike and we whizzed around the town, taking in the sites, flavors, drinks and local vibes. From checking out the conditions at the hospital where he works to sharing tasty teas, delicious buffets, exquisite views, Frisbee catches and meeting his family and friends over the next few days, my Mandalay experience was magical.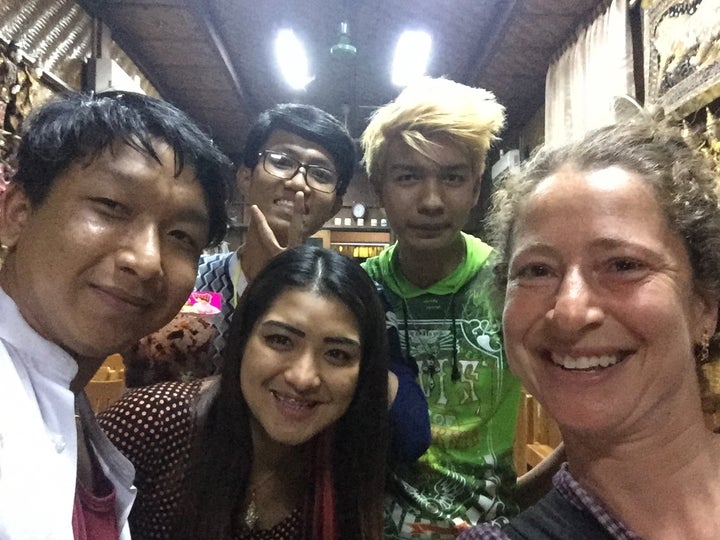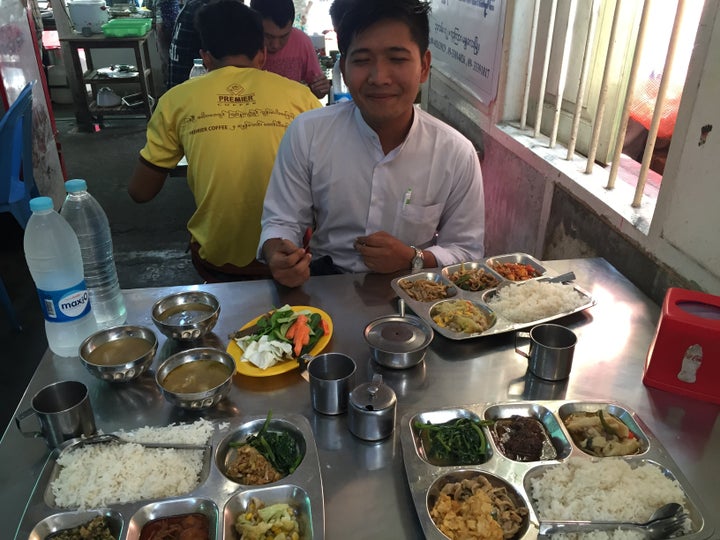 The power of the puppets to bring stories to life, both through the whimsical movements on a puppet stage, and through the vast sense of community they foster, is unlimited. Throughout history and throughout the world, puppetry continues to be a classic, effective tool for communicating, building bridges, revealing emotions, illustrating ideas and activating change. A unique storytelling experience and delightfully entertaining, puppetry serves people of all financial means and ages. From theatrical performances fit for kings to handmade puppets crafted from socks, paper bags or even by marking up our hands, puppets come to life and help us make connections.
So, for a true flavor of Myanmar, I say make your way to the Mandalay Marionette Theater. The show takes place at 8:30pm each evening. Tickets can be purchased at the box office both at night and during the day. If you're lucky like I was, you'll get a front row seat, an opportunity to help learn English, and some fabulous new friendships.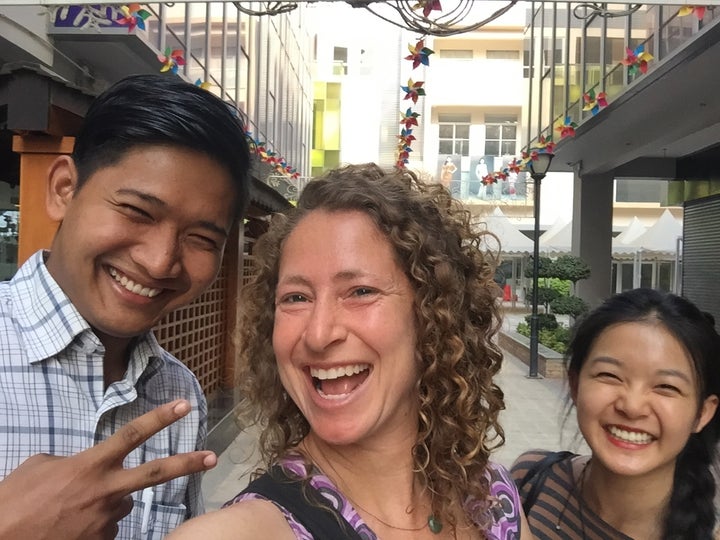 Related
Popular in the Community