It's not often that New Yorkers spend an afternoon sailing or cruising on the water then head to a beach party in the city -- but that's exactly what nearly 600 supporters of maritime education and a New York Harbor revival did last Thursday at the second annual Harbor School Regatta at Governors Island, hosted by New York Harbor Foundation.
For the past 10 years, local inner-city kids have been spending time in and on the waters of New York Harbor learning marine science, building boats, regenerating the local oyster population and learning to sail as students of the Urban Assembly New York Harbor School on Governors Island, the only New York City public high school that provides a college preparatory education built on New York's maritime experience. Harbor School students choose New York Harbor School because they are intrigued by the concept of using the Harbor as a classroom and are interested in becoming experts in a skill or technology related to the Harbor. What better way to showcase what a dynamic place the Harbor is for teaching and learning than a multi-class Regatta that captivates hundreds of adults and at the same time legitimizes the students' choice of schools?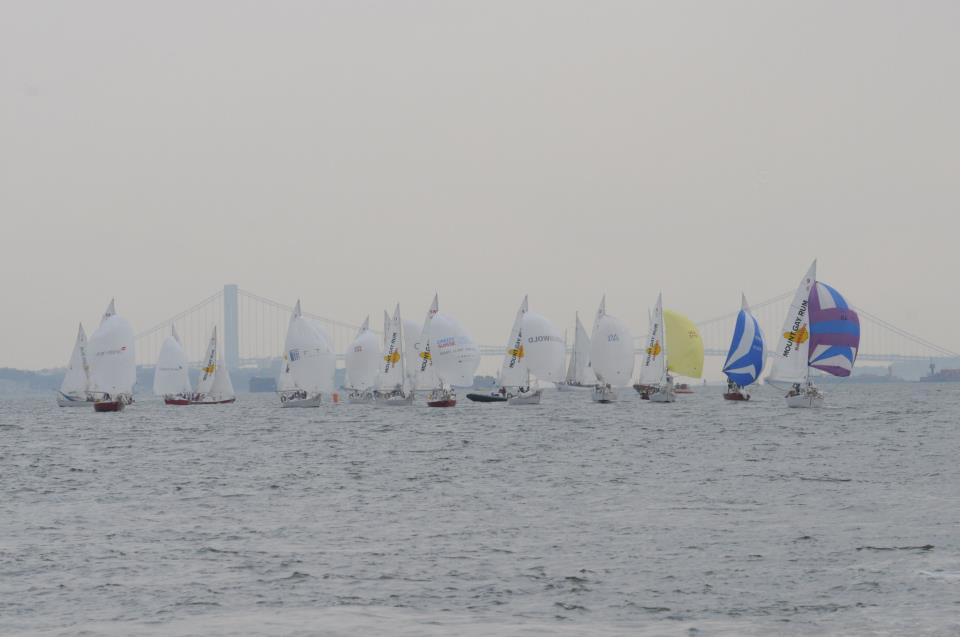 Nearly 200 sailors participated in the Harbor School Regatta at Governors Island, with 24 J/24s and 3 historic America's Cup 12 metres racing between downtown Manhattan, Governors Island and the Statue of Liberty.
Photo credit: John Hoving
Thursday's charity Regatta invited Harbor School students to sail New York Harbor alongside expert sailors from the Olympics, racing teams and maritime academies and industries, putting them in close and meaningful contact with people who have reached the peak in fields Harbor School students have chosen for high school.
With NBC's Willie Geist commentating on the Hornblower Hybrid spectator Boat, Martha Stewart sailing on the America's Cup 12M "Intrepid," and several Olympic sailors skippering the J24 races aboard Manhattan Sailing Club J/24s, the buzz from the event helped remind New Yorkers they live on a Harbor, that the city was founded here because of the Harbor, has depended on the Harbor for hundreds of years, and must continue to depend on the Harbor for commerce, food and recreation, as well as a sense of freedom and connections to the rest of the world.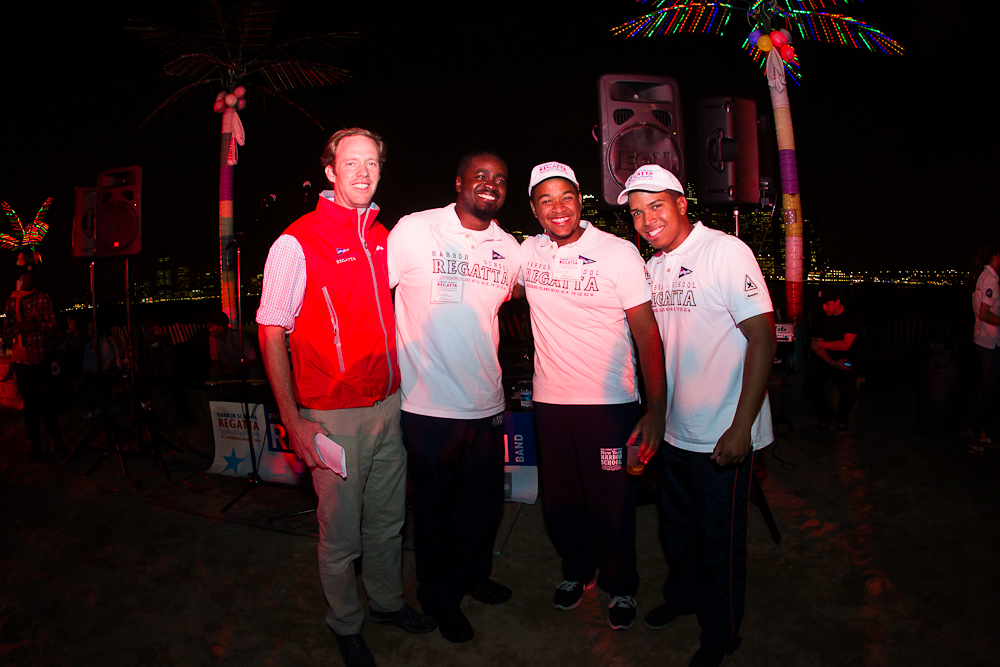 NY Harbor Foundation President Murray Fisher with three Harbor School alumni, who won third place in the J/24 non-spinnaker class of the Harbor School Regatta at Governors Island.
Photo credit: Dave Camara
After the race, nearly 600 people gathered on Governors Island, where they got a personalized tour of the Harbor School by the students, then danced the night away to live reggae music at Governors Beach Club as they enjoyed Goslings' Dark n' Stormies, Brooklyn Brewery favorites, Fishers Island Oysters, Luke's Lobster and other specialties. Dozens of sailing, maritime, financial, fashion and food and wine companies supported the event, including Chelsea Clock, Gaastra Pro, Nautica, Keeper Springs, Mast Brothers Chocolate, Virgin Atlantic and Conde Nast.
One Regatta team member offered a sentiment shared by fellow Harbor School supporters, saying that his racing team was made up of "life-long sailors passionate about sharing the life experience of being on the water with others. The Harbor School offers us the opportunity to align this passion with a practical and innovative educational program for kids in the the City of New York. We are proud to be able to support this school, its programs, and the opportunity it gives city kids to develop their own passion for the water, along with the career opportunities that passion and education may provide."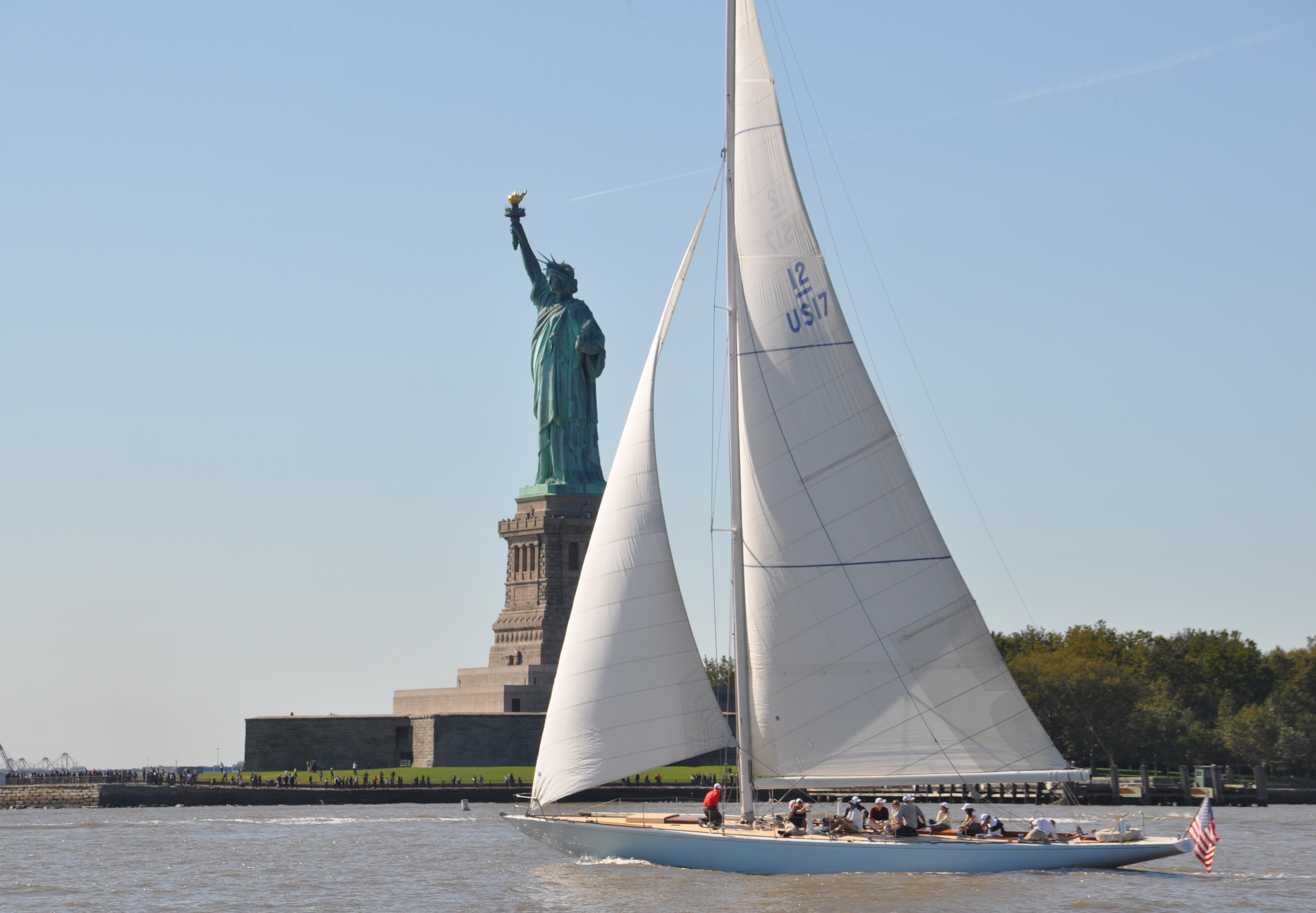 Historic America's Cup 12 metres participated in the Harbor School Regatta at Governors Island.
Photo credit: Michael JN Bowles
Calling all HuffPost superfans!
Sign up for membership to become a founding member and help shape HuffPost's next chapter