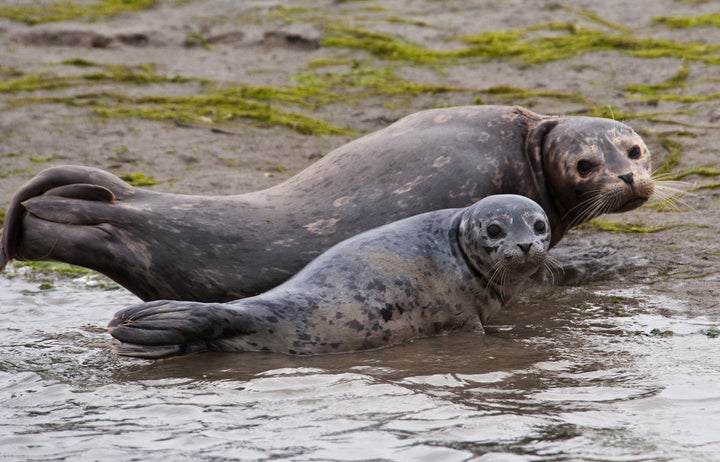 Hobby drone operators upsetting seals giving birth in a California marine sanctuary are threatening the survival of the pups, animal experts say.
Officials are cracking down on the buzzing machines at the Monterey Bay National Marine Sanctuary on California's Central Coast. Close to 100 harbor seals typically gather annually to give birth at Hopkins Beach in Pacific Grove in the sanctuary. Mothers stay as long as June nursing their young. The Hopkins Beach rookery is currently fenced off to protect the pregnant and nursing seals and pups, but people have been getting around the fences and drones fly over them, reported KSBW-TV in Monterey.
The Marine Mammal Center in Marin County, which rescues starving and abandoned seal pups, has received several complaints about drones bothering the seals. Not only do the drones upset the seals' sleep cycles, they can also frighten a mother so seriously that she may abandon her pup.
"A buzzing drone is a completely foreign sound for seals resting on the beach," Laura Chapman, the center's northern range operations manager, said in a statement to The Huffington Post. "This unexpected sound can startle a harbor seal mother, causing her to abandon her pup during this critical nursing time."
Two pups were recently born in the rocks of Hopkins Beach, which is rare. Harbor seals usually give birth on the sand of a beach. Both pups were abandoned after witnesses reported that drones had been flying over them, according to the local TV station. One of the pups has been rescued by the Marine Mammal Center.
It's illegal to operate any drones over the area because it's within a drone "no-fly" zone around the Monterey airport. The federal Marine Mammal Protection Act also prohibits harassing seals and requires people on any beach to stay at least 150 feet from a seal or sea lion.
Volunteer docents at the marine sanctuary have been ordered to track down drone operators to tell them to stop.
"About half the time they're very cooperative," docent Thom Akeman told KQED in San Francisco. "Other times they're very belligerent because they think they have a right to fly anywhere." It's not clear if the drones are filming the seals or if operators are simply using the open area to play with their drones, Akeman said. He doesn't ask them — just tells them to stop, he said.
Harbor seals, sea lions and elephant seals along the Pacific Coast have enough to deal with because of climate change and dwindling and moving fish populations. The Marine Mammal Center has dealt with record numbers of pup strandings the last few years as mothers are away longer to search for fish. The hungry pups sometimes strike out on their own, often with little chance of survival.
The center cautions anyone who sees an abandoned pup not to touch the animal but to call a rescue center.
Popular in the Community