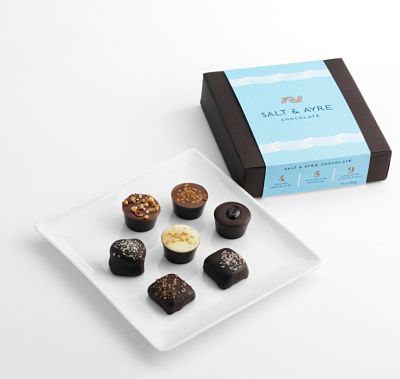 New England-based Harbor Sweets, a chocolatier, is celebrating 40 years of making all natural milk and dark chocolates. Known for their signature Sweet Sloops, the company is commemorating the milestone with a new line of hand-crafted truffles called Salt & Ayre. Made with 70 percent dark chocolate, the mouth-watering choices include Chai, Café au Lait, Hazelnut and Espresso. The bite-size, pop-in-your-mouth chocolates include three popular sea salt pieces: Caramel with pink Himalayan Sea Salt, Crystalized Ginger, with Thai Ginger Sea Salt, and Almond Buttercrunch Toffee, garnished with Chipotle Sea Salt.
We've been asked by retailers and customers to create a truffle line, but have waited until now to introduce the best possible product. We're confident that we have a stellar and unequal handmade dark chocolate that both our current fans and new ones will savor said Harbor Sweets' CEO and owner Phyllis Le Blanc. Salt & Ayre's sky blue contemporary packaging is a standout and was widely embraced at the Summer Fancy Food Show.
Harbor Sweets has several product lines such as Classics with original nautical designs including Sweet Sloops, Sand Dollars and Marblehead Mints. If you happen to have an equestrian enthusiast or green thumb on your list, peruse the Dark Horse Chocolates (Peanut Butter Ponies, Trophy Assortment, Equestrian Fabric Box & The Milk Chocolate Hunt Collection) and the Perennial Sweets (Topiary Toffee, Sweet Iris & Nantucket Basket).
For a company that started very small in a basement in 1973, they have come a long way, and have grown to 50 yearound employees which swells to 100 employees leading to Christmas. The shop's peak production period is from October through December. Each year, close to a quarter of a million Harbor Sweets chocolate packages are sold. Among their clientele is The White House, Metropolitan Opera, Smithsonian and Guggenheim Museum.
While there are machines involved in the cooling, drying, coating in chocolate and wrapping, the majority of the work is done by hand. Two foiling machines happen to be antique. The company employs original chocolate-making techniques using copper kettles and wooden paddles, combined with the finest local ingredients of fresh butter and cream. Harbor sweets made the decision long ago not to sacrifice the quality of the chocolates by using machines.
The chocolate that started the company, the iconic Sweet Sloop, is still going strong. It's an almond butter crunch sailboat with a white chocolate jib floating on dark chocolate and a pecan spindrift washing its sides. The small factory can churn out 28,000 a day. Isn't that sweet?
To witness the making of hand-dipped chocolates and candies in person, weekly tours take place at Harbor Sweets one and only red brick factory, where uncompromising, hands-on manufacturing is the norm. Located in historic Salem, Massachusetts, tours are offered on most Tuesdays and Thursdays (call first: 800.234.4860) To purchase, visit their flagship shop in Salem Harbor located at 85 Leavitt Street or purchase online.
Related