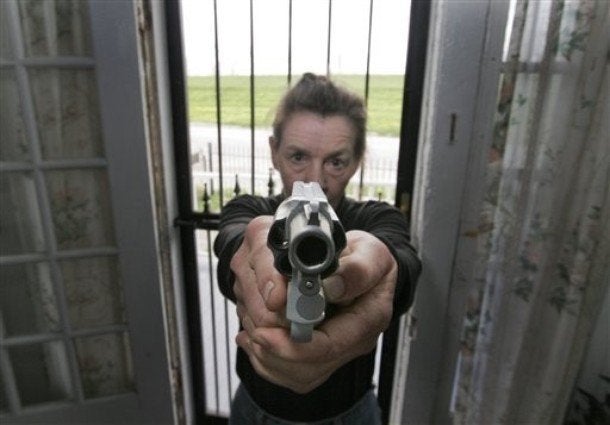 Back in 2004 folks who liked a little extra kick in their fiction found themselves blessed with a publisher that harked back to the day when pulp paperbacks could be found racked in every drugstore across America. That publisher was called Hard Case Crime, and it combined the best of pulp fiction's past with a present that belied the fact the genre ever went away. Once a month, legendary names such as Erle Stanley Gardner, Cornell Woolrich and Mickey Spillane hopscotched with the likes of Lawrence Block, Donald E. Westlake and Ed McBain, some as re-issues, some as lost and unpublished, some as Hard Case Crime originals. Even Stephen King got in the game, releasing a Maine-based murder mystery called The Colorado Kid in the pocket-sized, paperback format for which it was definitely best-suited.
In 2010 there was a hiccup at Hard Case Crime, and its fans found themselves without a regular dose of the dark and lonely. Last week though, Hard Case Crime returned to the racks, with not one but two hard-boiled offerings from two Grandmasters of the form. To mark the occasion, I met with Hard Case Crime chieftain Charles Ardai. Here's how it all went down.
John Hood: For those who might not know, who and what is Hard Case Crime?
Charles Ardai: Hard Case Crime publishes sexy, irresistible crime novels in the style of the pulp fiction of the 1940s and 50s, complete with lurid painted covers featuring under-dressed women and tough guys with guns (and sometimes vice versa). We've published 66 books in six years, we've been nominated five times for the Edgar Allan Poe Award, and Neal Pollack called us "the best new American publisher to appear in the last ten years."
In 2010 there was a hiccup in Hard Case's continuous run -- what happened?
The publisher we worked with to put our books out, Dorchester Publishing, got clobbered by the dismal economy and last summer announced they were getting out of the business of publishing paperbacks like ours after 40 years. That left Hard Case Crime without a home -- until we hooked up with the UK-based Titan Books, and we couldn't be happier. Our first new titles in over a year just hit bookstores last week.
What's the first Hard Case/Titan title?
It's called Getting Off: A Novel of Sex and Violence, and it's our first-ever hardcover title and our first original novel from New York Times best-seller and Mystery Writers of America Grandmaster Lawrence Block.
How'd Hard Case get their mitts on such a blockbusting author?
Well, we'd published five of Larry's books over the years; they were reprints of obscure work from early in his career, but they did really well for us -- and for him. In fact, the very first book we ever published was one of his. So when the time came to choose an author to pen the first book of our re-launched line, there was really no one else I considered. I brought the idea up with Larry over lunch and happily he was as excited about it as we were.
After years of pocket-sized pulp, why'd you decide to hardcover Hard Case's comeback?
We're still publishing most of our books as paperback originals, but every so often, when we have a really high-profile title, we'll bring it out in hardcover first. A brand-new novel by Lawrence Block definitely fits the bill.
Isn't there a second September Hard Case title now on the racks?
Yes: Quarry's Ex by Max Allan Collins, who's probably best known as the author of Road to Perdition. He's written four books for us about the hit man known as Quarry, one of which was even turned into a movie, starring Tom Sizemore as the killer-for-hire. It's one of his most popular series and fans have been waiting a long time for this one.
October promises another Hard Case double dose -- care to fill us in?
We have two big books coming on October 4. First is The Consummata, which is a book begun in the 1960s by the legendary Mickey Spillane, creator of Mike Hammer, and finished after his death -- at Mickey's request -- by Max Allan Collins. It's the story of a criminal on the run for a crime he didn't commit who tries to help a group of Cuban refugees in Florida while staying one step ahead of the law. The second is Choke Hold by Christa Faust, a new story about the former adult film star turned vigilante Angel Dare, who first appeared in Money Shot, which was one of our Edgar Award nominees.
Faust has a rather colorful history, doesn't she?
Depends what you consider colorful. She worked as a peepshow girl in Times Square when she was 18. She's appeared in and directed fetish videos. And Quentin Tarantino once called her "a Veronica in a world of Betties." I guess that's pretty colorful...
How'd she come to be with Hard Case?
She's a huge fan of an old-time author named Richard S. Prather and wrote a blog post about him. As it happens, we were Prather's last publisher, and when I came across her post I dropped her a note to see if she'd have any interest in penning a book for us. Money Shot was the result. She was the first -- and to date is still the only -- woman to write for Hard Case Crime.
Isn't there also a good story behind the Mickey Spillane/Max Allan Collins colliding?
Max was as big a fan of Spillane as Christa was of Prather, and he spent many years telling anyone who would listen how important he felt Mickey's work was, and how often underestimated by people who didn't bother to read it. When he finally met Spillane at a mystery convention, the two became fast friends. At the end of his life, Mickey told his wife to give all his unfinished manuscripts to Max, saying, "Max will know what to do with them." The Consummata was one of the books Mickey was hoping Max would complete for him.
So are there other Spillane titles to be completed by Collins in the future (and will they be Hard Case)?
There are unfinished fragments of three Mike Hammer novels, which Max plans to complete over the next few years. These will be published by Titan Books, but they won't be Hard Case Crime titles, they'll be done as a separate standalone series.
Speaking of pulp legends, word is Hard Case will be publishing a "lost novel" from a certain American master next year -- wanna give us the details?
James M. Cain has been back in the news lately, since he wrote Mildred Pierce, the novel that just won a batch of Emmy Awards for HBO. He also wrote the noir classics Double Indemnity and The Postman Always Rings Twice, and is considered one of the three greatest hard-boiled crime writers of all time (along with Dashiell Hammett and Raymond Chandler). What if I told you that he'd written one last crime novel that has never been published? Well, he did. It's called The Cocktail Waitress and we're going to be publishing it in Fall 2012.
How'd Hard Case stumble upon such a treasure?
It's funny, this one starts with Max Allan Collins as well. He'd heard that Cain had written an unpublished novel and told me about it. He'd never seen it, never read it, all he knew was the title -- but that tip was enough to get me off and running on a nine-year quest. I finally found the manuscript among the papers of a deceased film agent who had once represented Cain in Hollywood.
The Cain isn't the only "lost novel" on tap for 2012 though, is it?
We have a never-before-published novel by Donald E. Westlake called The Comedy is Finished, about a group of domestic terrorists who kidnap a famous TV comedian, and a lost crime novel by science-fiction Grandmaster Robert Silverberg, called Blood on the Mink.
Any more down the line you wanna tease us with?
There's a novelist named Joseph Koenig who was nominated for the Edgar Award and had a novel chosen as a Notable Book by The New York Times. He hasn't published a book in 20 years. We've got his first new book in two decades, False Negative. We're also bringing out a 700-page first novel that will absolutely blow people away: The Twenty-Year Death by Ariel S. Winter.
Will Hard Case ever go back to being book-of-the-month?
Alas, probably not -- on the editorial side, Hard Case Crime is a one-man operation and I'm the one man! The only way I can find time to work on other cool projects, such as the TV series Haven, [loosely based on King's The Colorado Kid -- JH] is to limit the line to a book every other month. But that's still a lot of great reading each year!
You'll never drop the deliciously lurid covers though, will you?
No, never. I'll probably leave instructions in my will to have a Robert McGinnis painting on my tombstone.