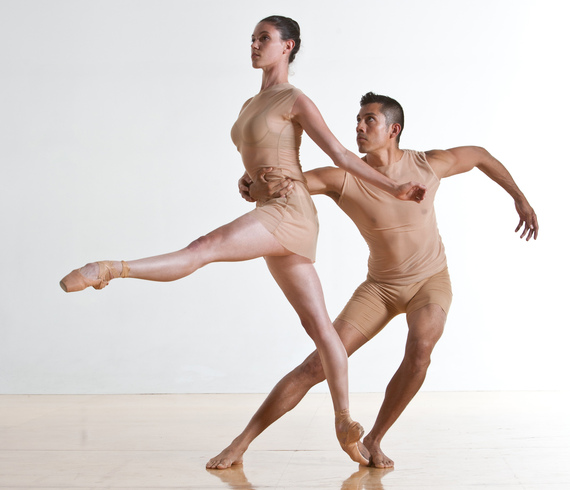 Dance Theatre of San Francisco is the new kid on the block -- a precocious kid on a block crammed with nimble little dance companies that turn out adventurous new work on a shoestring. Like many precocious kids, it manifests admirable talent but also exhibits immaturity. This is its second season, for which it offered up a potluck of three short impressionistic works by three local up-and-coming choreographers, and a new incarnation of Daphnis and Chloé that looks like DTSF's bid to be taken seriously as a ballet company -- a risky proposition in a metropolis that boasts the San Francisco Ballet, Smuin Ballet, Oakland Ballet, Ballet San Jose, Diablo Ballet, and that regularly plays host to every major world class ballet company.
A dance company with limited resources has to make hard choices. When stuck with a venue with a poor sound system, like the Cowell Theatre, piping in taped classical music is amateurish, and yet three of the four pieces on display this weekend were performed to taped classical music. The exception was Dexandro "D" Montalvo's terrific Ocean, whose throbbing electronic score shot through with industrial sounds did not require a sound system any finer than that at the Cowell.
Live music may be beyond the budget of most small companies, but the Bay Area is simply bursting at the seams with cutting-edge composers and musicians who might be cajoled into serving up a score, live or taped, geared specifically toward the acoustic environment at the Cowell. When push comes to shove, Ballet to the People believes that you should make do with fewer dancers and employ a handful of musicians.
Costuming was a resounding success -- impeccable and stylish all evening, especially in the skin-toned, Grecian inspired swirling creations for Daphnis and Chloé. Hats off to Renaissance man Christopher Dunn who costumed everyone AND distinguished himself in lead roles all evening.
Hard choices extend to other elements of a production -- in particular, lighting. Two of the four pieces, by Sandrine Cassini and Milissa Payne Bradley, were ill served by their bare-bones lighting design. Cassini's Here By Our Sight (to a tinny, scratchy recording of the Adagio from Schubert's Quintet in C Major) started out with the dancers poetically lit in silhouette against a glowing background, then flooded the stage with overly bright, clinical lighting that washed out the dancers in their severe steel-grey unitards and diminished the strangely tender moments in the choreography. Payne Bradley's Your Sun Becomes My Moon set up two parallel universes in which intimate relationships between two pairs of dancers unfurled simultaneously onstage, a concept which begged to be supported by a bifurcated lighting scheme that simply didn't materialize.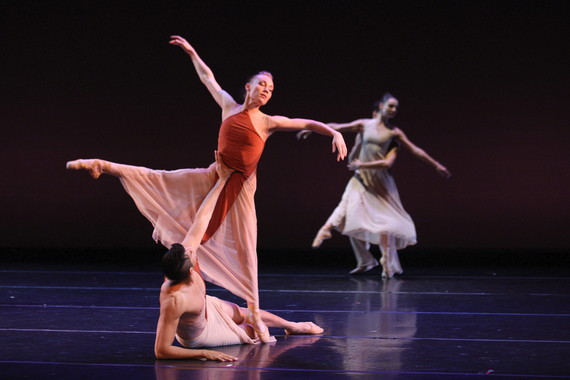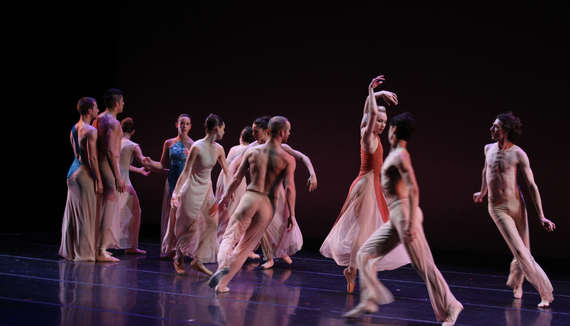 One doesn't expect a pick-up company to display a unified style or aesthetic, and the three short pieces did play to the dancers' individuality. Daphnis and Chloé however is a different breed of dance, and the ensemble of thirteen powered heroically through Mark Foehringer's ecstatic neoclassical choreography with a dizzying range of manners. Perhaps more rehearsal time would have hammered out a more consistent carriage of the head, arms and shoulders, and more uniform leg extensions... but the work is simply not innovative enough to make it the focal point of a brave new venture.
Though Foehringer's pared-down interpretation of the classic tale verged on a storyline for the Desperate Housewives of Ancient Greece, the splendid, regal Jamielyn Duggan rose above cliché in the role of the scheming Lycaenion, ably supported by Ismael Acosta. Christopher Dunn and Kelsey McFalls shone sweetly in the title roles, and Marcos Vedovetto proved a commanding Pan.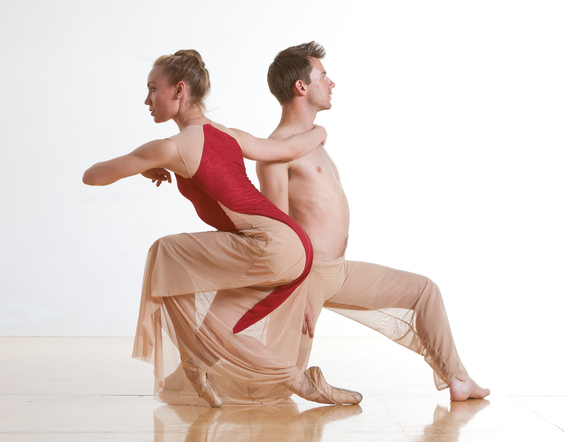 The dancers seemed most at home in the hybrid hip-hop and contemporary vocabulary of Ocean, the chilling vision of a sleeper cell of aliens activated by the superb Cooper Neely. The second movement, a serpentine trio set to Ólafur Arnalds' gently hypnotic For Teda, features Neely, Christopher Dunn and Kelsey McFalls in a contemporary nod to Frederic Ashton's extraterrestrial Monotones II. Arnalds' dappled tones give way to the brutal techno of Henning Baer in a particularly bleak mood, and Montalvo fields an army of aliens programmed to destroy whatever is in their path. With arms that function like machine guns and movement delivered in controlled spasms that seem to spring directly from the score, the DTSF dancers appear nothing short of virtuosic. A music critic summed up the Baer EP in a manner that perfectly characterizes Montalvo's work: "There is no light at the end of the tunnel. There is no light at the beginning either. There is only darkness here."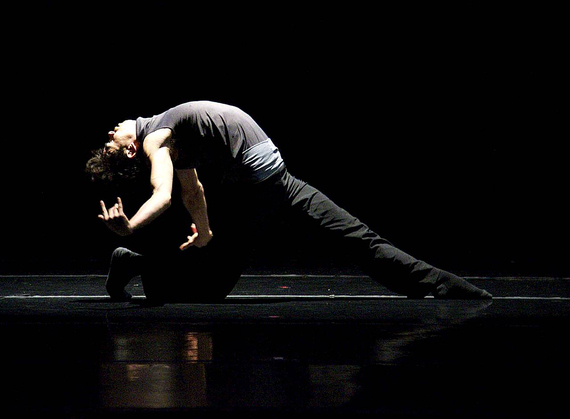 There is a bleak edge to Cassini's work as well, the dancers frequently looking out over an abyss but always drawing each other back. They initially look very comfortable in Cassini's movement style, which is cat-like and ethereal but also very grounded. There are tantalizing hints of A Midsummer Night's Dream with a mischievous Puck-like figure -- danced with brio on Sunday by Angela Bevevino -- who gambols among the sleeping figures of two unsuspecting maidens. However, midway through the piece, as the Schubert builds in intensity and anxiety, the choreography turns more nakedly athletic. The piece looks unfinished, as if the choreographer was testing out movement ideas in the second half but didn't have time to polish it, and the dancers appeared to struggle.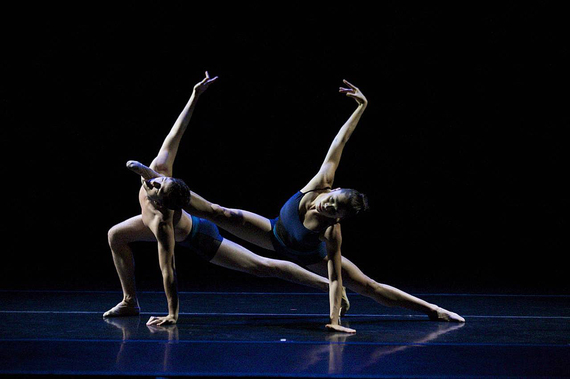 Payne Bradley's piece is driven by Arvo Pärt's austere and mystical Summa for Strings, whose waves wash to shore two couples: one entwined in a luscious contemporary duet, the other in a formal, purely classical pas de deux. Alexandra Fitzgibbon and Michael Galloway, in chic swimwear marked with fields of color suggestive of Mark Rothko, are never less than stunning as they explore unstable, shifting sands. Their movements suggest some kind of marine creature. They cede the stage to Ana Robles and Joshua Thake, she in a long diaphanous tutu and he in a princely tunic; we are reminded that the language of classical ballet is no more or less exotic or contrived than the movement of jellyfish or sea dragons, that we often fail to examine the richness of different forms of expression. Robles and Thake seemed poorly matched or under-rehearsed, however, which, together with the lighting failure, diminished the impact of this otherwise glamorous and quirky work.
At the start of the evening, company Executive Director and Artistic Advisor Annie Henry (who also brought an elegant presence to the ensemble in Daphnis and Chloé) delivered a graceful pitch for donor support. Money is not the only thing the company needs right now. It is not enough to employ dancers and give free rein to talented choreographers -- there must be a vision in the curating of a program, and a discipline to the myriad decisions around scoring, casting, time and resource allocation. There must be someone with the experience and authority to sit in on rehearsals and make a judgment as to what is ready to be presented and what is not. In young companies, understandably, artists often must wear more than one hat. At present, in this company, there are important hats that no one is wearing.
1. Dance Theatre of San Francisco members Jessica Wagner & Ismael Acosta in the premiere of Sandrine Cassini's Here By Our Sight, October 24-26 at the Cowell Theater in San Francisco. Photo: Matt Haber
2. & 3. Dance Theatre of San Francisco ensemble in the premiere of Mark Foehringer's Daphnis and Chloé. Photo: Anandha Ray
4. Dance Theatre of San Francisco members Jamielyn Duggan & Christopher Dunn in the premiere of Mark Foehringer's Daphnis and Chloe, October 24-26 at the Cowell Theater in San Francisco. Photo: Matt Haber
5. Dance Theatre of San Francisco member Vincent Chavez in the premiere of Dexandro Montalvo's Ocean. Photo: Anandha Ray
6. Dance Theatre of San Francisco members Michael Galloway and Alexandra FitzGibbon in the premiere of Milissa Payne Bradley's Your Sun Becomes My Moon. Photo: Anandha Ray
REAL LIFE. REAL NEWS. REAL VOICES.
Help us tell more of the stories that matter from voices that too often remain unheard.