"Epilogue" from the paperback edition of HARD CHOICES by Hillary Rodham Clinton. Copyright © 2014 by Hillary Rodham Clinton. Reprinted by permission of Simon & Schuster, Inc.
"Where did Hillary go?" the President asked, looking around. He was in the middle of a short speech about democracy in Burma, standing on the porch of Aung San Suu Kyi's house in Rangoon. "Where is she?"
It was November 2012, and we were on our final trip together as President and Secretary of State. I waved from off to the side and caught his eye. "There she is," he said. As he thanked me, I thought about how far we had come from that day more than four years earlier in Dianne Feinstein's living room. Like our entire last trip together, it was a moment of bittersweet nostalgia, of satisfaction in what we had accomplished, delight in the partners we had become, and sadness that it would soon be over.
Just two weeks earlier the President had won reelection. Unlike in 2008, this time I hadn't been able to campaign for him. By law and tradition, Secretaries of State stay out of domestic politics. The Democratic National Convention in Charlotte, North Carolina, was the first I had missed since 1976. In 2008, the convention in Denver had offered me a chance to endorse President Obama and help unify Democrats after the long primary campaign. But during the 2012 convention I was half a world away, representing our country on a diplomatic mission to Asia.
On the night my husband addressed the convention and formally nominated the President, I was across the Pacific in tiny Timor-Leste. After a day of diplomacy, I stole away for a few private moments in the residence of our Ambassador. There was no CNN and only limited internet bandwidth, but Philippe Reines had managed to connect to his TiVo back in Washington, so we could watch a delayed recording of Bill's just-completed speech on the Ambassador's home computer. I sat down to watch while the rest of my team crowded behind me.
I had to smile when I saw him take the stage in front of the enthusiastic crowd. It had been sixteen years since Bill's last campaign, but he still loved the excitement of a great political moment. Like a country lawyer laying out the facts for a jury, he explained how deeply damaged our economy and global standing had been in 2009 and how the Obama Administration had begun turning things around. At the end of his speech he addressed the question of American decline and renewal. "For more than two hundred years, through every crisis, we've always come back," he said. "People have predicted our demise ever since George Washington was criticized for being a mediocre surveyor with a bad set of wooden false teeth. And so far, every single person that's bet against America has lost money because we always come back. We come through every fire a little stronger and a little better." After Bill finished, President Obama unexpectedly appeared onstage to thank him. As the two Presidents embraced, the crowd went wild. Watching from some ten thousand miles away, I was full of pride for the former President I married, the current President I served, and the country we all loved.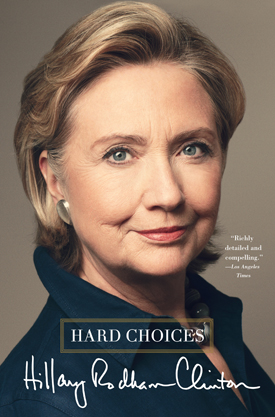 A few months later we said our good-byes. I had lunch with President Obama in his private dining room off the Oval Office. Over fish tacos we discussed a twenty-page memo I had prepared with recommendations for his second term, both building on what we had started and new initiatives. On the way out we paused in the Oval Office. Tearing up, I hugged the President and told him again how much our work and friendship meant to me. And that I'd be on call if he ever needed me.
On February 1, 2013, my final day in Foggy Bottom, I sat down at the desk in the small cherry-paneled inner office for the last time and wrote John Kerry a letter. I left it in the same place I had found Condi's note to me four years before that. Then I signed my letter of resignation to the President. For the first time in twenty years, after serving as First Lady, Senator, and Secretary of State, I no longer had any role in government.
My final act was to go down to the lobby--where I had been greeted on my first day back in 2009 -- to say good-bye to the men and women of the State Department and USAID. Thanking them seemed inadequate for all their dedicated service, but I did my best. Once again I saw the marble walls with the etched names of the colleagues we had lost, those who had fallen serving our country. I said a quiet prayer for them and their families. Filling the large lobby were so many people I had come to love and respect. I was glad they would continue serving the United States with intelligence, persistence, and courage. I knew I would always be grateful to have had the chance to lead such a team and to represent America around the world. I had learned anew the goodness of our people and the greatness of our nation, and I would face the future with a full and open heart.
I wrote this book over the course of 2013 and early 2014, mostly from a cozy, sun-drenched third-floor study in our home in Chappaqua, New York. There's a thick carpet and a comfortable chair, and I can look out through the windows into the treetops. I finally had time to read, catch up on sleep, go on long walks with my husband and our dogs, see more of my family, and think about the future.
In early 2014, Bill and I got some wonderful news that we'd been eagerly waiting to hear: we were going to be grandparents. We were both beyond happy for Chelsea and Marc and unabashedly giddy at the prospect. It was hard to think of anything else, even with a book to finish. My mind kept returning to this miracle waiting to happen. Chelsea and Marc decided not to find out the sex of the baby or settle on a name in advance, so we were left to imagine just who this newest member of our family would turn out to be. As the summer slipped away, I drove Chelsea crazy checking in practically every hour. How are you feeling? Any news from the doctor? When's it going to happen!
Thirty-four years before, when I was pregnant with Chelsea, Bill and I had no idea what to expect, despite the Lamaze classes we took together. I remember how frazzled he was when it was finally time to go to the hospital. Lamaze recommended bringing a small plastic bag of ice to suck on during labor. Bill ended up bringing enough to fill a thirty-nine-gallon garbage bag. It was quite a sight. By comparison, Chelsea and Marc were much more organized and prepared. The way they stayed calm and always supported each other was no surprise to anyone who knew them, but it still made me proud. They were going to be terrific parents.
Finally, in September, it was time. As soon as we heard Marc and Chelsea were on the way to the hospital, Bill and I left our home in Chappaqua (without any ice!) and rushed to Lenox Hill Hospital in New York City. After meeting and thanking the medical team who would take care of Chelsea and the new baby, we settled into waiting.
At 7:03 PM on September 26, 2014, Charlotte Clinton Mezvinsky made her grand entrance. Chelsea emerged, exhausted but glowing. I have to admit, I was glowing quite a bit myself. Bill and I followed the proud parents back into their room. All our pent up nervous energy burst out in laughter and excited whoops, more like a couple of kids than the newly-minted grandparents we had suddenly become. After a while, Bill and I stepped out into the hallway to let them rest. We sat quietly, holding hands, trying to process the rush of emotions. I looked over and saw a tear in Bill's eye.
Over the days and weeks that followed, Bill and I spent as much time as we could visiting and helping. I wanted to be as much help to Chelsea and Marc as our own parents had been to us. My mom and dad were always on call to drive from Chicago to Little Rock to babysit whenever we had to travel on official state business or just needed an extra pair of hands. Bill's mother Virginia, who Chelsea called Ginger, was a constant source of wisdom and laughter as we tried to navigate the unfamiliar waters of parenthood.
In many ways, taking care of a baby has gotten a lot more complicated since we did it more than three decades ago. But some things never change. As I watch Bill carry Charlotte around our house, stopping at nearly every book on the shelf to explain the plot and how much she will enjoy reading it one day, I can't help but remember how he used to walk Chelsea around the Arkansas Governor's Mansion, singing and rocking until she fell asleep. When Bill and I get down on our hands and knees to play on the floor with Charlotte, I find myself thinking back to how amazed I was when my own father did the same with Chelsea. I had never seen anything like that before! At the time, I couldn't believe how that gruff and imposing man just melted in the palm of his granddaughter. Now I know exactly how he felt. When Chelsea was born, I was full of nerves--despite all the books I had read and my work at Yale's Child Study Center, I was unprepared for the sheer wonder and responsibility of parenthood. I prayed that I would be a good enough mother and I quickly came to feel that having a child is like letting "your heart go walking around outside your body," as the writer Elizabeth Stone put it. It was magical and terrifying all at the same time. As a new grandmother, however, there is nothing but joy. It's probably the world's best job. You get all the happiness of doting on a tiny child as she begins exploring the world, but without the responsibilities or anxieties of being a parent. I love every minute of it.
When Chelsea was little, Bill and I read to her nonstop. Pediatricians now advise parents to start engaging verbally from the day babies are born because it does so much to develop their brains and cognition. In our house, Goodnight Moon was a particular favorite. I also tried to sing lullabies and old favorites, despite the fact that carrying a tune has never been one of my strengths. That lasted until Chelsea was about 18 months old, when she reached up one tiny finger during the middle of my rendition of "Moon River," touched my lips and said, "No sing, Mommy, no sing." All these years later, I've mostly learned my lesson. But occasionally, I still sneak in a song or two and Charlotte has yet to complain.
I was delighted to find that Charlotte's birth seemed to strike a chord with a lot of Americans. Chelsea and I received letters and gifts from moms and grandmothers across the country - stuffed animals, tiny sweaters, hand-knitted socks and hats, even some baby-sized sports jerseys from various teams. One gift we treasured was "Charlotte's Web," the classic children's book by E.B. White. As I've recently rediscovered, it's a wonderful read. At one point, when the wise family doctor is asked what he makes of the mysterious messages in the spider web, he observes, "When the words appeared, everyone said they were a miracle. But nobody pointed out that the web itself is a miracle." That's how I've come to think about Charlotte (our Charlotte, not the spider.) Every day with a new child is a miracle. Her smallest gestures sweep me off my feet. And while I am completely convinced that Charlotte is far and away the most beautiful, smart, and accomplished infant anywhere, I also understand that the true miracle here is universal. That's why so many other grandmothers have reached out to me. They all feel the same way I do. They're just as proud of their little ones and they have just as many dreams for their futures.
I have always believed that every child should have the chance to live up to his or her God-given potential. That principle has animated my entire career, from my earliest days as a young attorney with the Children's Defense Fund straight through to my service in the Senate and as Secretary of State. Now that I'm a grandmother, I believe it even more passionately. Unfortunately, too few of the children born in the United States and around the world today will grow up with the same opportunities as Charlotte. You shouldn't have to be the granddaughter of a President or a Secretary of State to receive excellent health care, education, enrichment, and all the support and advantages that will one day lead to a good job and a successful life. That's what we want for all our kids. And this isn't just idealism. It's a recipe for broadly-shared prosperity and a healthy democracy. The notion of equal opportunity has been at the heart of the American experiment since the very beginning. It's part of what made the United States exceptional and it attracted generations of immigrants determined to work hard and provide their families with that same chance at success. I'm more convinced than ever that our future in the 21st century depends on our ability to ensure that a child born in the hills of Appalachia or the Mississippi Delta or the Rio Grande Valley grows up with the same shot at success that Charlotte will.
Becoming a grandmother has made me think deeply about the responsibility we all share as stewards of the world we inherit and will one day pass on. Rather than make me want to slow down, it has spurred me to speed up. As Margaret Mead said, children keep our imaginations fresh and our hearts young, and they drive us to work for a better future. I've also returned again and again to this question of universality - how much we all have in common even if the circumstances of our lives may be different. As you've seen throughout this book, one of the defining themes of my time as Secretary of State was our increasing global interdependence. Despite all the division and discord in the world, which sometimes can seem overwhelming, the basic fact of the 21st century is that we're more connected than ever. If the United States continues to lead the world in the years ahead, as I believe it can and must, it will be because we have learned how to define the terms of our interdependence to promote more cooperation and shared prosperity and less conflict and inequality. As we've seen since the first edition of this book was published in June 2014, the negative side of interdependence remains potent -- whether it was the spread of virulent new strands of extremism in the Middle East or old-style nationalism in Europe or a deadly epidemic in Africa. Our job is to build up the positive side. The United States and the other great democracies have to redouble our efforts to empower moderates and marginalize extremists everywhere, and to stand firmly and united in pursuit of a more just, free, and peaceful world. That's the world I want for Charlotte and for all our kids.
Among all the gifts and cards that arrived not long after Charlotte did was a package from a woman who had watched her 83-year old mother stitch together beautiful quilts for many years and wanted to give it a shot. "This is my first and only attempt to sew a memory quilt for anyone," she explained. Inside I found a red, white, and black patchwork that included panels with inspiring inscriptions and famous photos of Chelsea through the years. I held it up to the light and had to smile at the familiar images. A "memory quilt" was a good name for it. It was hard to believe that the baby girl I was holding in one photo could be the same poised and lovely woman being married in another. Yet there she was. I wondered for a moment what a quilt of my own life would look like. There were so many people who had taught me so much. And now I had one more. In just a few months, Charlotte had already helped me see the world in new ways. There was so much more to do. So many more panels waiting to be filled in. I folded up the quilt and got back to work.
Popular in the Community