"He only does them on Wednesdays."
This is what my wife answered when I had asked, on a Thursday, how soon we could have a dilation and curettage (D&C). We had just been informed that my wife's pregnancy had come to an end, in the form of a miscarriage, an hour or so before. Overcome with grief, frustration and anger, one fact had escaped us when we received this news -- that my wife would have to go about her life over the next few days with our miscarried child still inside her, because our doctor only performed the D&Cs on Wednesday afternoons.
I don't bring this up to be gruesome, but to highlight a huge divide in the thinking about miscarriages in our country. To some in the medical community, they are part and parcel, dealt with on a large scale, with D&Cs a pretty much common occurrence -- scheduled with the same ease of a simple blood test. But to us, relatively new and uninformed to the world of miscarriages, this was an unparalleled, traumatic event. We had no idea how to process this information, much less deal with it.
This was to be our second child. Our first, our beautiful daughter, had been conceived relatively easily, but had come into the world premature, two months early and a slight three pounds. She spent a month in the NICU, after which we emerged from there with a healthy little girl and a pretty hefty case of post-traumatic stress. Needless to say, we were not ready to go back down that family planning road anytime soon, choosing not to grow our family but to focus on the one that was in place.
But as the years went by, and our daughter grew, we got over our hesitation and financial worries to start trying for our second. Our daughter was four, and we decided that it was time. Surely, it would be as easy four years later, right?
Uh... no. Our first miscarriage, after just two months of trying on our own, was a huge blow. The doctor informed us that they could not detect a heartbeat, we cried the entire walk home... and then put a brave face on for our daughter. We had a babysitter scheduled for that night, and chose to keep her and go out to dinner. To this day, it's the one dinner in 17 years that my wife and I didn't talk all the way through. We would come to find out later that one in four pregnancies ends the same way ours did.
I should mention at this point that I am a storyteller. I work in the theater, and spend my days thinking about and implementing how to tell the best story on a stage. And what occurred to me when we went through this is the absolute lack of any stories dealing with lost pregnancies. It's not that they don't exist, but they usually come in the form of a Lifetime movie and have some sort of abuse attached to them. I haven't seen a movie, TV show or play about the toll trying to have a family can have on a family, and the emotional devastation that millions of couples have dealt with.
As my wife likes to say, "I was pregnant for two years." Fertility treatments, D&Cs, and all through this our daughter was pleading for a little brother and sister. We yelled at each other, resented each other and almost tore each other apart. BECAUSE WE HAD VERY FEW PEOPLE TO TALK ABOUT IT WITH. Those my wife did find, who had gone through the same ordeal, were located through a secret network akin to most clandestine government agencies. Whispers and innuendos. "I heard Suzie had one a few years ago... call her and give her the code, Blackbird."
Make no mistake, my wife bore the brunt of all this, both physically and emotionally. But I had my own issues to contend with -- the feelings of despair, helplessness, of what part I had played in the loss of the pregnancy. What could I do, besides hold her hand and tell her it was going to be okay? And was it going to be? I had no information to confirm this, and felt like a fraud every time I uttered the words. To say nothing of all that hung between us, unspoken: Would we be fulfilled if this doesn't happen? Will we always resent each other for not being able to do the thing the rest of the world can do easily and without trouble?
After what was to be one of our last attempts at a fertility treatment, we found out my wife was pregnant again. Third time in two years. We did not celebrate. We shrugged, defeated, and readied ourselves for the inevitable disappointment. The resulting nine months were full of excruciating moments waiting for that shoe to drop. Weekly doctor appointments, heart rate monitoring, countless scans and tests. We were ready for the worst. This time, though, it never came.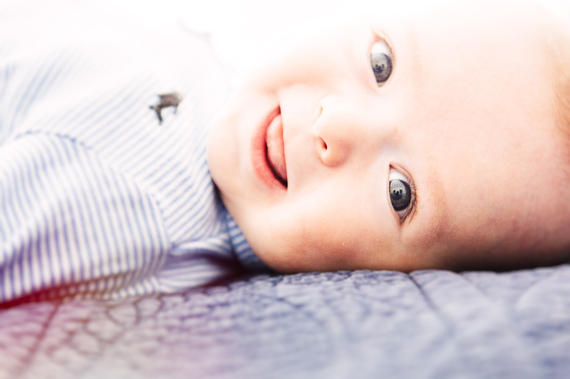 Grayson was born on Dec. 22, 2014. He is perfect. And a terror. And perfect.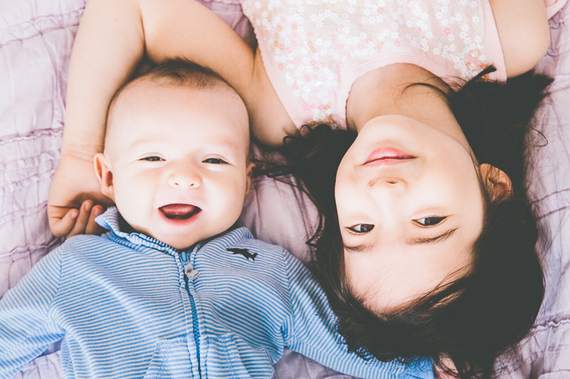 Our story ended up a happy one. But not every story does, and when you are in the middle of it you can't even dream to get your hopes up, because you know how bad the hurt is when those dreams get dashed. And with no outlet and no discussion, that fear and pain and resentment has only one place to go, at each other.
And so I set out to tell this story. Once I processed everything we had gone through, I wanted to share some version of what we had gone through, so other people looking to see this story would be able to find it. Todd and Mitzy is a theater piece I've written based on the opening line of this article. It tells the tale of a seemingly perfect couple who "meet cute," with no idea of the trials and tribulations that lie ahead as they set out to have a family. How the silence that permeates our culture regarding infertility and lost pregnancies can eat away at a couple from the inside. It's a humorous and heartfelt exploration of the cost of commitment, and how perilous the road can be, even, and especially, for the "perfect couple." I want to show how this silence can be devastating to a relationship. Hopefully, people can see their story reflected in ours, and find some sort of comfort or understanding in it.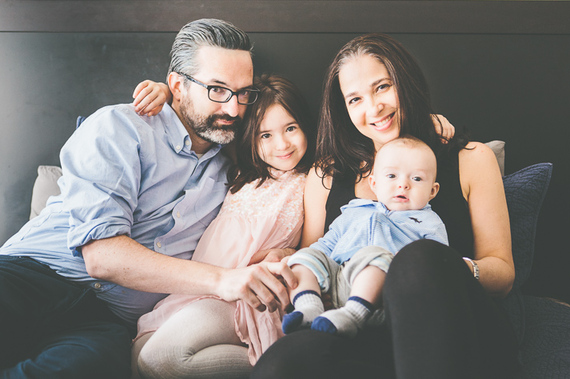 In this age of Facebook and social media where everyone's lives seem ideal, we need to have an open culture of sharing these stories, both good and bad. It's only through that sharing can we help those going through the same situation. Miscarriages are devastating. But until conversations about them become as commonplace to us as to the doctors, people will continue to suffer through them silently. Let's all tell these stories, loudly and often, good endings and bad, onstage, on film and anywhere we can. If we do, then lost pregnancies, while always heartbreaking, won't feel like the end but just a natural, painful and ultimately unifying event on the way to whatever destination lies ahead.
________________________________________________________________
Michael Kimmel is a theatrical writer living in NYC with his wife, Pamela Zimmerman, and their two children, Mady and Grayson. Michael's show, Songbird, is currently playing Off Broadway at 59E59 through November. Todd and Mitzy, his newest theater piece, will be performed in a special, one-night benefit reading on Nov. 30th at Ars Nova in NYC. Inquiries about the reading can be made to allisonbressi@gmail.com.
________________________________________________________________
One organization dedicated to preventing pregnancy loss got its start with a hard conversation. The non-profit organization, Healthy Birth Day, is dedicated to preventing stillbirths through education, advocacy and parent support. It was founded by five Iowa moms who wanted to talk about their pregnancy loss to prevent other families from going through it. In 2004, the organization helped establish a Stillbirth Surveillance Project. The goal of the project was to collect data surrounding stillbirths to see if there are any common threads which might unlock the mystery of why stillbirths occur. Because a stillbirth can occur as early as 20 weeks gestation, the study may also lead to answers regarding miscarriages. Pregnancy loss deserves conversation, research and action to improve maternal health care in the United States.
Healthy Birth Day also created the public awareness campaign Count the Kicks aimed at preventing stillbirths. Count the Kicks teaches expectant parents the importance of monitoring their unborn babies' movements during the third trimester of pregnancy with the goal of improving the chances of delivering a healthy baby and can prevent unexpected birth complications and even late-term stillbirth. Scientific studies indicate kick counting, a daily record of a baby's movements (kicks, rolls, punches, jabs) during the third trimester, is an easy, free and reliable way to monitor a baby's well-being in addition to regular prenatal visits.
Available for free in the Android and Apple online stores, the Count The Kicks! app helps pregnant women track their baby's movements. Moms can use the app each day, while the app logs their kick-counting history. Moms can then see what is normal for their baby and will know if their baby's movement pattern is changing. Count the Kicks urges expectant moms to contact their healthcare provider immediately if they see significant changes in their baby's movement patterns. The app comes with a helpful daily reminder that expectant moms can set to their convenience.
Related