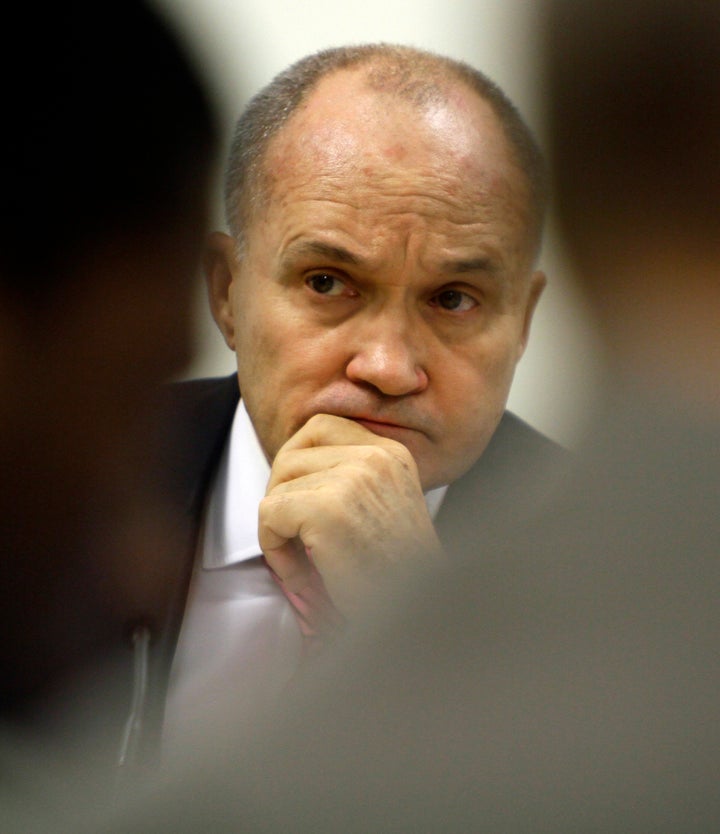 City officials finally showed some backbone regarding the NYPD.
For first time since 9/11, some elected officials had the courage to grill Police Commissioner Ray Kelly about his secretive anti-terrorism policies after documents surfaced, showing widespread and possibly illegal spying by the NYPD's Intelligence Division on the city's Muslims.
Surprise, surprise, those officials did not include Mayor Michael Bloomberg, who in his 10 years as mayor has failed to exercise any civilian control over the department.
Nor did they include Peter Vallone, who chaired the City Council's Public Safety Committee hearing last week, where Kelly was questioned. Rather, Vallone suggested that Kelly's aggressive tactics were the reason there have been no successful terror attacks on the city since 9/11.
In the past Vallone has said that Kelly briefs him privately, although he learned from NYPD Confidential, not the commissioner, that the NYPD had sent undercover officers to spy on Muslim student groups at the City University.
No, those asking the tough questions questioners were some virtually unknown Council members from the outer boroughs with Muslim constituencies. Still, they made their voices heard.
At issue was whether the NYPD was legally justified in conducting sweeping surveillance on Muslims mosques, schools, student groups and non-governmental organizations.
Two weeks ago, the Associated Press reported on the department's "Moroccan Initiative" -- targeting Moroccans neighborhoods throughout the city despite there being no evidence of either criminality or the suspicion of criminality.
Last week, the AP reported that a Muslim cleric who has denounced terrorism and dined with Mayor Bloomberg at Gracie Mansion was named in those Intelligence Division documents as a "tier one" person of interest.
Significantly, the AP's critical reporting on the NYPD emanated from Washington, not New York. Largely because of 9/11, the city's media seem physically unable or emotionally incapable of criticizing Kelly, or of even asking him hard questions.
The day before the Public Safety Committee hearings, the Daily News, under the headline, "Lacking in Intelligence," editorialized that anyone demanding an investigation of the NYPD's spying "should spend some quality time with Ray Kelly."
Unless we missed it back with the girdle ads, the Post didn't bother covering the hearings.
It did, however, run a strident editorial. "Police Commissioner Ray Kelly stood tall Thursday during a distasteful hearing of the City Council's Public Safety Committee -- which apparently let itself be pushed by a bogus Associated Press series into grilling the NYPD's vaunted anti-terrorism unit."
Accustomed to giving orders, unaccustomed to being questioned, Kelly didn't give an inch, defending his policies with short, curt, though often incomplete and sometimes misleading answers.
"We don't profile," Kelly said. "We follow leads wherever they take us." He added: "We infiltrate terrorist cells before they grow into maturity." (Intriguing as that last sentence was, nobody followed it up.)
Kelly also denied targeting Muslim groups by ethnicity. Instead, he said the targeting was based on geography.
Said a skeptical Queens Councilman, Daniel Dromm: "You have [a map] for the Irish community? You have one for the Greek community?"
Said Brooklyn Councilman Brad Lander: "We have people out there who are partners who feel their trust is betrayed."
Kelly also refused to discuss the Muslim cleric, Reda Shata. "We don't discuss specific cases," he said.
Asked about the lack of outside supervision of the department, Kelly pointed to the Handschu agreement, a set of guidelines that regulate police behavior in New York City with regard to political activity.
Kelly neglected to mention that the guidelines stemmed from the NYPD's infiltration of the Black Panther Party and revelations that the department had kept dossiers on anti-war groups, gay rights activists, religious groups and civic organizations.
As for the Panthers, 21 of them were tried for conspiracy to blow up police stations and department stores. After a two-year investigation and trial, a jury acquitted them of all charges in 90 minutes.
Kelly also cited the importance of selecting deputy commissioners for Counter Terrorism from outside the department, people with international experience, such as Marine Lieutenant General Francis X. Libutti. Kelly, himself a marine, had heralded Libutti's appointment in 2002, saying that the Long Island native had "come home."
Kelly did not tell the City Council that Libutti left the NYPD after only 14 months. At the time, neither he nor Kelly offered a credible explanation for his departure.
It was obviously a sore point for the commissioner. After this reporter, in a Newsday column, asked why the general had left so soon, Kelly visited the paper's headquarters in Melville, L.I., to complaint to its editors.
Then there were those 13 terrorist plots that Kelly has maintained were broken up by the NYPD's aggressive anti-terrorism measures.
Some were broken up in conjunction with the FBI, said Vallone at the hearing. In others, the NYPD acted alone. "The results speak for themselves," Vallone said, implying that Kelly's anti-terrorism measures have prevented successful attacks on the city after 9/11.
Neither Vallone nor Kelly mentioned that there have also been no terrorist attacks anywhere else in the United States, including in Washington, D.C., which, like New York, was attacked on 9/11.
Even Kelly's explanation for the foiled plot he talks most about -- that of Iyman Fari, the Ohio trucker who planned to sever the cables of the Brooklyn Bridge but backed away because of a police presence on the bridge -- is disingenuous.
That police presence -- which followed a tip from the FBI (something Kelly never mentions) -- was only part of the reason Faris backed off.
According to a Department of Justice press release at his sentencing on October, 28, 2003, Faris had attempted to obtain "gas cutters" -- the equipment for severing the bridge's suspension cables. In several coded messages, he indicated he had been unsuccessful.
"He concluded," said the press release, "that the plot to destroy the bridge by serving cables was unlikely to succeed because of the bridge's security and structure."
At the hearing, Kelly also expanded on his controversial statement on 60 Minutes two weeks ago that the NYPD had the capability to shoot down an aircraft.
He expressed surprise that his remark had generated so much negative publicity, apparently unaware that he had left the impression that he was discussing taking down a jetliner.
Instead at the hearing, Kelly he described a scenario where at 2 A.M. a small plane appears over New York disseminating anthrax.
"What we didn't want is to be totally helpless... and waiting for somebody to come from an Air Force base in Massachusetts maybe."
And he said that it would be Mayor Bloomberg who would make the final decision to shoot down the plane.
That's rich. Let's hope the plane doesn't appear in the skies on a weekend when Bloomberg is in Bermuda.
Remember last Christmas' fiasco when the mayor was down there, leaving the city unprepared for all that snow.
Kelly's apocalyptic vision recalls the bizarre police action in 1985 in Philadelphia. There, a cynical police commissioner convinced Philadelphia's dumbo mayor to attack a black radical group's row house headquarters by dropping a bomb from a helicopter. The bomb destroyed 60 homes and killed 11 people, including five children.