 This is a sad day for people who love magazines, and for people who love sharp everyday writing, and for people who love risk-takers and dream-havers. It's sad because Radar magazine — and it's inestimable online arm, RadarOnline — have folded.
If you think I sounds overdramatic and maudlin, well, that's probably true, especially in these tough times. But even so, anyone who has followed the saga of Radar's peripatetic existence — It's on! It's off! It's on again! No it's not! Yes it is! — along with the story of editor and founder Maer Roshan's dogged, unshakable persistence in making it work — well, if you know about that, it's sort of hard to remain unmoved.
Radar has had a rocky history — that much is well-known. But this incarnation of the mag has had some serious momentum, as evidenced by its coveted General Excellence nomination at this year's National Magazine Awards. They didn't win, but when it comes to that category especially, it really is just an honor to be nominated — and a validation. For Roshan, it was a validation that his hard work and tenacity hadn't been in vain — and that the magazine had a future going forward.
Meanwhile, the website has been amazing. Helmed by executive editor Alex Balk, it was always a source of smart, tart writing (like from Balk's former editor at Gawker, Choire Sicha).
Maybe that's why this time, the loss of Radar seems so shocking — precisely at a time when it actually shouldn't have, especially given its history. Roshan himself said as much to the Observer's John Koblin today:
"What is so frustrating is that we seemed to have reached a turning point...[u]p until today I thought we could still talk about options for the magazine--in fact there were no options. They had made up their minds. The numbers were on our side. There were accomplishments on our side and the advertising support was on our side. I think this had a real chance of making it."
Roshan told Koblin that, when the financial crisis hit, his investor had told Roshan they needed to find additional investors, and that "it was only over the last three days he was told he'd have to find the investors personally. This morning, they told him that he had run out of time."
The website will survive the magazine, but as an acquisition of AMI which seems to be looking in a new, more TMZ-ish direction for the site going forward (press release here.) Could the site have survived without the baggage of the more-expensive magazine dragging it down? It's a question that has been wondered before (yes, by us), Probably, but maybe that wasn't even the point here; as Roshan told Koblin, his investors had committed to 5 years, and this was well-within that time limit, and doing better than he could have hoped. Frankly, it doesn't sound like Roshan had many options — presumably he would have kept the website, and banked a bit of that famous hope on the future.
It doesn't matter now — Radar is done. Maybe it's just because this is a story I've actually seen from start to finish in my short career as a media writer, maybe it's because this means my friends are out of a job, maybe it's because I actually sat down and read through the last issue of Radar recently, and was impressed — Sarah Horne had done an interesting piece on Amanda Knox, and my friend Ana Marie Cox had an interview with John McCain which seemed to be the last friendly interview McCain had given to the press (the last "Old John McCain"-style interview, in contrast to, say, this one). Maybe it's because I have found myself just really liking the website lately (loved the Mad Men primer). Maybe it's because it doesn't bode well for the future, and we're barely a month into this financial crisis, really. There are lots of reasons, but all of them are good ones. It is, as I noted above, a sad day.
Update: Black Friday, indeed: Manhattam media just announced that they are folding 01238 Magazine, which had been set for a splashy relaunch under new editor David Blum and new publisher Jamie Hooper. The first issue was apparently done and ready to go, but even a captive audience of advertiser-perfect affluent, wildly successful Harvard grads was not enough to keep it in play. Simply put by Manhattan Media's statement: "[T]he current economic environment has made it too difficult to proceed at this time." Sad, sad.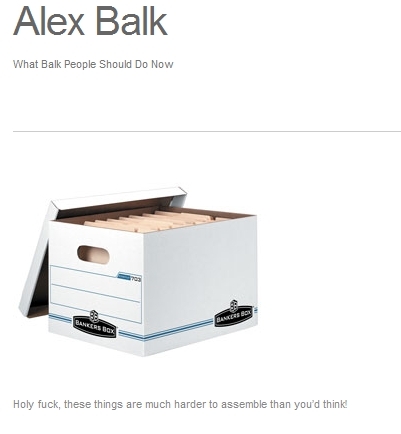 Popular in the Community