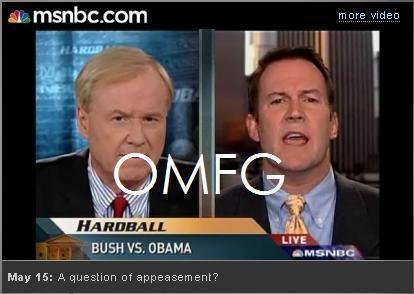 Utterly insane goings-on tonight on Hardball, where, for the second night in a row, the "Hardball Sideshow" segment was preceded by a scene that way outfreaked it. Tonight, host Chris Matthews took up President Bush's pointed attack on the Democrats in the Knesset today, asking if Bush was "out of line." Radio talk-show host Kevin James didn't think so, saying - and I'm paraphrasing - "RRRRAAAAAHHHH! OBAMA BLAAAAHHHH! HAMAS LOVES BARACK, YAAAAHHHH!" Chris Matthews was quick to ask, "Why are you screaming?"
But the best was yet to come. Matthews, convinced that James was being a fatuous ass, called him out on his knowledge of geo-political history, asking James if he knew what Neville Chamberlain did at Munich in 1938. If you answered, "He signed the Munich Agreement, conceding a portion of Czechoslovakia to the Nazi regime," you are right. If you answered, "He talked to Hitler, and caused 9/11 to happen and made the Statue of Liberty cry, just like Barack Hussein bin Laden wants to!" then you are Kevin James.
The ensuing melee is just far to shouty and unhinged to transcribe. Basically it ran like this, over and over again:
MATTHEWS: WHAT DID NEVILLE CHAMBERLAIN DO? WHAT DID HE DO? YOU DON"T KNOW WHAT HE DID, DO YOU?

JAMES: WUBBA WUBBA HUH?
Until finally, James conceded, sort of, that he didn't know. Matthews replied: "Your problem, is, Kevin, you don't know what you're talking about. You don't understand there's a difference between talking to the enemy and appeasing. What Chamberlain did wrong was not talking to Hitler, but giving half of Czechoslovakia." He then growled, "This is pathetic," tossed it to Air America's Mark Green, who told James, "Kevin, when you're in a hole, stop digging."
You sort of have to love the way he worked in a shot at Dana Perino there at the end. Anyway, as a famous newsman once said: "F*** it! We're doing it live!"
Popular in the Community