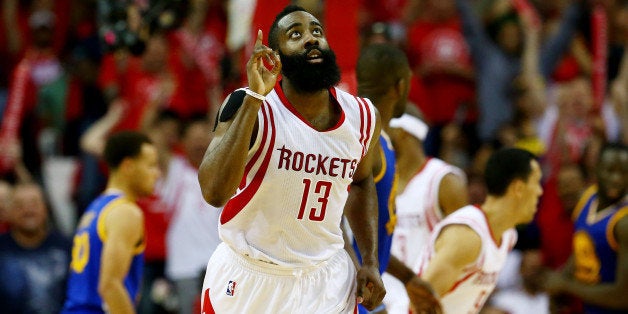 When you score 45 points in an NBA playoff game, you put yourself in an elite category that few players before have reached. When you do it and your name is James Harden, it hardly seems worth blinking an eye over.
Harden, who finished a distant second to Stephen Curry in the MVP race, singlehandedly kept Houston's season afloat with a playoff career high of 45 points in Game 4 on 13-22 shooting, including another postseason career high of seven 3-pointers. In reality, though, Harden's creative brilliance is made that much more impressive because he's doing it against the No. 1-ranked defense in the league.
As I recently examined, it's easy to forget about the Warriors' dominant defense because of how lethal they are offensively. Harden, while essentially playing both point guard and shooting guard sans the injured Patrick Beverley, is averaging 32 points per game on a stellar .662 true shooting versus Golden State. Running a series of ball screens and isolation against multiple defenders, his penetration and playmaking ability has been remarkably efficient, particularly when we consider that Houston doesn't have another playmaking wing on the floor. In other words, while the Warriors rely heavily on Curry to create offense, they have a slew of others -- namely Klay Thompson, Andre Iguodala and Draymond Green -- to create in the half-court as well. Rockets head coach Kevin McHale doesn't have that luxury and in turn, puts the ball in Harden's hands almost every possession.
"You're either going to fight or not fight," McHale said before his team's 128-115 Game 4 win.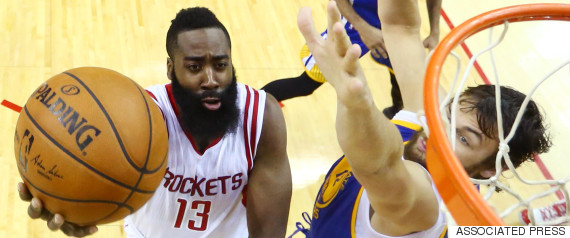 Harden, at 25 years old, may as well be deemed an ultimate fighter. His unique skill set enables him to operate pick-and-roll with different players. As I highlighted during their series with the Clippers, the Rockets run it with Josh Smith and Dwight Howard the same way, but only with Harden as the ball handler. They will run it on either wing, at any point in the shot clock, and then -- when it doesn't work -- Harden becomes the ultimate bailout weapon.
Part of this stems from Houston simply not having others to create offense, but mostly it speaks to Harden's dynamic ability off the bounce. To be sure, anyone watching this series can understand how special Harden's offensive prowess has become, but perhaps McHale -- who won multiple titles with the incomparable Larry Bird -- understands it the most.
Whether or not the Rockets become the first team ever to win a series after being down 3-0 -- teams are 0-116 all-time in this effort -- is immaterial. Harden has given us a brilliant performance that will go down in the record books as sheer dominance on par with some of the NBA's great individual postseason efforts.
"He was extremely unhappy yesterday, and took it out [on them]," McHale said before Game 4. "But that's what you gotta do. You gotta take it out on them."
REAL LIFE. REAL NEWS. REAL VOICES.
Help us tell more of the stories that matter from voices that too often remain unheard.