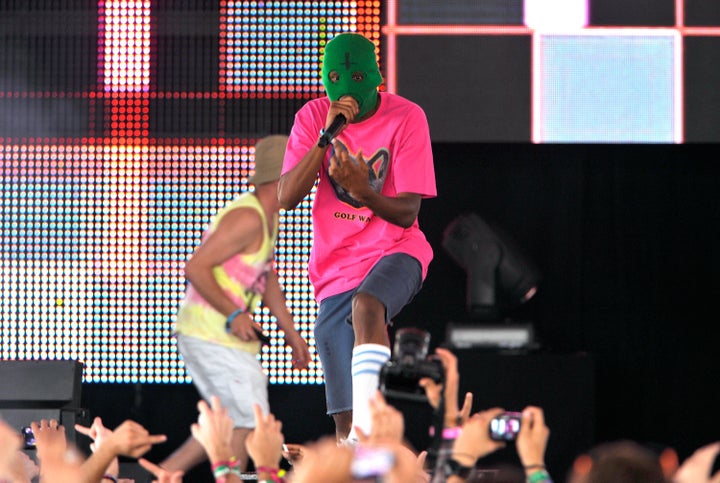 When controversial rap outfit Odd Future Wolf Gang Kill Them All was booked to play the upcoming Pitchfork Music Festival, many were surprised. The group has been heavily criticized for its lyrics referencing violence against women and the LGBT community, and on Wednesday, WBEZ's Jim DeRogatis reported that a coalition of domestic violence groups would be protesting the festival for that reason.
Organizers, however, told HuffPost Chicago their goal has little to do with the specific music act at all and that "protest," in this case, was a bit of a misnomer.
Rather, they are looking to the festival as an opportunity to raise awareness of the seriousness of violence of all sorts perpetrated against women and to provide festival-goers with information about the services they provide, Sharmili Majmudar, executive director of Rape Victim Advocates, said.
"We're not talking about us wearing t-shirts that have a picture of Tyler in a circle with a slash across his face or anything like that," Majmudar told HuffPost Chicago. "This is not just about Odd Future. While their booking was kind of the catalyst to our action, I think what this is really about how we as a culture minimize, ignore or glorify violence against women."
"Hopefully people will think and not just consume their music mindlessly," she added.
In Odd Future's "Swag Me Out," for example, the group proclaims: "I'mma take your bitch back to my crib / You already know my dick is gon' be in ribs," "Two nazi dykes shittin' in a Synagogue / Cause that bitch lick balls from Western to Crenshaw" and concludes with: "Chop a bitches head off and get a pleasure nut off, bitch."
In response, Between Friends, a "nonprofit agency dedicated to breaking the cycle of domestic violence and building a community free of abuse," along with Rape Victim Advocates and the YWCA established an IndieGoGo campaign with the hopes of raising $1,500 to help them purchase some 5,000 hand fans they will distribute to festival-goers. The fans will offer a list of resources in addition to "a powerful message about violence against women," according to the campaign's page.
As of Thursday morning, the final day of the campaign, the group already surpassed their fundraising goal.
Colleen Norton, prevention and education manager at Between Friends, emphasized, too, that their group recognizes Odd Future's right to "make their art and say what they have to say." The campaign is about using the festival "as an opportunity for people to hear our message that violence against women is a big issue, especially in Chicago."
"It's not a protest. We're not trying to say anyone else is wrong in doing what they're doing, but we're just trying to continue to raise awareness and educate people about the issue," Norton added.
Though vendor space, which the group initially applied for, was already booked, the fan distribution provides an opportunity to both spread a message and keep people slightly cooler in the mid-July heat. Norton added that Pitchfork organizers have been "very supportive" of their planned fan distribution and will be hosting an advertisement on the festival's website directing visitors to learn more about the group.
Majmudar described both their campaign and the response they have already received as "really energizing," even in light of some critics who question why an advocacy group is targeting a popular outdoor music festival in the first place.
"We can't just be working on this issue from the other side of a crisis hotline. Those services are extremely important but we need to talk about what our culture does to support violence against women and promote a mythology about the issue that often leaves victims blamed or silenced," she added. "A music festival is exactly where we need to be. We need to be a lot of places, but that is definitely one of them."
Pitchfork organizers did not respond to HuffPost Chicago's request for comment for this story, though Ryan Schreiber told TimeOut he was "pretty curious" about Odd Future's upcoming set at the festival he founded.
"Pitchfork has always been focused on emerging talent, especially artists who come at music from an interesting perspective and push boundaries, and they definitely fit the bill in that regard," Schreiber said. "I'm sure lots of people will check out the other stage or hang out in the grass during their set, and those who're excited for it will be front and center."
UPDATE: In a statement received late Thursday, Pitchfork spokeswoman Jessica Linker said that no organizations have approached the festival to speak against any of the artists on the event's lineup and that it had been too late in the festival planning process for Between Friends to participate on the festival's grounds, though they are attempting to remedy that.
"We were and are very sympathetic to their causes, and had already made arrangements with Between Friends for free ad space on our website to help promote their message, which will begin running on Friday, July 1," Linker wrote. "We have also been in talks with Between Friends Programs Director Yesenia Maldonado, and are planning to meet and discuss how we can represent their organization on the grounds."
Popular in the Community